Cape Kiwanda is a photographers dream. With giant sand dunes (that will give your calves a killer work-out), intriguing rock formations, and lovely but dangerous sea caves, you can spend hours exploring what this State Natural area has to offer.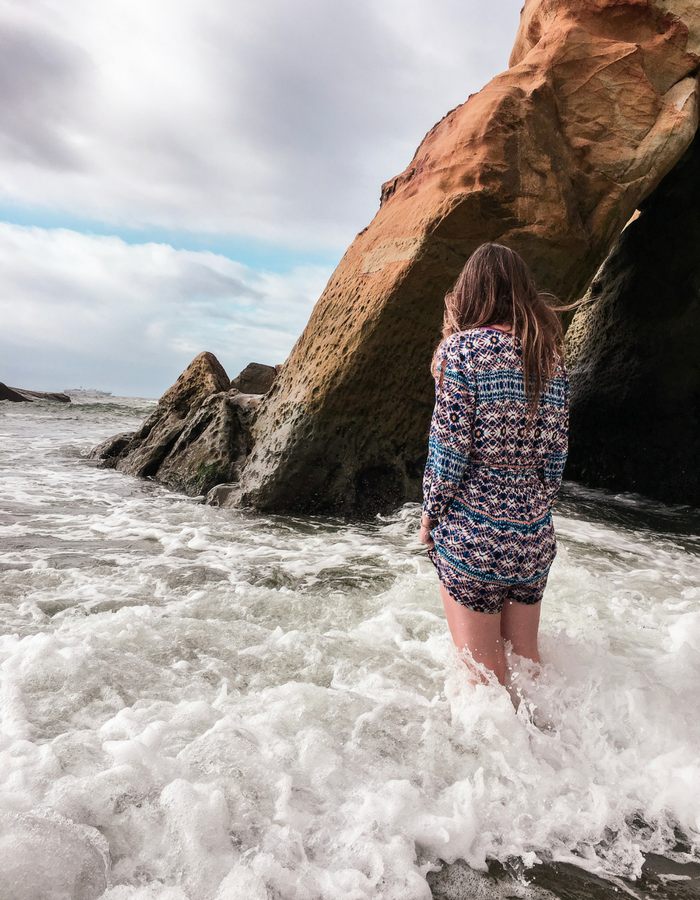 Quick Tips For Visiting
Best Time of Year. Cape Kiwanda is a popular stop for travelers along the Oregon Coast Highway (Highway 101), but during the fall months (September and October) you can usually find a quiet time of day to visit. However, if you want a picture similar to the one above, be prepared to not feel your legs for an hour or so afterwards. As if the Oregon coast isn't rainy enough as it is, fall months tend to bring even more cold mists and surprise showers. It makes for lovely and interesting photos (and prevents harsh shadows from ruining your pictures) but it's not always so comfortable. Side note: I wouldn't recommend wearing a playsuit.
Fees? None. Visiting Cape Kiwanda (and nearby parking) is completely free!
Dogs? Yes! It's a very popular place for fur babies.
Drones? No. Drones are not allowed in virtually any coastal location in Oregon, as it typically hosts varieties of protected wildlife that should remain undisturbed.
Kid-Friendly? Definitely. Just be sure to keep an eye on them as there are several slippery rocks and cliff edges.
Parking? For easy access to the dunes, park in the lot next to BJ's Burgers and Tacos. It's right off of Highway 101 and easy to spot.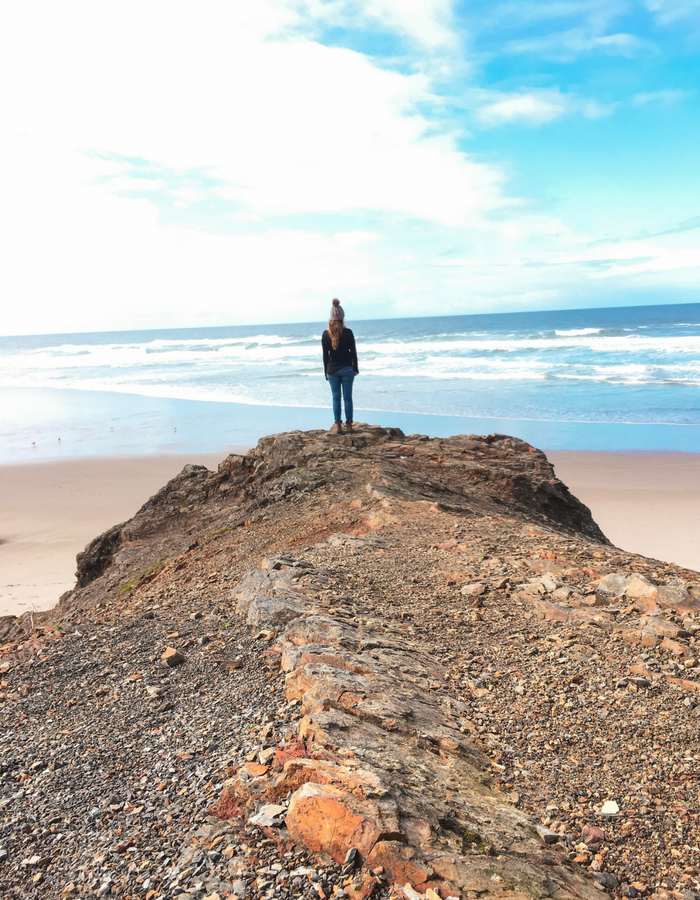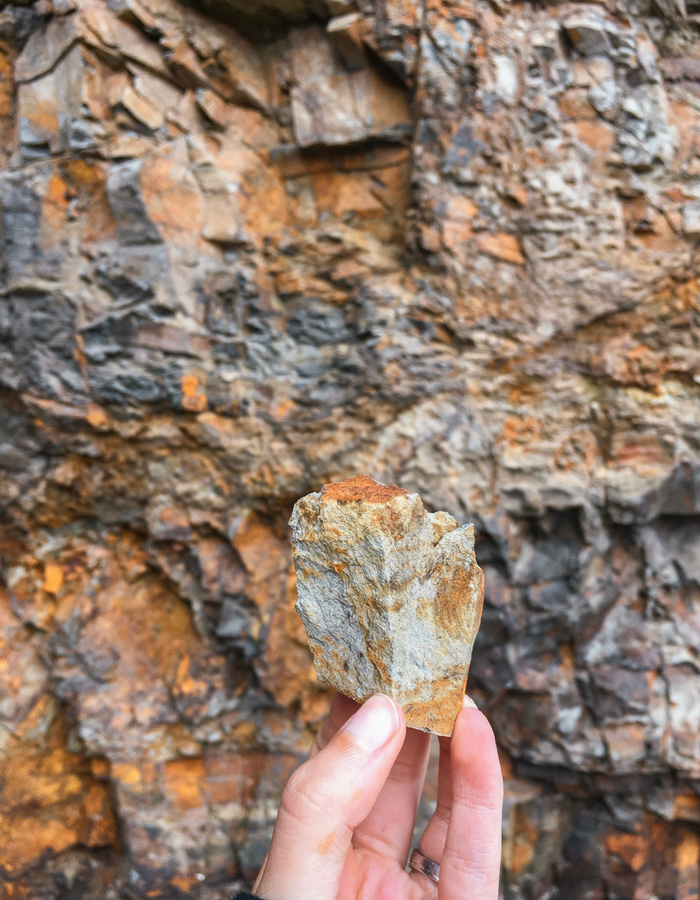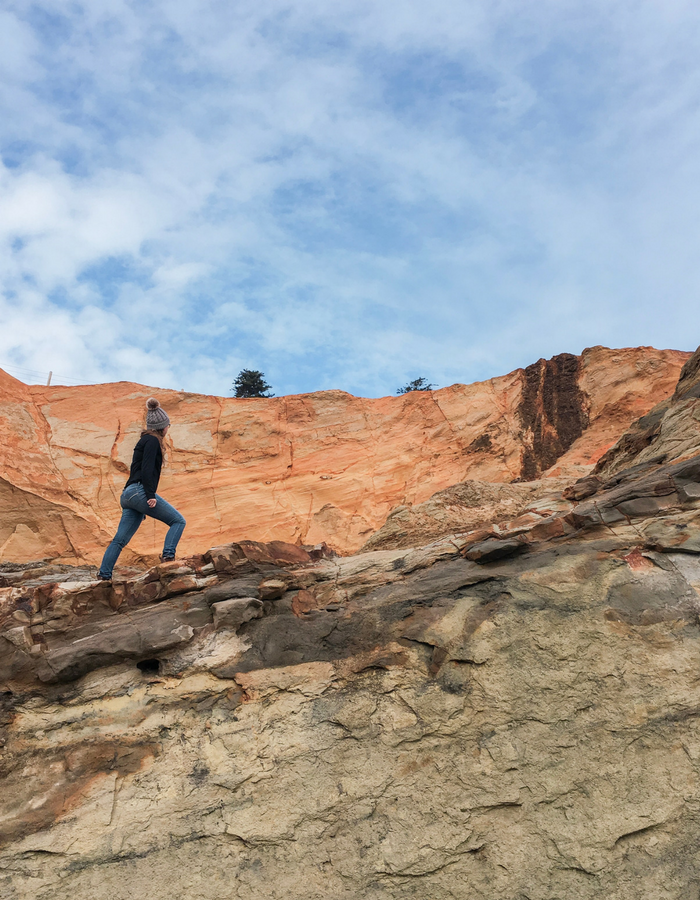 Photography Hot Spots
Sandstone Formations
The color of the sandstone was one of the things I found most interesting about Cape Kiwanda. The rock is flecked with beautiful shades of gunmetal grey, gold and rust-orange. A beautiful backdrop when you have a nice, bright blue sky.
The best way to access this, is by parking in the lot on the North side of Pacific City (as previously mentioned). It's right off of Highway 101 and you can see Haystack Rock from the parking area so it's nice and easy to identify! From there, you'll walk North up the beach towards the sand dunes.
You'll notice, up at the top-left of the sand dunes there are (what appears to be) extremely cool sandstone formations. These are unfortunately roped off to the public, but you can still access some pretty cool climbing spots from the bottom of the dunes. It's best to respect the fences as a group of tourists were recently charged with jumping the rope and destroying an iconic rock formation – on purpose, for some stupid reason unknown to me.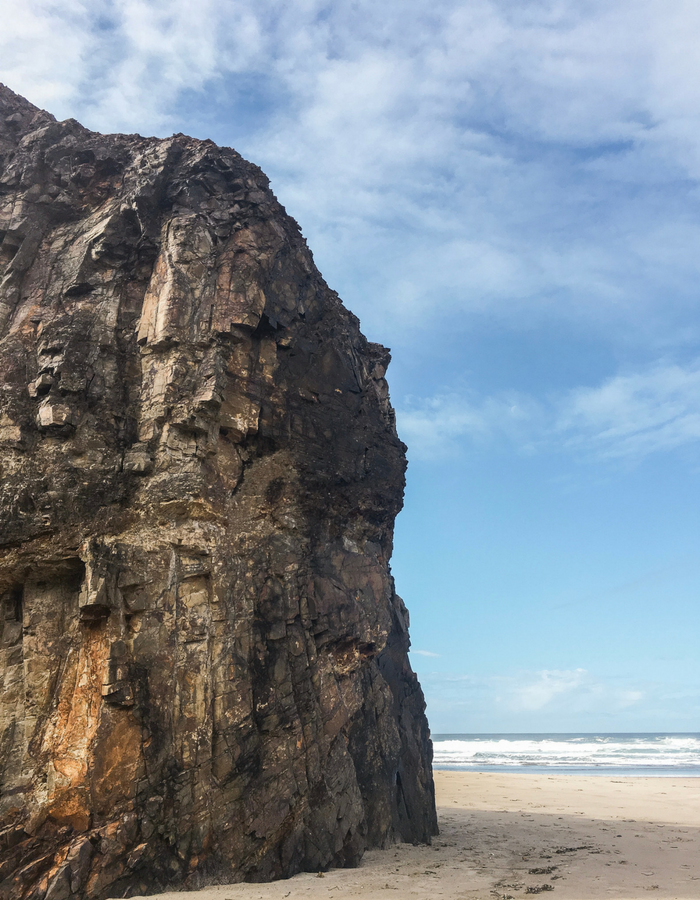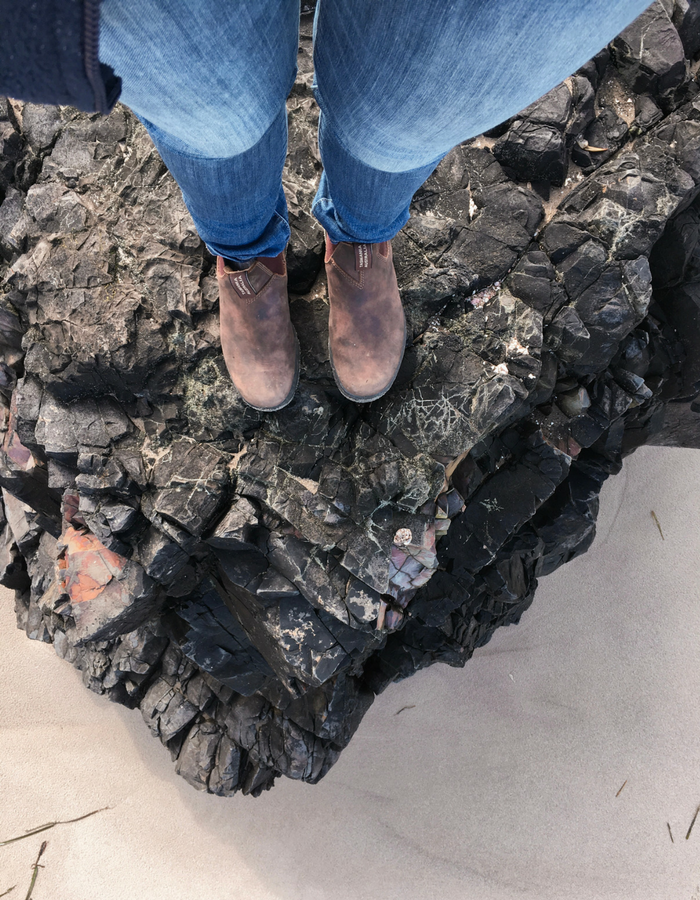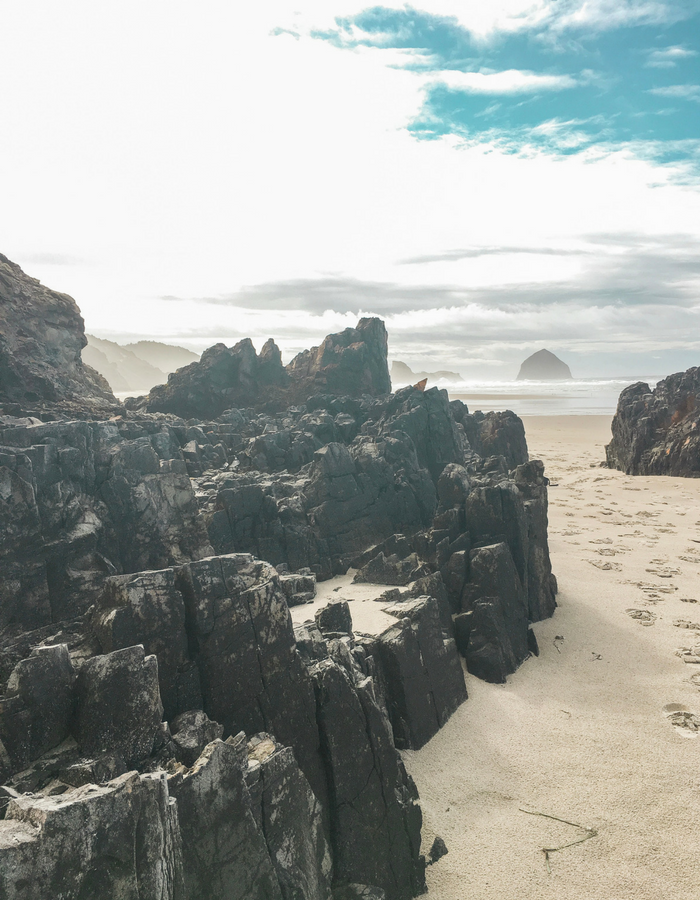 Cliff Edges
Further North, the area has several, large cliff faces right on the beach that, in some places, are quite easy to climb. They provide great, panoramic views of the ocean and you can even catch a glimpse of the iconic Haystack Rock!
To find this spot, drive further north (about a half mile) from the Pacific City beach parking lot. You'll see a small road on your left that leads directly down a hill. At the bottom of the hill there is a small circular lot where you can park your car and walk down to the beach.
NOTE: If the rock is wet, or you don't have good grip on your shoes, please don't attempt to climb. Also, keep in mind, going up is always much easier than coming down! A little tidbit I seem to always forget.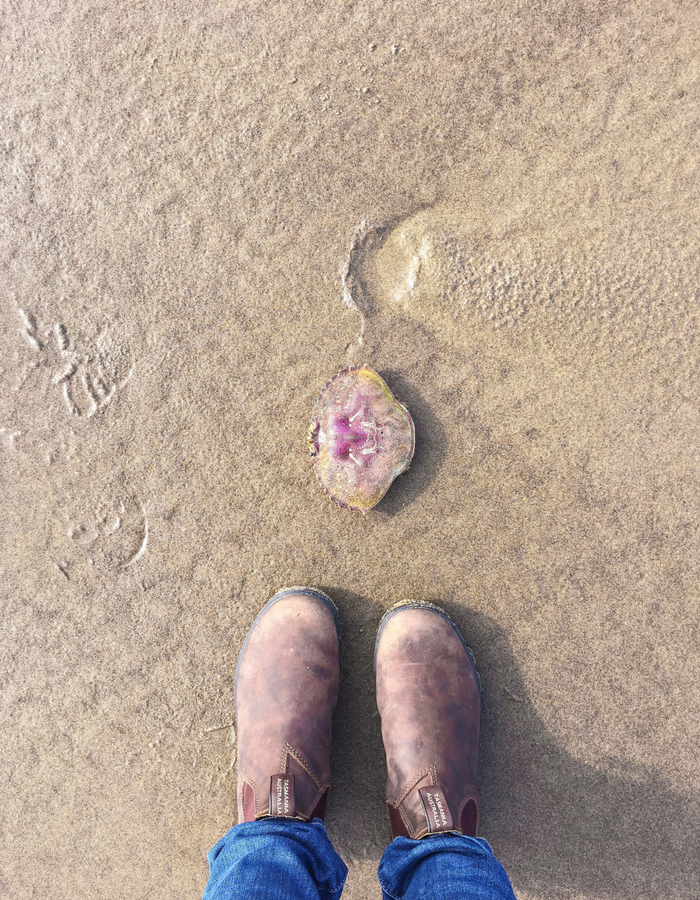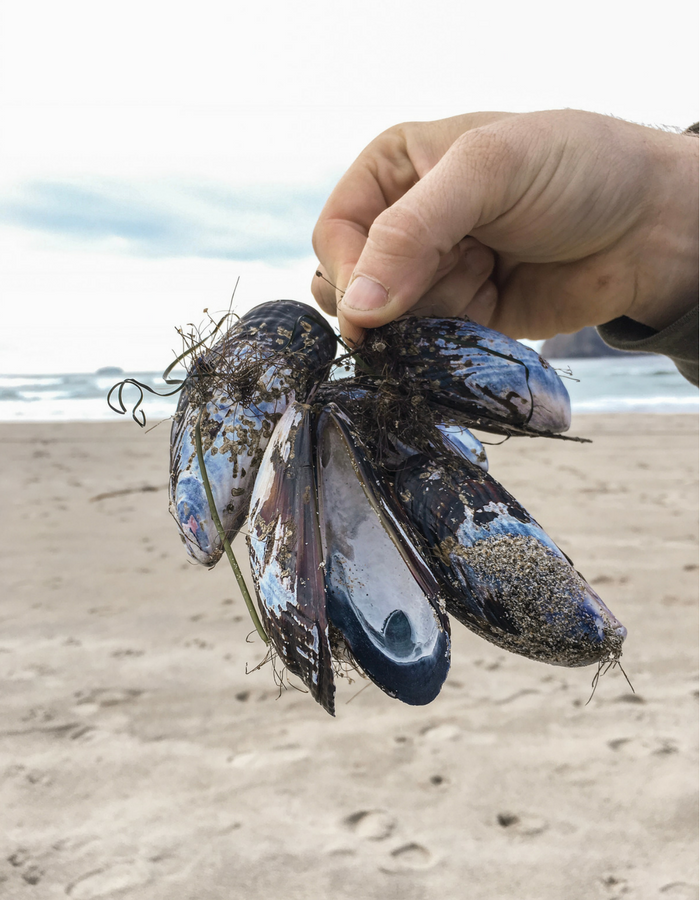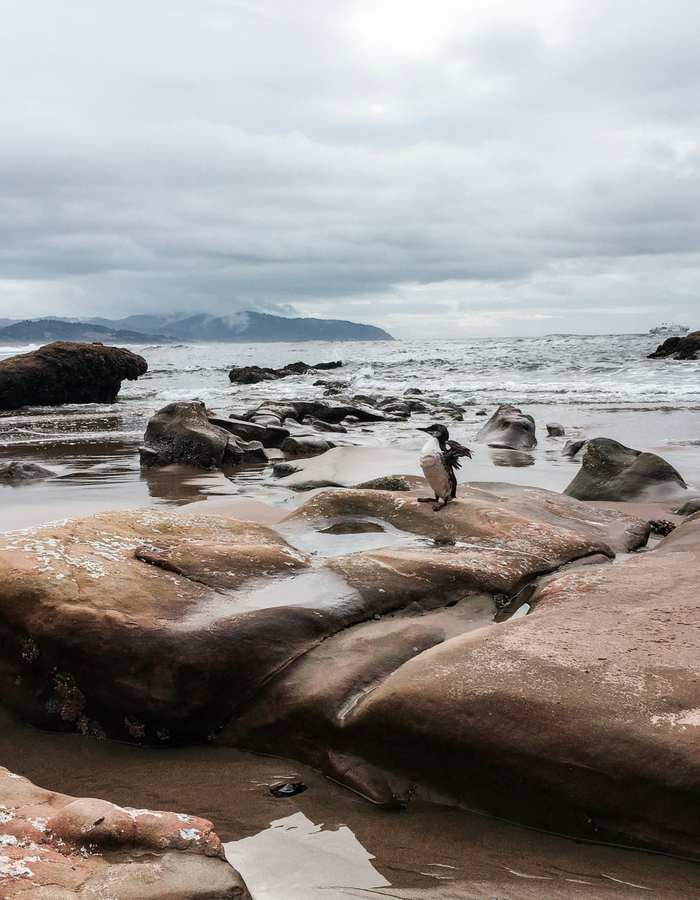 Wildlife
The most common (living) wildlife you'll see at Cape Kiwanda are sea birds. Mostly Common Murres (like the one pictured above).
Wildlife photography is fun and something I've been dying to delve further into, once I have an appropriate camera, but be sure to keep a respectful distance and to never remove anything from the area, even non-living things.
The Murre pictured above was sort of an exception to the rule, as I discovered (after seeing another photographer get WAY too close to it for comfort) that it was badly injured and couldn't fly away. The tide was coming in quickly and the poor thing was trapped on that rock, so my husband wrapped it in his sweater and we delivered it to a local wildlife rehabilitation center.
I have to say, it was one of the more uncomfortable moments in my life since people were glaring at us from a distance as we grabbed the unfortunate bird, but he's on the road to recovery now – so, well worth it!
NOTE: Always make absolutely certain an animal is injured before rescuing it. Call the closest rehabilitation center and they'll provide you with guidance on how to identify if it's injured, as well as how to capture and contain it.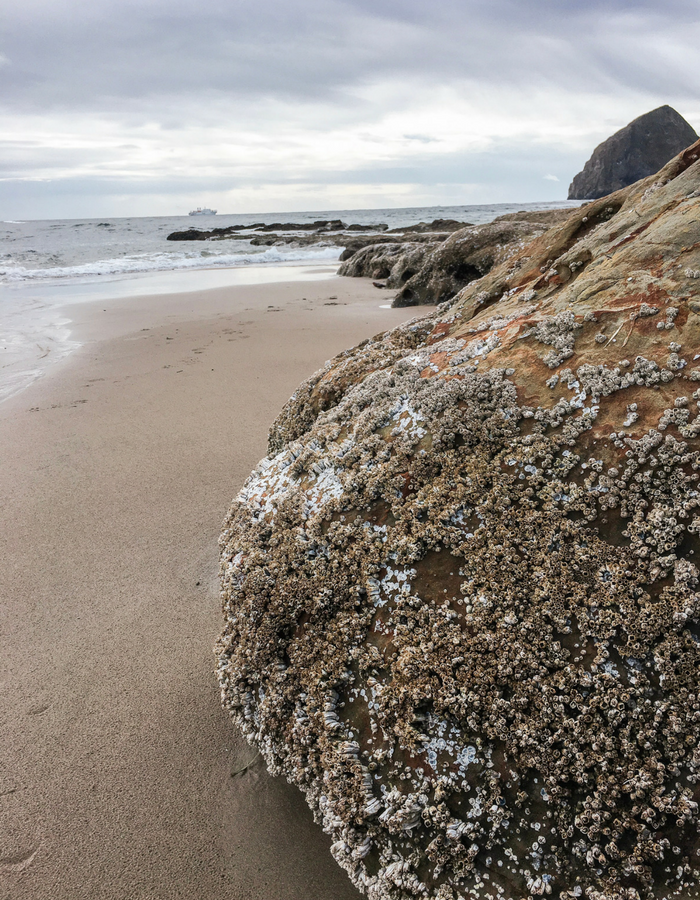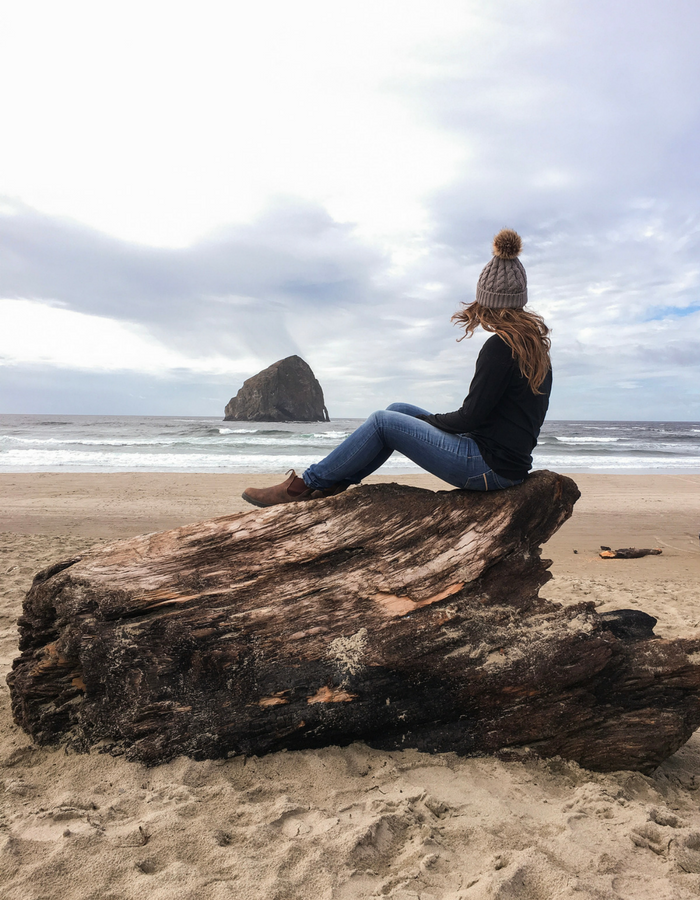 Haystack Rock
Another fantastic spot for photos in Cape Kiwanda is the famous Haystack Rock.
Created by lava flow millions of years ago, this rock is a hot spot for Oregon Coast roadtrippers. You may be thinking, "Isn't Haystack Rock off the coast of Cannon Beach?", and you'd be right! Oddly enough there are three rocks by the name of Haystack in Oregon. One is near Cannon Beach, one near Cape Kiwanda and the third is near Coos Bay.
The Haystack Rock near Cannon Beach appears to be the largest, because it's much closer to shore, but Cape Kiwanda's rock is actually the tallest of the three.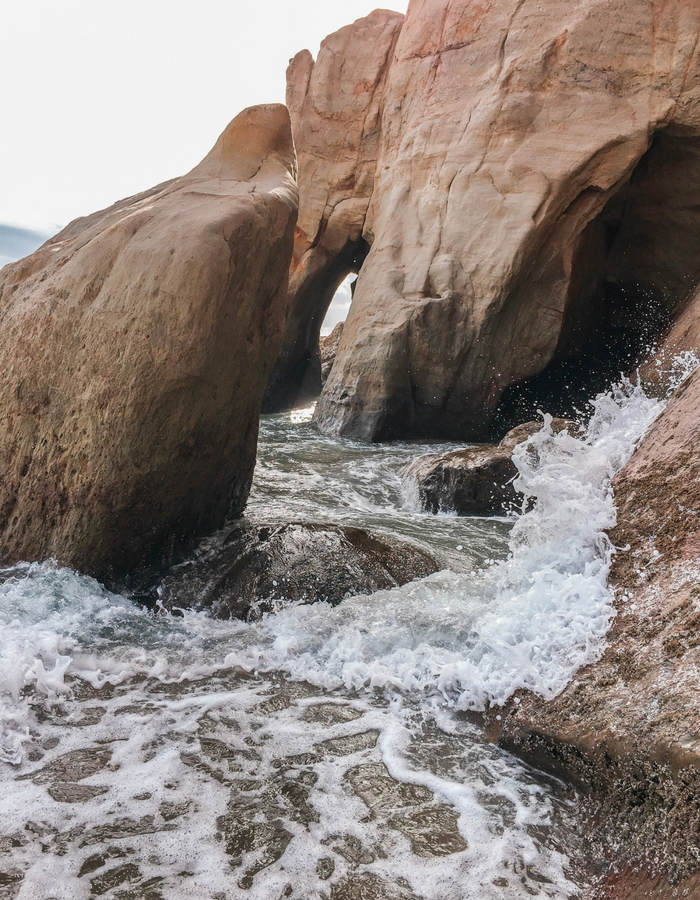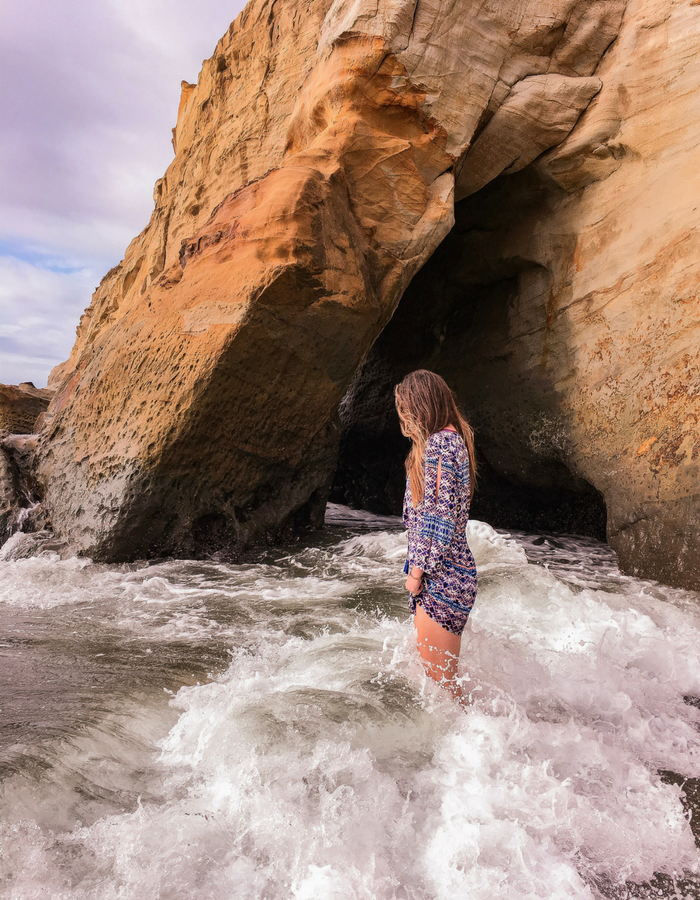 Sea Caves
Cape Kiwanda has several "sea caves" along the sandstone cliffs that are extremely photogenic and a ton of fun to explore. You are unlikely to get past the first one, however, unless you plan on swimming or wading through some very strong currents.
NOTE: Be sure to check the tide schedule before visiting and try to plan your visit around low-tide. If you do plan on venturing further than I did, the tide schedule will be crucial. You do not want to get trapped on the rocks when the tide comes in.
Have you every visited the Oregon Coast? What was your favorite stop? Let me know in the comments below!
PIN ME! SHARING IS IN STYLE