Jump Creek Falls is a 50 foot waterfall in the middle-of-nowhere Southern Idaho (and I really do mean that in the fondest possible way). This beautiful oasis is a welcome break from the dry sage brush and relentless summer sun, but it isn't the sort of place you could just "happen upon". In the poorly paraphrased words of Captain Jack Sparrow, it's the sort of place that can only be found by those who already know where it is… Sort of.
If you put it in your phone's GPS it'll get the job done, but you'll find yourself wondering "Where the heck am I?" routinely, every 5 minutes or so. In fact, you'll pretty much continue wondering that until you reach the parking lot, when suddenly the dry, desolate earth opens up into a beautiful, but totally random, red-rock canyon that will blow your mind.
Checking out the impressive waterfall is the obvious thing to do at Jump Creek, but there's so much more to this beautiful "locals only" place.
Hiking
The hike to Jump Creek is pretty much as easy as they come, 0.5 miles there and back and very little elevation. The trail winds along the river and through the trees. At about the halfway point you'll cross the river (there are concrete circles for stepping stones) and a few blinks of an eye later, you'll see the waterfall.
If you want more of a challenge you can choose to take one of the upper-level trails, but keep in mind the trails can be steep, narrow and, without good shoes, slippery. There have actually been a few deaths at Jump Creek Falls, and numerous injuries, so please be cautious! 1-2 times per month the police respond to calls about injuries at Jump Creek.
Important Tips: Wear shoes with good grip if you're hiking the upper trails.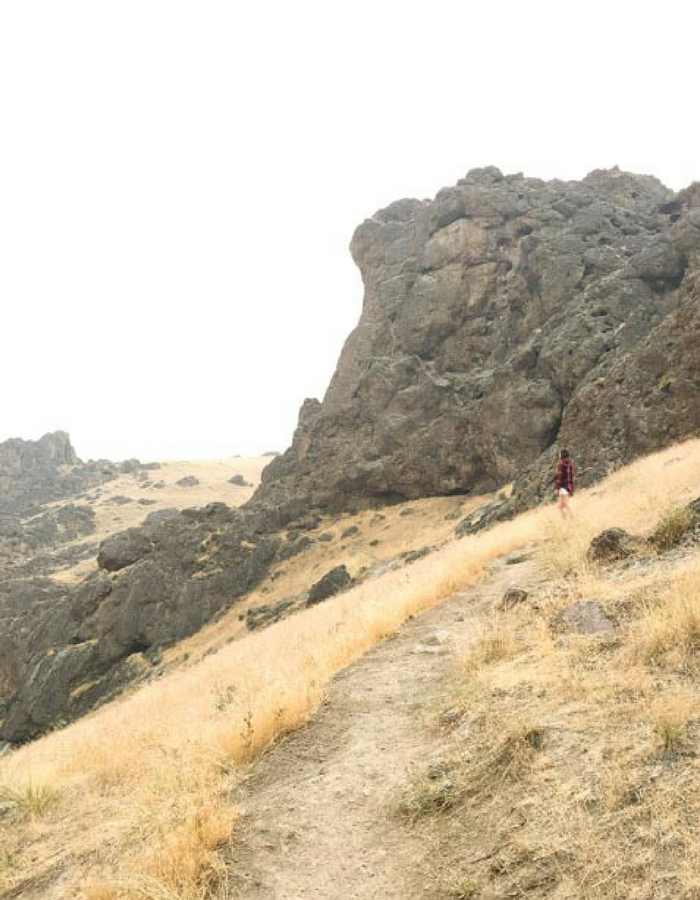 Rock Climbing
Climbing and scrambling are popular activities near the falls. There are plenty of amazing rock formations to choose from but if you're inexperienced (like me) I wouldn't recommend it. The majority of the climbing locations are incredibly steep. You'll see what I mean when you arrive and look up at the 600 foot canyon walls surrounding you.
The formations are beautiful but can be deadly. Within the last year, a local man slipped and died near a popular climbing spot called "Devil's Ladder". But if you're an experienced climber, it would be a beautiful place to test your skills. Also, I'd love to see the pictures and live vicariously (creepily) through you.
Important Tips: Only climb if you have prior experience. Take pics for me to drool over.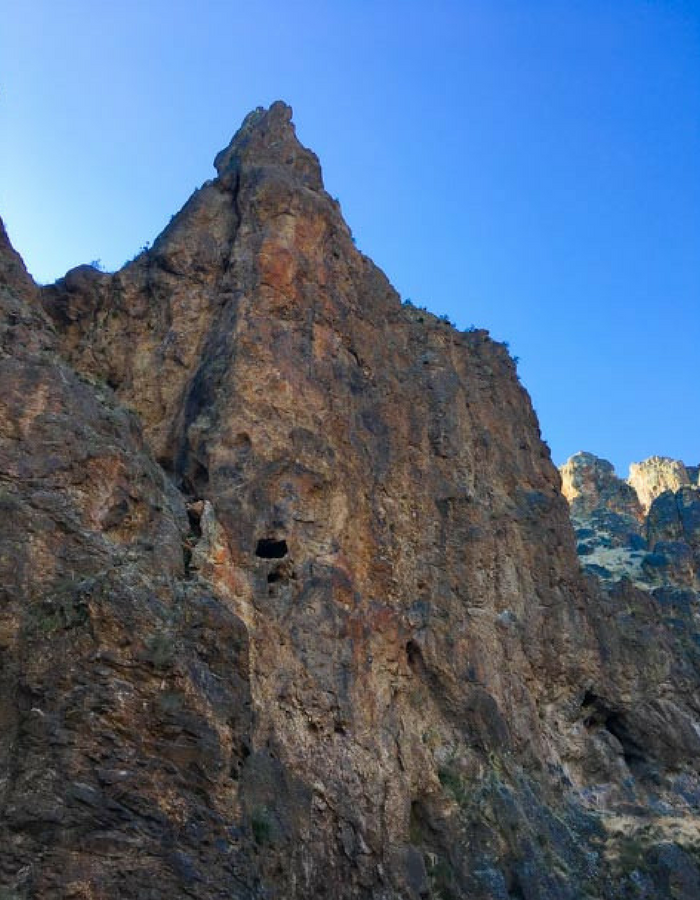 Swimming
The water at the base of the waterfall is completely safe to swim in and it's actually one of my favorite swimming holes in Idaho (my home state). The waterfall is absolutely stunning. One of my favorite ways to enjoy it is to pump up my floaty, lay back and admire the massive, incredible cliff faces surrounding me. Ultimate relaxation!
Early in the morning and during the off-season are the best times to visit and also your best chance at getting the place to yourself. Jump Creek is a popular place, particularly during the summer, for families to spend the day with their kids. I don't dislike children but the soothing sound of a waterfall is a lot more appealing than the sound of 10 screaming little ones. I think we all, parents included, can agree on that!
The "pool" tends to be on the cooler side. That may be putting it lightly. It's pretty dang cold, even in the summer. The falls stay shaded for the majority of the day so the water doesn't have much time to warm up. Be prepared for some major goosebumps for the first minute or so.
Another important note: The bottom of the pool is purely rocks. Some of the rocks are sharp and others are slippery so I'd recommend bringing watershoes with decent grip! It'll make your swim much more enjoyable.
Important Tips: Visit early in the morning or during the off-season. Bring watershoes with good grip. Take a floaty 😉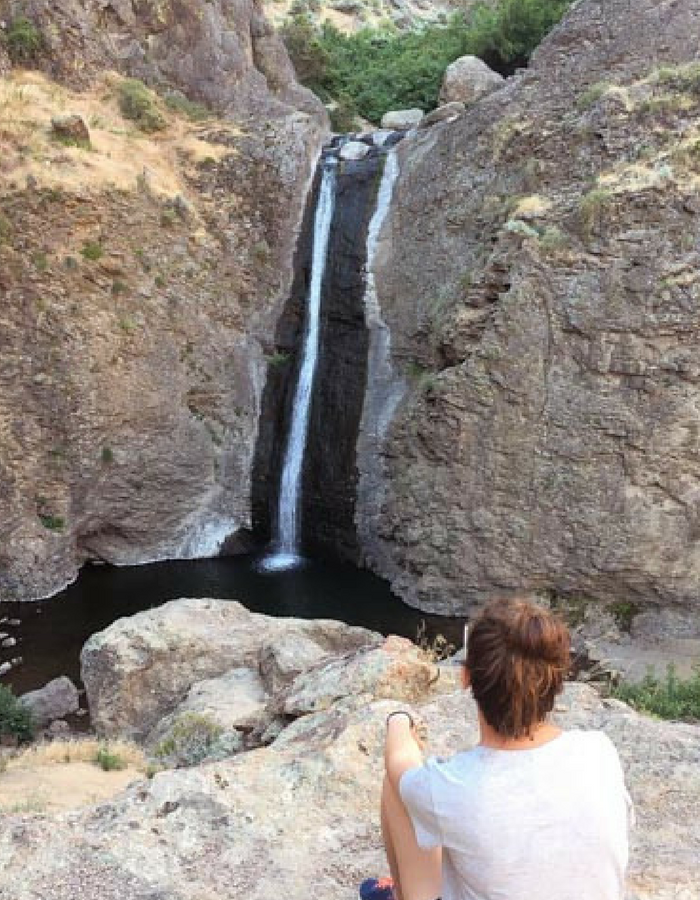 Cave Exploring
If you hike along some of the upper trails at Jump Creek you'll find countless abandoned caves. Most of them are hard to reach and located at the top of steep hills littered with loose rock. However, a few of them are accessible and a lot of fun to explore!
The upper caves are neat, but my favorite caves are actually located on the lower trail. After crossing the river, there is a slight incline and when you reach the top, there's a drop off to your right where you can explore pools of water flowing inside of the dark rock walls.
Important Tips: Be careful when hiking up or down to the caves, the rock can be loose and slippery.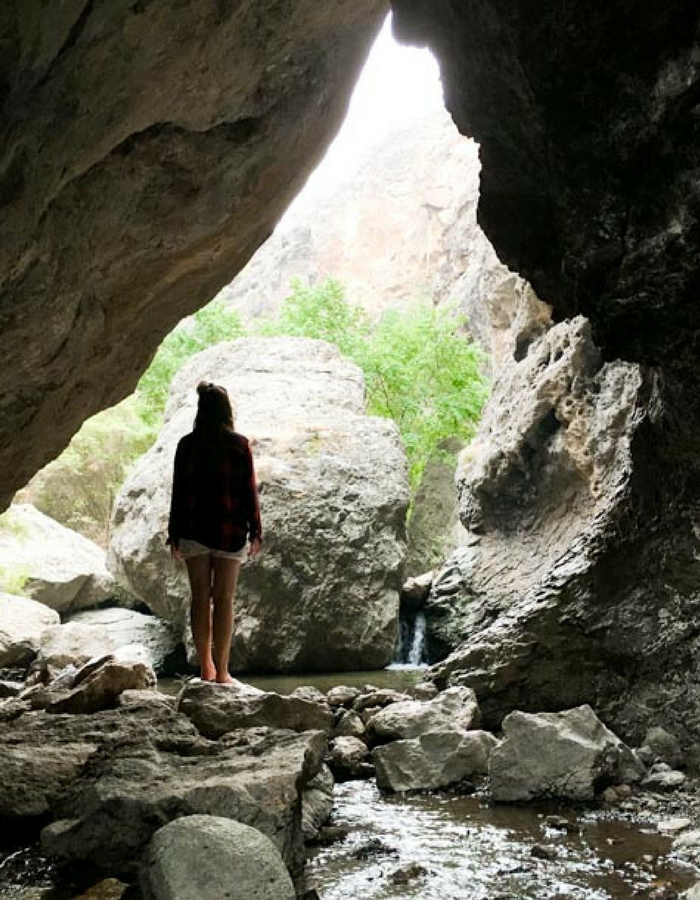 Fishing
Yes, believe it or not, there are fish in both the swimming hole and the creek running from it! A few fly-fishers caught my eye the day my husband crashed our drone in the canyon (don't worry, the drone survived) and they WERE reeling some in. So believe it or not, fishing at Jump Creek falls is a thing. You won't catch anything substantial, but the fish are very easy to catch so you'll be plenty entertained.
Make sure you have a fishing license if you are planning on fishing at Jump Creek since the area is patrolled semi-frequently.
Important Tips: Make sure you have your fishing license. Have fun and don't expect to catch anything sizable 🙂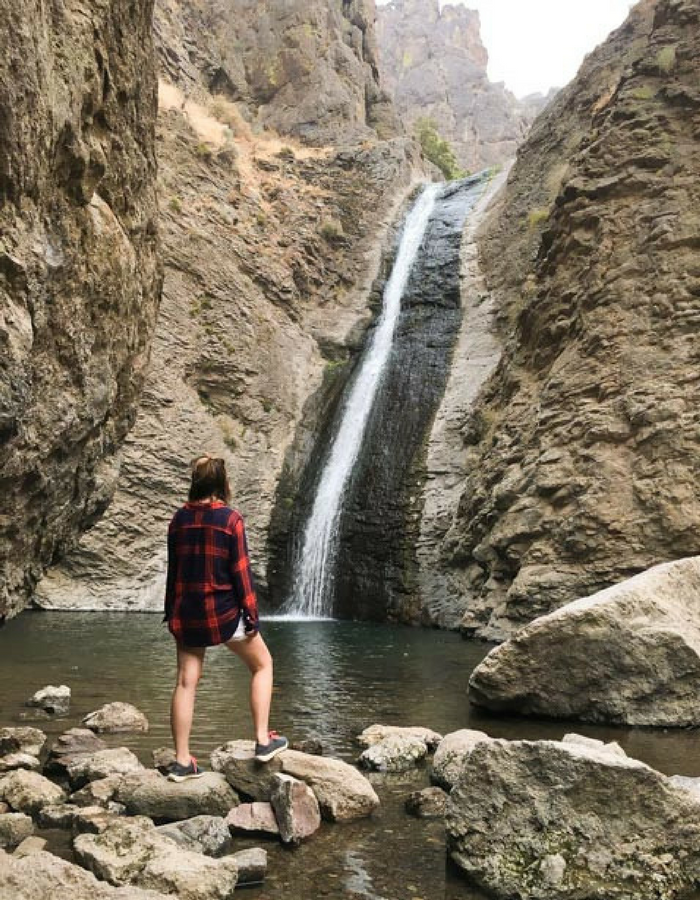 What's YOUR favorite home state swimming hole? Get the conversation going below!