Zion National Park draws some of the most extreme adventurers. With well-known hikes like The Subway and Angels Landing, this park may seem a little daunting – but not to fear! There's plenty of easy and gorgeous hikes for those of us with less time on our hands (or more flab on our thighs).
These hikes are all less than 4 miles round-trip, can be done in 2 hours or less and don't require any amount of training. Oh, and did I mention they lead to mind-blowing views?
Yeah.
So now that you're finally out of excuses, let's get to the trails!
NOTE: This post contains affiliate links. For more information on what affiliate links are and why I use them, click here!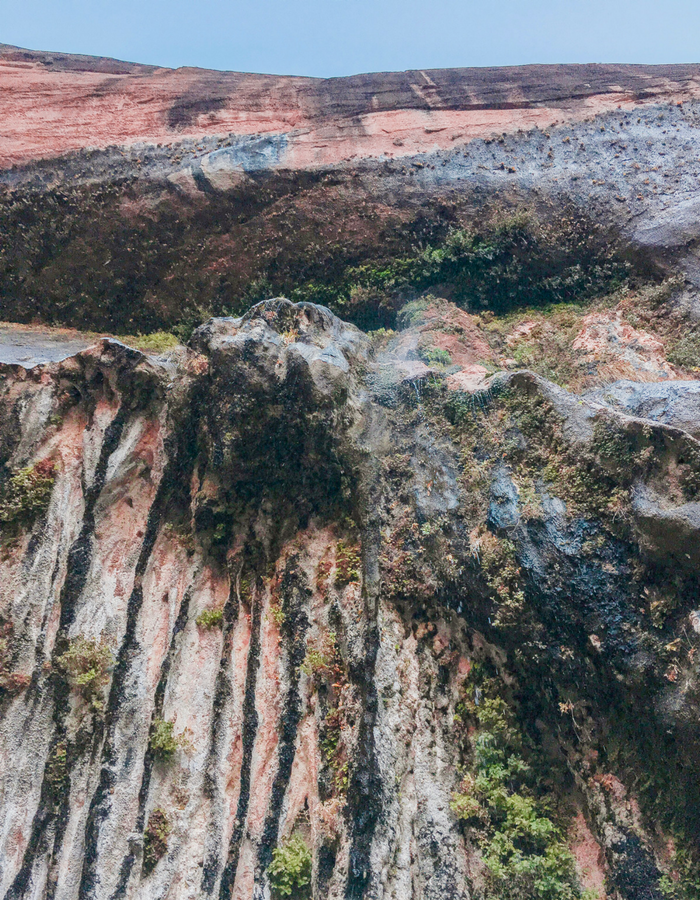 1. Weeping Rock
A short trail to an epic waterfall. This paved hike leads you up a small staircase where you can stand behind the giant waterfall that gave this place it's somber name. Just be prepared to get wet!
NOTE: This trail is best visited between March and October, as that's when the waterfall is most active. I hiked it in November and the rock wasn't so "weepy" as the name suggests. There was only a small amount of water dripping from the mossy rock.
Distance: 0.4 Miles
Time: 30 Minutes
Elevation: 98 Feet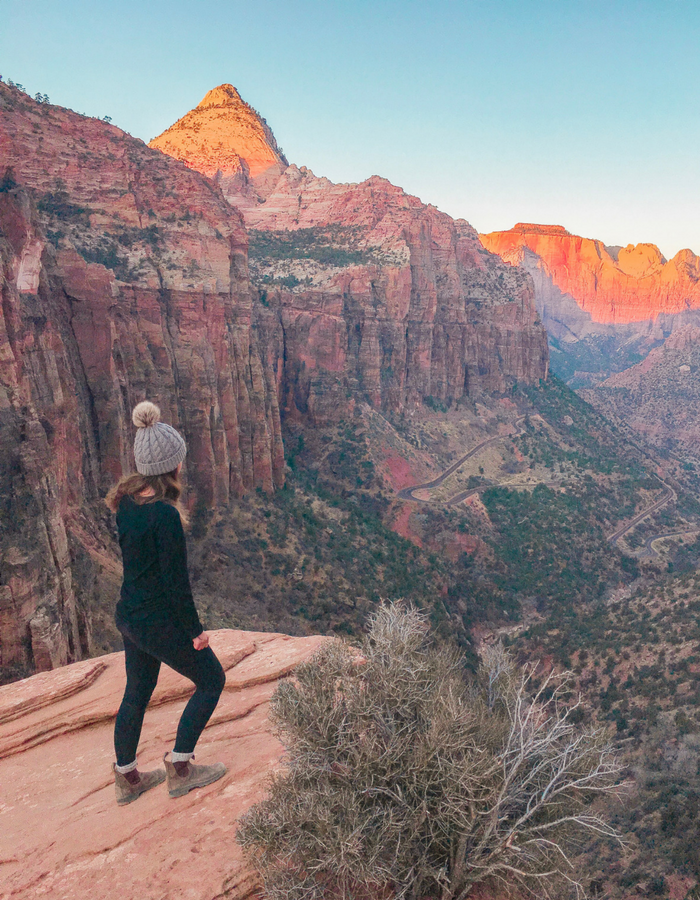 2. Canyon Overlook
While this trail is labeled a "Moderate Hike", it's fairly easy and doable for hikers of almost all experience levels. The trail begins just off of Zion-Mount Carmel Highway (after exiting the 1 mile tunnel) and leads you steadily upwards until you reach an overlook with incredible views of Zion Canyon.
I hiked this trail at sunrise and it was the perfect start to the day. The light on the cliffs was soft and warm and I even (accidentally) got up close and personal with some Desert Bighorns! I was terrified of getting charged but overall, still a cool experience.
NOTE: There are many steep drop-offs on this trail. Most are fenced, but if you have an extreme fear of heights, this may not be the trail for you. That being said, I have a moderate fear of heights and was fine completing this trail.
Distance: 1 Mile
Time: 1 Hour
Elevation: 163 Feet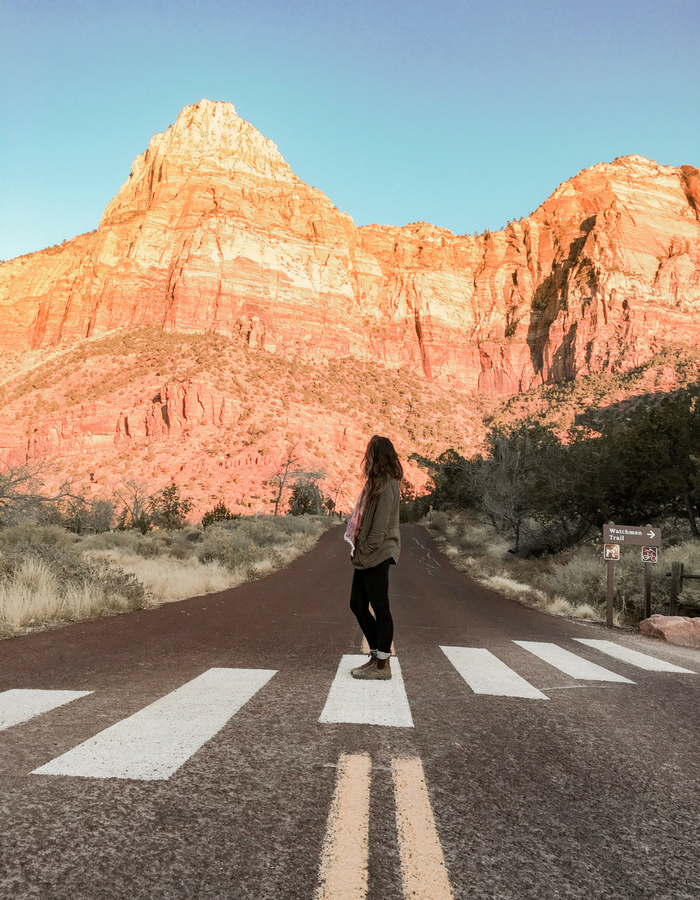 3. Watchman Trail
Close to the visitor center, this trail takes you up several switchbacks to an overlook where you can soak up the awesome views of Zion Canyon. A slightly closer, less elevated view than Canyon Overlook, this trail is a good spot for some sunset canyon photos. If you've seen Zion Canyon at sunset, you'll know what I mean when I say "waaaaaahw".
NOTE: The elevation of this trail makes it slightly more strenuous than the others. Take frequent breaks, if you need, and bring plenty of water.
Distance: 3.3 Miles
Time: 2 Hours
Elevation: 368 Feet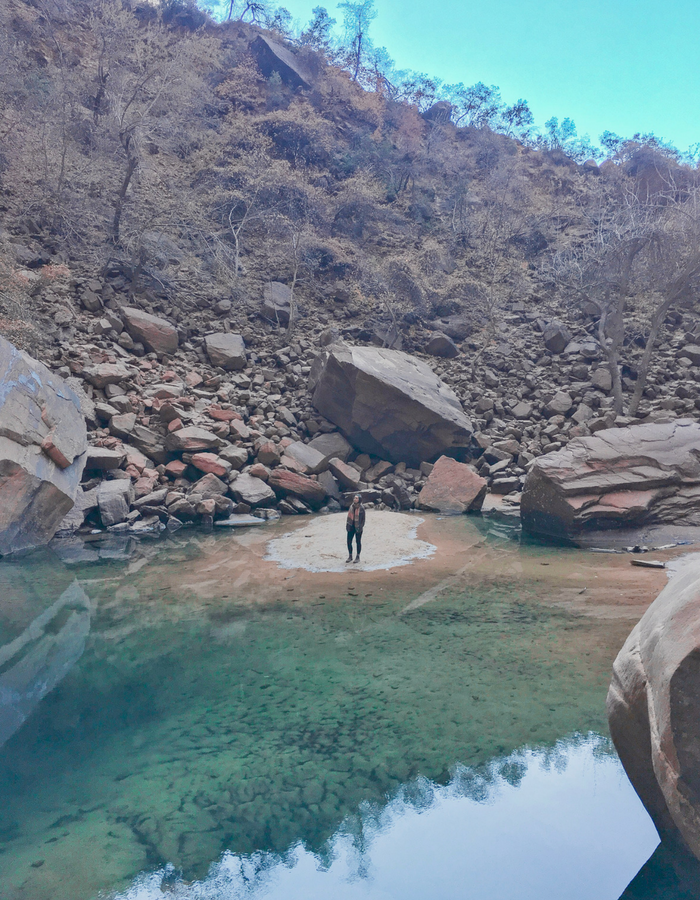 4. Upper Emerald Pools
By far my favorite easy hike in Zion. If you're thinking about only hiking to the Lower Emerald Pools and then turning around – forget about it! The upper pool is so awe-inspiring that I'm pretty sure I stood there for a good 30 minutes ruining everyone else's photos. Rude tourist alert.
Distance: 3 Miles
Time: 2 Hours
Elevation: 200 Feet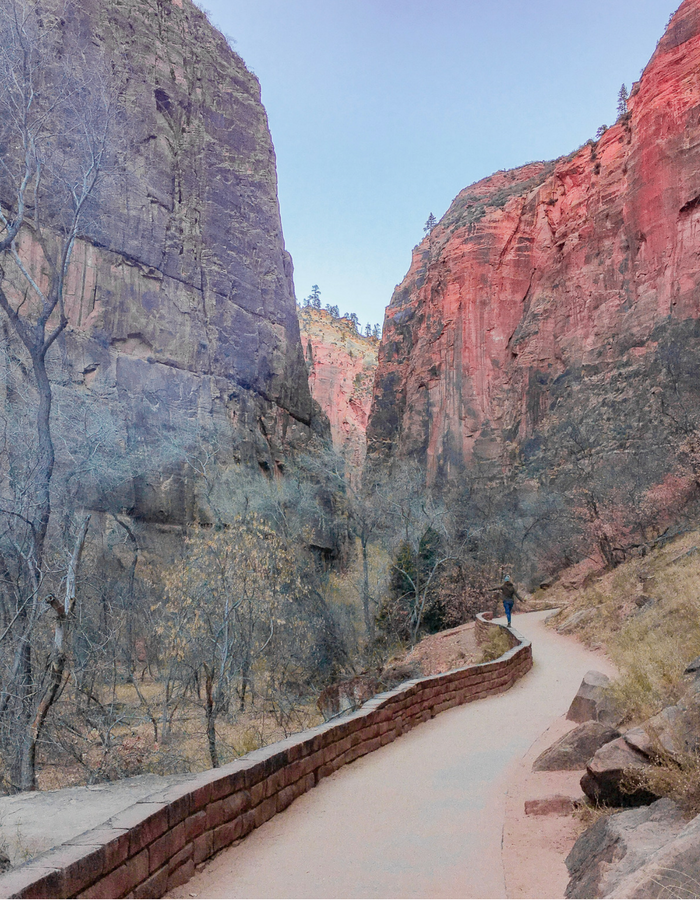 5. Riverside Walk
This easy, paved trail winds alongside the Virgin River and through an impressive canyon. The Riverside Walk is actually the beginning of the popular Narrows hike, but unless you have another 7 hours to spare your turn-around point will be at the end of the paved trail.
NOTE: Beware of the crazy wind that seems to funnel directly through this canyon – especially in the winter months.
Distance: 2.2 Miles
Time: 1.5 Hours
Elevation: 57 Feet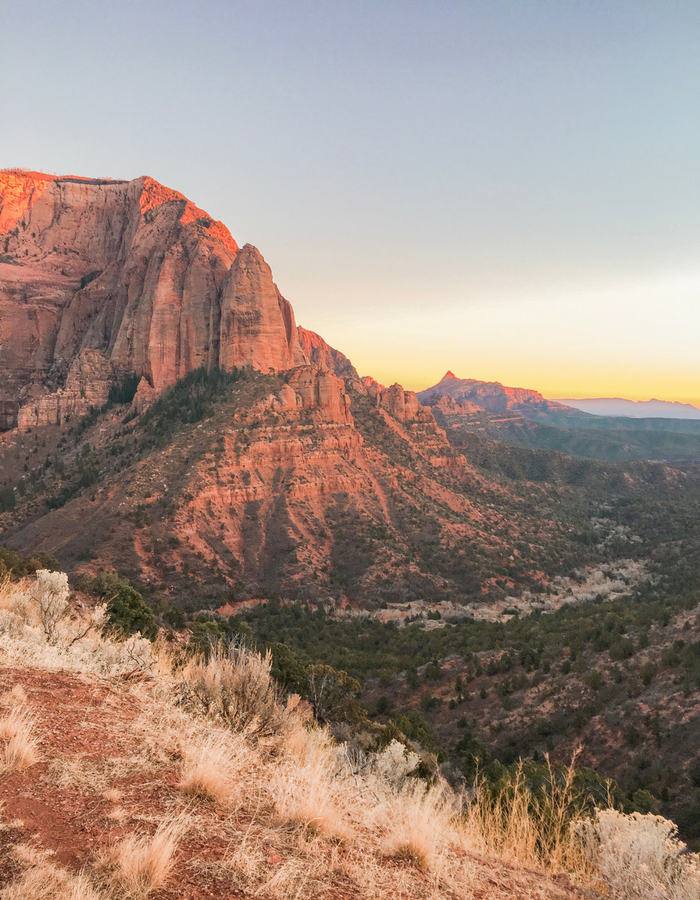 6. Timber Creek Overlook
Another gorgeous overlook for Zion-caliber sunsets, this short and easy hike lies in the Northwest corner of the park and provides some mind-blowing views of the Pine Valley mountains. The trail is uneven and poorly marked, so you'll basically just keep walking until you reach a cliff and can't walk any further. Pretty hard to get lost with those excellent directions, hey?
Distance: 1 Mile
Time: 30 Minutes
Elevation: 100 Feet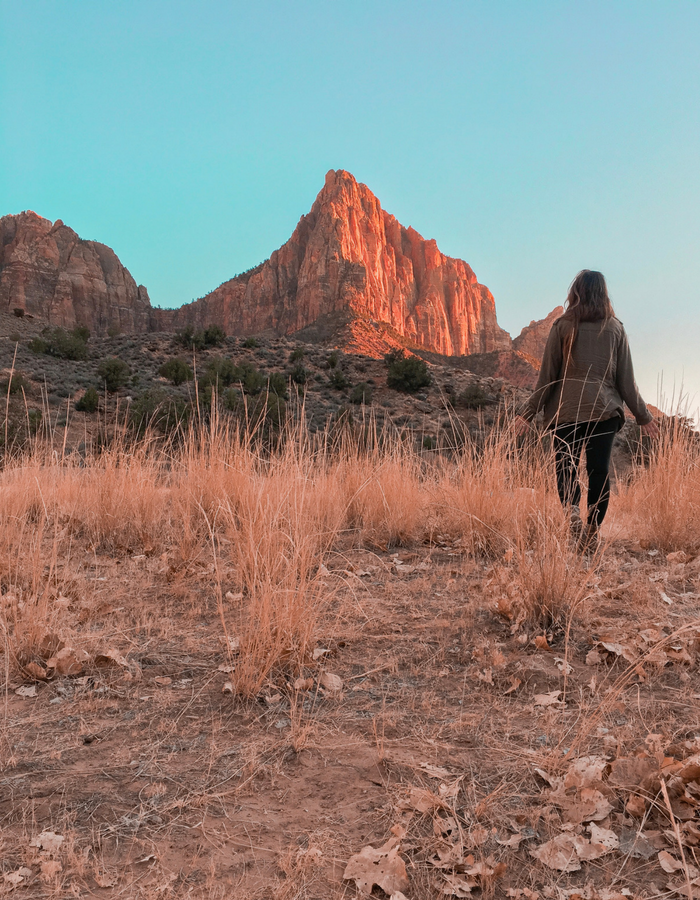 7. Pa'rus Trail
Another paved trail (wheelchair accessible) that travels along the Virgin River and through Lower Zion Canyon. Start this trail 30 minutes before sunset and you'll get amazing views of the cliffside bathed in shades of orange and pink light, like the picture above.
Distance: 3.5 Miles
Time: 2 Hours
Elevation: 50 Feet
Have a favorite (or dream) Zion hike? Share the knowledge and comment it below!
OR
Check out my other U.S. Adventures, here.
DTP (DOWN TO PIN)? I'M TOTALLY SHAREABLE.