Camping isn't for everyone, you say? Well it is now! Now you can have the comforts of Netflix and the uncertainty of the outdoors all at the same time. What a paradox!
**Please Note: This post contains affiliate links. If you purchase a product using one of my links, I receive a small "kickback" in the form of cash at no extra cost to you. All of the products advertised here I have personally used and firmly believe to be useful, quality products. If you want more information on affiliate links and why I use them, click here.
Don't get me wrong, being completely off-grid is great. But it's also super lonely and within a few days I have early onset cabin fever. Not to mention, what the heck am I supposed to do on rainy days? Read a book? Who does that?
So I decided to bring my perfect at-home evening to the wilderness and turn my tent into a "Netflix and Chill" tent. Now, you can rejoice over your rainy camping days!
Here's how it's done.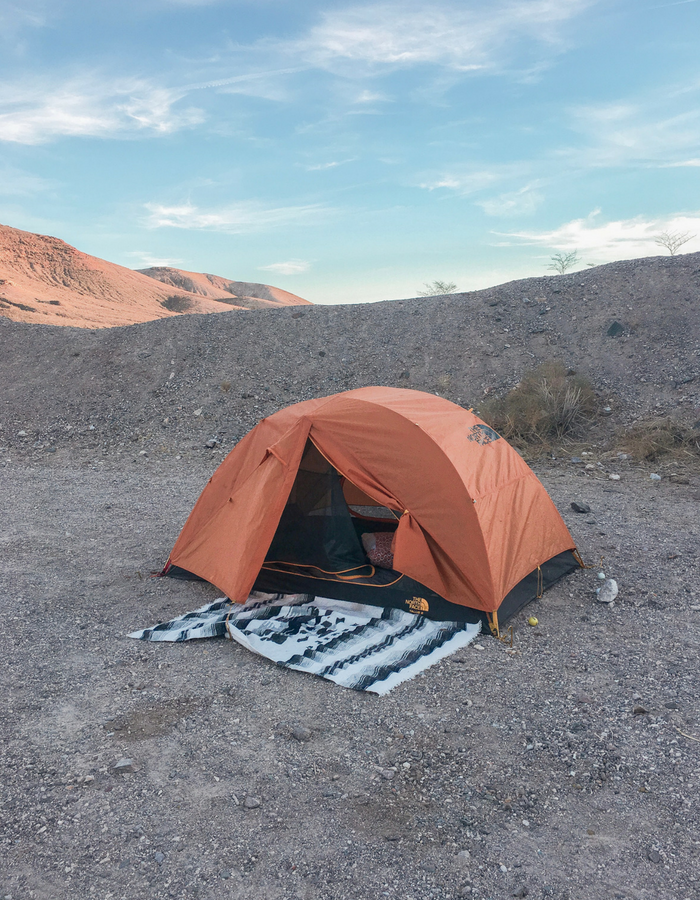 Step One: Choose the Perfect Netflix Tent.
Don't be so foolish as to think any old tent will do! Your tent has to meet 3 very important requirements if you want it to be a Netflix tent.
1. It needs to have pockets.
Preferably large pockets, because you're going to have a lot of snacks.
2. It needs to have a mesh gear loft.
This is ESSENTIAL. Do not skip this. I'll explain why in Step 7.
3. It needs to be a 2-person.
This isn't absolutely necessary if you're a single camper, but it'll make things a lot easier – especially during the next step.
NOTE: I use the North Face Talus 2 tent and it works perfectly! It's spacious, a great price, and (unlike with my last tent) the poles are metal and won't snap on you after 15 uses.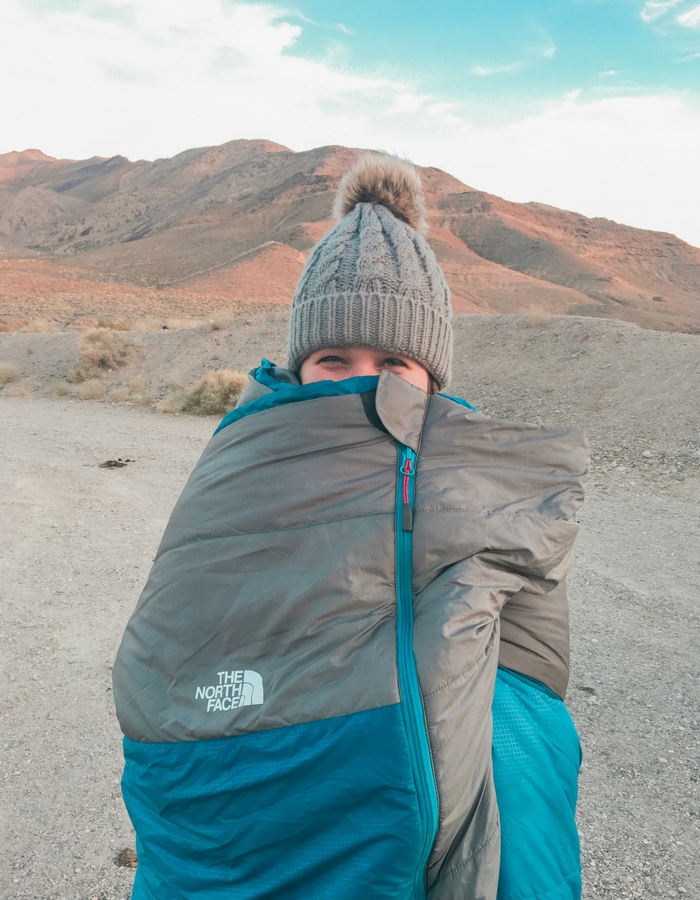 Step Two: Find the Perfect Bedding.
Imagine you have your ultimate Netflix tent set up and ready to use. You have 3 varieties of chip flavors, you've downloaded the entire season of Making a Murderer – all that's left to do is settle in. So you climb into your sleeping bag, zip up, and realize something horrible. Every time you want a chip, you have to remove your hand from the warmth of your sleeping bag!
I don't know exactly how many chips are in a family-sized chip bag… but I'm pretty sure it's a lot. By the end of the first episode your hands will be ice cold!
Unacceptable! You shouldn't have to decide between warm hands and eating chips. That's despicable and frankly, completely unAmerican.
Instead, invest in a double sleeping bag. And before you say, "I'm single, why would I need this?" hear me out.
This sleeping bag is more of a comforter than a sleeping bag. On cold nights, you can have it fully zipped and it'll stay toasty warm down to 20 degrees Fahrenheit and on warmer nights, you can unzip the whole thing and have one huge blanket!
It's a win-win. If you're with your significant other, you've got an awesome cuddle-friendly sleeping bag. If you're on your own, you have plenty of room to roll around.
And the best news of all is, there's room to put your chip bag INSIDE. So say goodbye to cold, chip-dusted fingers and hello to warm, chip-dusted fingers.
NOTE: I'm using the North Face Double Dolomite Sleeping bag. It really is like a big, cozy blanket!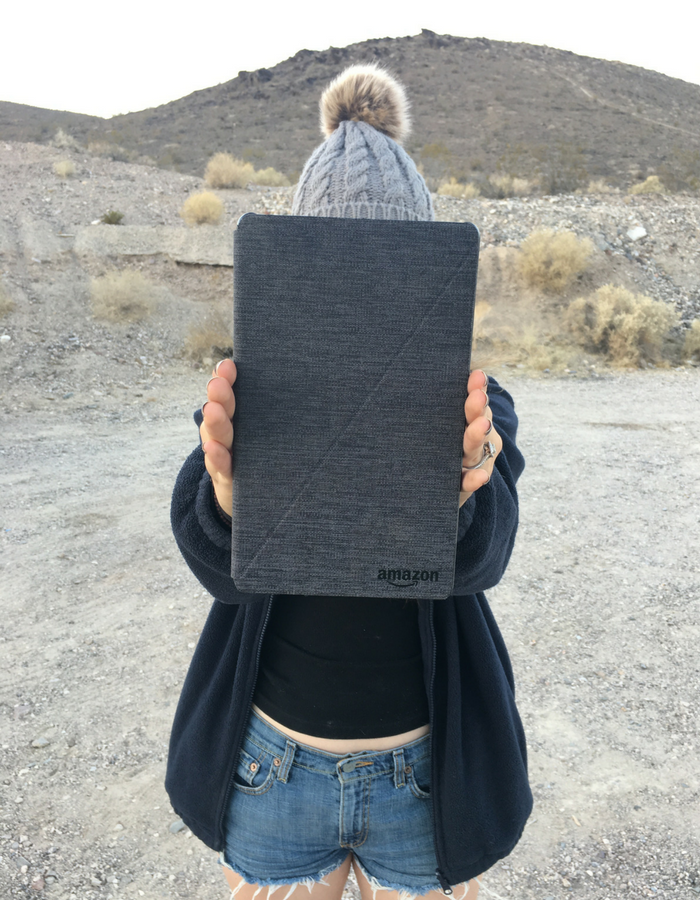 Step Three: Pick Your Device.
For this step, I'd recommend using an iPad or a Kindle Fire for two reasons:
1. They can lie flat.
You're going to need this feature for step seven.
2. They charge via USB.
Which means you can charge them using a portable solar charger. Trust me, you're going to need to recharge because once you start Making a Murderer – YOU CAN'T STOP. (Yes, I know I'm way behind on the Making a Murderer craze…)
Personally, I chose the Kindle Fire because it's more affordable and I just love all things Amazon. I also found out the Kindle has expandable storage, so I purchased the 16GB along with a 128GB SD card. Now my device has 144GB of space… No big deal.
But seriously, the Kindle Fire is the shiz. My only complaint is that I thought I'd use it to read books, and so far all I've done is download TV shows. But I'm pretty sure that's just due to a lack of self restraint.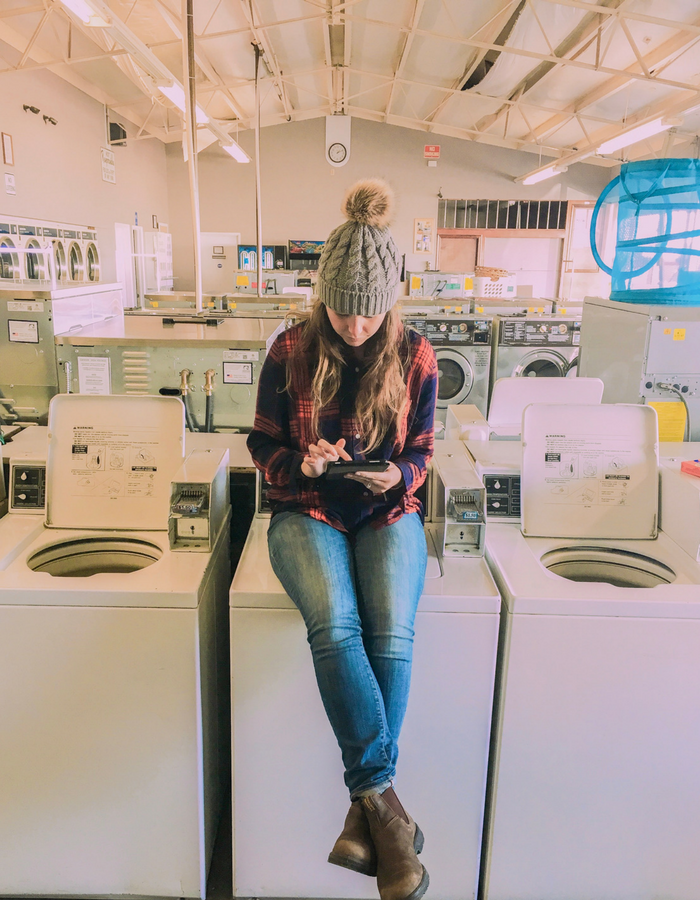 Step Four: Find the Nearest McDonalds.
Or any place with free Wifi, really. Personally I prefer McDonalds and laundromats because almost everyone there is equally as weird, or more weird, than me and I don't get the stink eye for sitting there for 2 hours. Of course, I always purchase something (or do a load of laundry) while I'm there – I'm not a monster!
Anyway, this is where it gets fun. Netflix has a list of movies and TV shows that you can download from Netflix (FOR FREE) onto your device so you can watch them offline. Crazy, right? So search the downloadable list and get crackin'!
NOTE: Netflix does sometimes cap your downloads. Some shows will only allow you to download so many episodes at a time. So you may be limited to 1 or 2 seasons before you have to delete the episodes you've already watched in order to download the rest.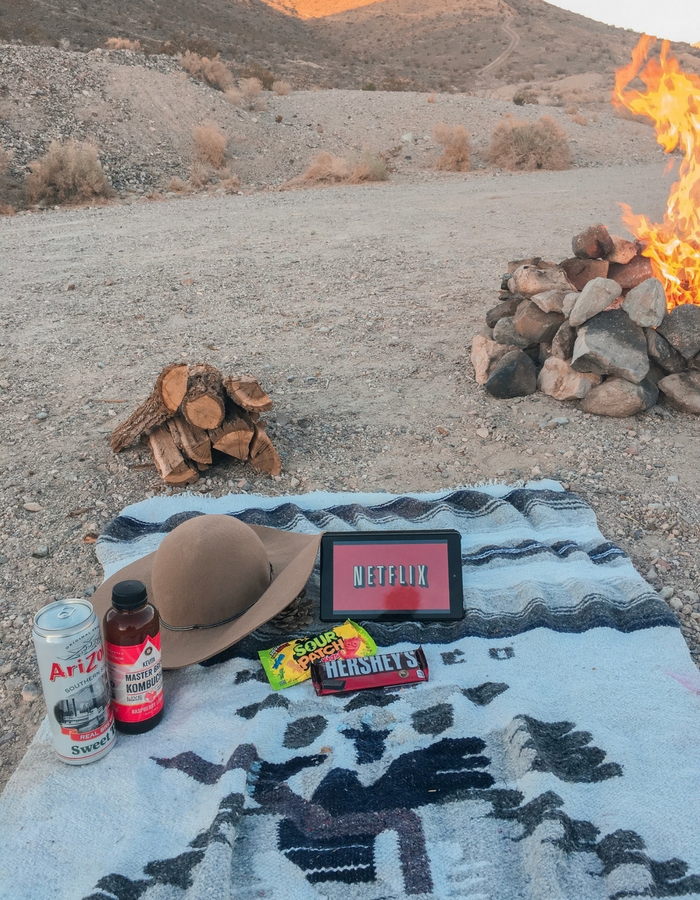 Step Five: Get Prepared.
Make sure you have everything you need:
3. A buttload of movies and TV shows (that you have tested before leaving the wifi – I had an incident where one downloaded improperly and it totally ruined my night).
4. A tent.
6. Enough snacks for at least 2 days of continuous watching.
7. A stash of energy drinks so you never have to stop. (Just kidding, don't do that.)

Step Six: Grab some Pizza.
Getting hot pizza in the middle of nowhere may seem impossible to you, but get ready to have your mind blown!
With a Dutch oven, you can make pizza over the campfire. All you need is dough, sauce, cheese and your favorite toppings.
NOTE: The pizza pictured above was NOT made in a Dutch oven. I'm not quite THAT good at making homemade pizza.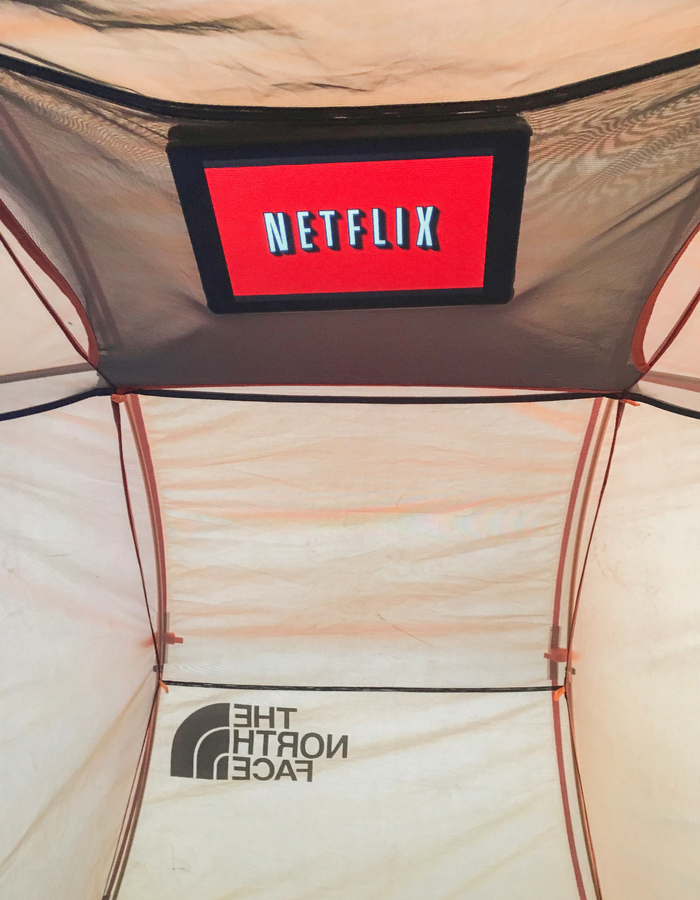 Step Seven: Set it Up.
This is where the gear loft and the flat devices come in handy.
Once you have your tent set up, your sleeping bag laid out, and your snacks strategically placed in easy-to-access pockets – select the movie/TV show you want to watch and put your device in the gear loft face-down. Lay on your back, and adjust the device so that it is in perfect view.
Now press play (the buttons should still work through the mesh) and watch the magic happen.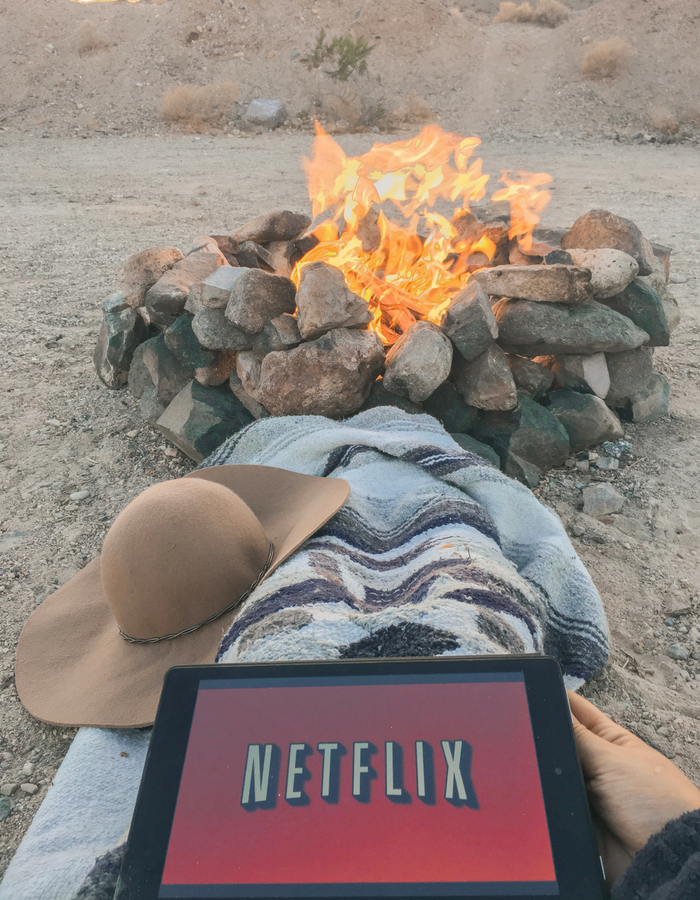 Step Eight: Enjoy!
This is your Netflix kingdom. You created it. Now it's time to bask in it's glory.
What's the one show you miss the most while traveling? Drop it in the comments below!
SHARING IS SEXY. PIN ME!