We have a love/hate relationship with Chiang Mai, Thailand – mostly love of course, but there's still that bit of police corruption that just leaves a dark cloud over a farang's (a farang is basically any white tourist) vacation.
They've got checkpoints with traffic cops scattered all around the city – and, yes, as a white person you are 100% guaranteed to get stopped. We didn't bring our licenses (stupid, but we haven't had a problem anywhere else) and we got stopped our second day driving the bike through the city. They demanded we pay 400 baht ($11), but gave us a piece of paper proving we paid and could continue driving for three days. We got stopped numerous more times (every time we passed a checkpoint in fact – it never failed) and the paper worked every time but one. The cop looked at our paper and said "No good. This from yesterday." Spot on officer, but we're allowed to drive for 3 days after paying our 400 baht ticket (coughcough BRIBE). We said we wouldn't pay and so he lowered the fine (bribe) to 200 baht. Thanks for the discount, but we still weren't having it. We continued arguing until finally, seeing he was getting nowhere with us and that there were many more gullible tourists lining up behind us, he waved us off.
All of this seemed sketchy enough, and then I did some research and realized the entire thing is completely illegal – even here. If you are truly charged with something (driving without a license or helmet, etc) they are "supposed" to issue you a ticket which you go to the station to pay. Accepting cash on the spot is illegal (because it is in fact a bribe) and giving the cash to an officer is also illegal – both punishable by up to 10,000 baht and 5 years in Thai prison. Yikes! None of that is actually enforced though.
Aside from the brutal police situation, we really loved the city and the surrounding area. I thought I'd die being away from the ocean, but the gorgeous temples, friendly locals and (of course!) the Asian elephant sanctuaries more than made up for the lack of salt water. We even became regulars at a local Thai restaurant! Every time we pulled up the man would just smile and ask if we wanted our usual order. It was quite nice!
With temples dating back to the 1300s there was absolutely no shortage of history in this old city, and it was pretty neat to see the monks and young monks in training wandering around the temple grounds. We also really enjoyed driving around the "Old City" square and looking at the remains of the stone wall that once surrounded Old Chiang Mai.
Near the end of our time here, we did some research on elephant sanctuaries. I didn't think I'd be interested after hearing/reading about how badly elephants are treated in some places in Thailand (chains, bullhooks etc). But it seems either the villages near Chiang Mai have picked up on this anti-hook, anti-riding trend, or they never did it to begin with. We only found a couple sanctuaries that allowed riding, but the rest seemed to be okay! For those that don't know, "sanctuaries" that allow elephant riding use bull hooks to train the elephant to carry passengers and go where they tell it to go. So while it may be a popular bucket list item, it's best to avoid it. I even read reports of the "elephant keepers" stabbing the elephant in the head WHILE tourists were riding. No good.
So anyway, after much research we selected The Elephant Family Sanctuary. An isolated sanctuary located near an elephant village an hour outside of Chiang Mai. The elephants were all born domestic, none captured, and are taken care of by mahouts. To be a mahout you must be a male born in an elephant village. It is a job passed on from father and son. So as much as Francis and I would have loved to apply for the position, it wasn't a possibility.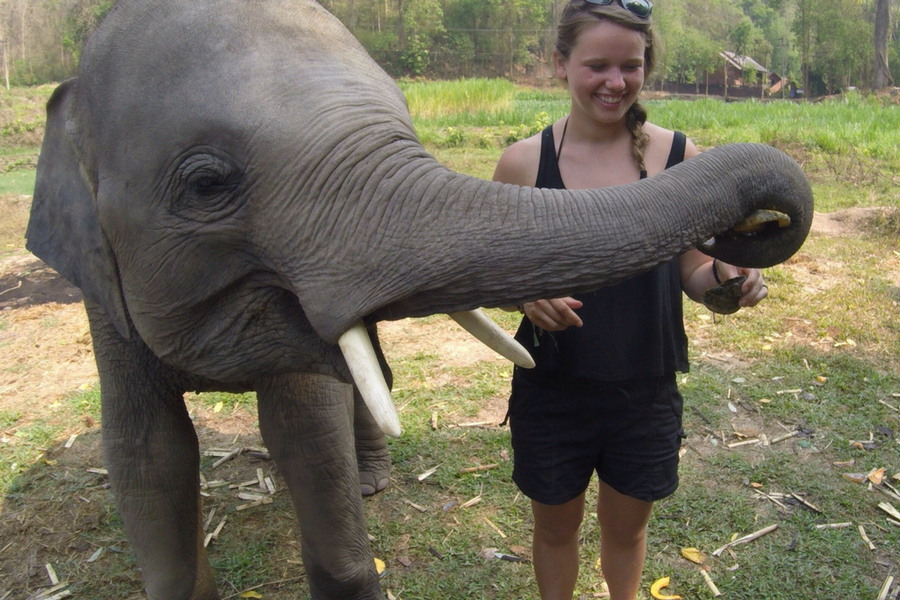 The elephants are far from being "pets" though. There are no fences, the elephants just graze, roll in the dirt or play in the water. The only time a "fence" is used is when they are being fed, and it's not an enclosure, just a wooden beam to keep them from running at you or crushing you between their giant, scaly bodies. It sure doesn't stop them from grabbing you with their suction cup trunks, though! (See 1:08 of the video). We fed them (a LOT – can't imagine what the grocery bill is for these things) and took pictures with them. Then we gave them a mud bath and afterwards, bathed them in the river. They loved bath time – especially the baby! They rolled around, blew bubbles (in both mud and water), sprayed themselves and some of the tourists (see 2:02 of the video – lol!) and the baby even grabbed a stick and started playing with it while basking in his cold water shower. It was an unforgettable day!
We finished the trip by heading out to Maeweng Waterfall to do some swimming and, for us, some cliff diving. Huge adrenaline rush and an awesome way to finish the day and our time in Chiang Mai! Overall, an unforgettable and amazing place – despite the police force's attempt to clean out our wallets.
And now, time to watch all the adventure in live-action (the video is mostly elephants.. that was my favorite part :)). Enjoy the film and see you all again in Pai!