Well we did it again; We found another unbelievable island paradise. This time we are on the forgotten island of Koh Mook (It's nicer than it sounds, as you'll see in the video) Here on Koh Mook they have traded most of their pristine white sand beaches for dense jungle, rock islands, and enormous cliff walls that hold up the island away from the clear, emerald water that sits stories below. The beaches that they do have are extremely hard to get to, making them that much more amazing when you find them. But I'm getting ahead of myself because just getting to this island was a difficult journey in itself.
When booking tickets for a boat to take us from Koh Lipe to Koh Mook, we assumed that the 3 1/2 hour ferry would actually bring us to the island and not just within viewing distance – but we realize that's a lot to ask. The ferry stopped in the middle of the ocean and offloaded us and our gear onto a local fishing boat that they call a 'long tail.' When the ferry was far enough away and we were close to shore, the local teenager piloting the boat informed us that we needed to pay him an extra fee to be delivered to the beach. We of course protested the surprise fee, and in response the teen called 'TigerLine, the company whose ferry we just departed. The woman on the phone told Kristin and I, as well as another couple, that the teen was a local fisherman who was being nice enough to taxi us from the ferry to shore and does not work for TigerLine so we would have to pay him for his services. None of this made sense, there was no fishing gear on this boat; What there was however, was a large banner that read "TIGERLINE" across both sides. So of course we continued to protest with the woman on the phone. The teenage captain must not have thought things were going well because he took back his phone, ended the call and looked to us a final time to demand payment. Again we said no. Clearly upset he replied in broken English, "Then you sleep on boat." Well, we weren't exactly in the mood for a slumber party and the other couple on the boat had already handed over their share, so we paid and finally made it to shore.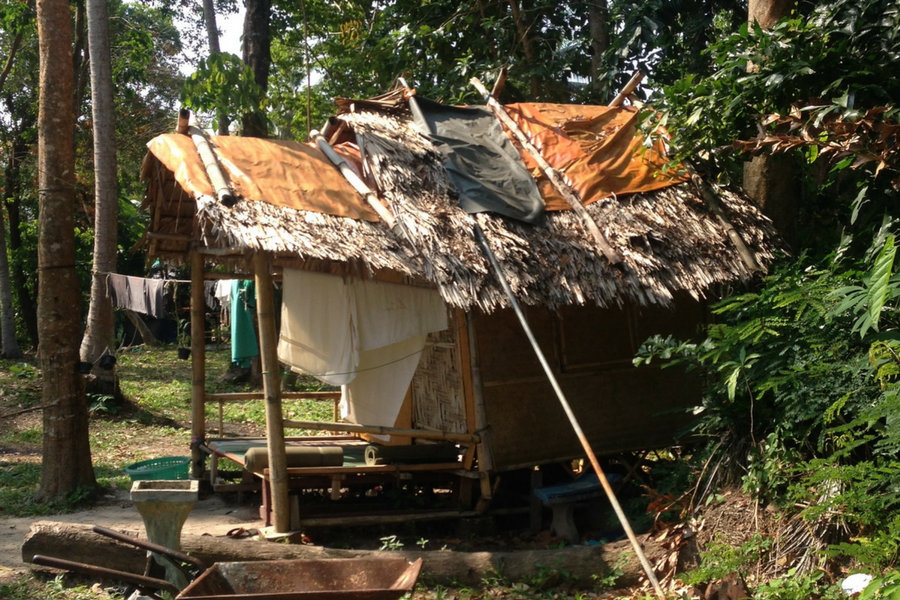 After this frustrating situation and hiking across the island in blistering heat, I just wanted to get somewhere that we could put our packs down and relax. Having only a location in mind but no actual room booked, I knew that it wouldn't be that easy. When we arrived we found the woman in charge and began negotiating camping prices and after only a few minutes of my grumpy demeanor, she offered us a small broken down bungalow for the camping price. This probably doesn't sound like a huge win but trust me, it was! Not only did this condemned bungalow have a bug net, it had electricity and a fan as well. Despite the giant moth dive bomb attack and the incredibly loud scampering of a cockroach that was honestly the size of an iPod Nano coming and going through every crack in the wall, we felt we were again in paradise.
With our accommodation settled it was now time to find out what the island had to offer. The reason we chose Koh Mook in the first place was because the unforgettable friends we made on Langkawi, Alex and Nin, described to us a hidden gem on this Thai island that we had to check out – Emerald Cave. A beautiful, secluded cave that's only accessible by water. So, day 3 in Koh Mook, we rented our kayaks and set off on an unforgettable (and slightly painful) journey. In the first part of our trip to the cave the only sight was the rough mountainous jungle that can only be described as a mix of Jurassic park and Lost. A little while later the entire look of the island went from thick jungle the sheer cliff faces where we found many small caves and watery paths between the cliff and parts of the island that broke off thousands of years ago. The water was rough, and we were not even halfway through the 6 mile kayak trip when our arms started protesting. Lucky for us, it was about at this point, surrounded by cliffs on both sides in such a way that it wouldn't be seen from anywhere but the perfect angle, that we spotted Sabai beach.
This beach had caves, huge boulders, perfectly clear water and fish everywhere. Lucky for me, my super smart wife had packed our snorkel kits on this adventure so we beached the kayaks and went for a swim, and as you can see in the video, it was absolutely beautiful under the water! We had so much fun chasing schools of tiny fish and trying to fit through small holes in the rocks that we didn't realize that we would be starting to run out of day light soon. We quickly got in our rented kayaks and paddled for Emerald Cave.
When we got there, we saw a small opening in the cliff face with only blackness inside. We stared at the cave for a while thinking "Are we really supposed to go in there?!" and "This cant be it!" About a minute later a light shown in the recess of the cave and out swam a man with an water-proof flash light. Ok, ominous as it was, this had to be it. We tied off to a rope that was attached to a rock and once again, lucky for me, my genius of a wife packed our head lamps which just so happen to also be water-proof. I jumped into the open ocean and, after much encouragement, Kristin jumped too (apparently she doesn't like swimming with a hundred meters of dark ocean below her…weird). Reaching the mouth of the cave we saw below us what looked like kelp or some kind of sea vegetation and continued in to the cave. As we swam further into the cave, it became clear that my wife's fears of both open water and small dark spaces were heavily on her mind. After 50-70 meters of swimming through this cave that was apparently cut off from any sun light on both sides, armed with only a small headlamp, we finally saw light. On the other side, the cave opened up into a small beach. The beach was hidden from view on all sides by incredibly tall cliffs with just a hole at the top for sun light to enter. I would seriously suggest to anyone visiting Thailand to check this place out!
After a long day of adventuring, we returned incredibly exhausted and in some places, sunburned to the second degree (yes, we wore sun screen). Oh! And that kelp we saw? Not kelp at all. While reviewing the video we saw it was actually thousands of fish hovering in the mouth of the cave. Seeing this, Kristin said "If we see a shark, I'm going to freak out!" Well, we didn't find a shark but as we paused the video and started clicking through the frames, we noticed a giant barracuda about three feet long, lurking in the upper right hand corner of our broken computer screen. Little did she know this would not be our last encounter with barracuda in Thailand, but that will have to wait until our next video where we explore Koh Tao! For now however, check out this video! My wife's video editing skills are getting pretty amazing!