Looking to get away from the hustle, bright lights, and angry drivers of Sin City for a day or two? Valley of Fire might just be the perfect place! With breathtaking viewpoints, unbeatable scenic drives and sunsets that activate the drool gland, you will never be so happy to get lost in the desert. Figuratively speaking, I hope.
Here are 8 hot spots (see what I did there?) that you don't want to miss on your visit to Valley of Fire.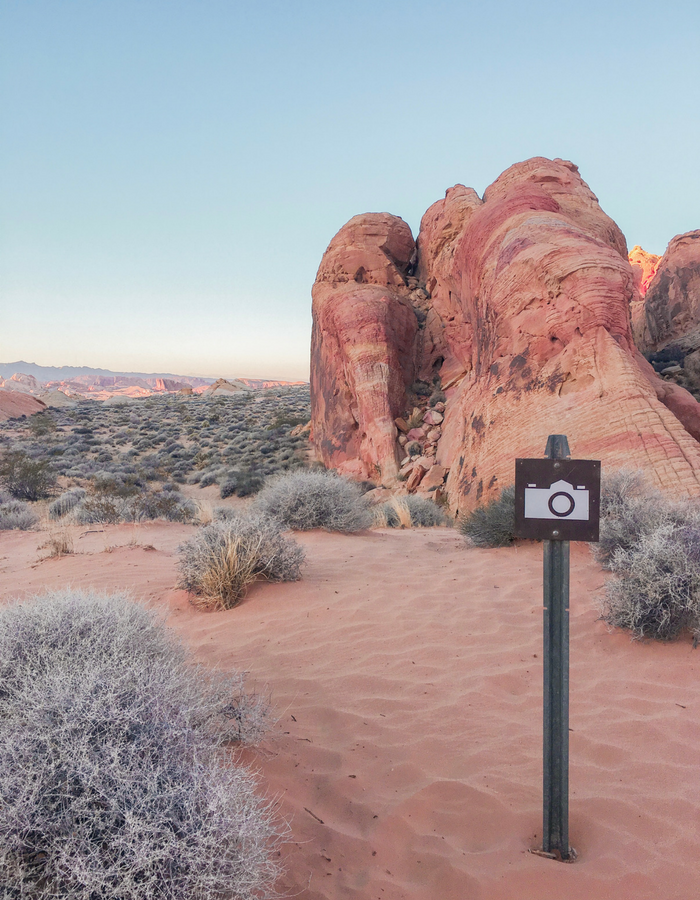 1. Rainbow Vista
This short, flat 1.1 mile trail takes you through the sandy landscape to a set of color-streaked rocks. This is a popular spot for wedding photography and for good reason! The sunset views at Rainbow Vista are absolutely incredible.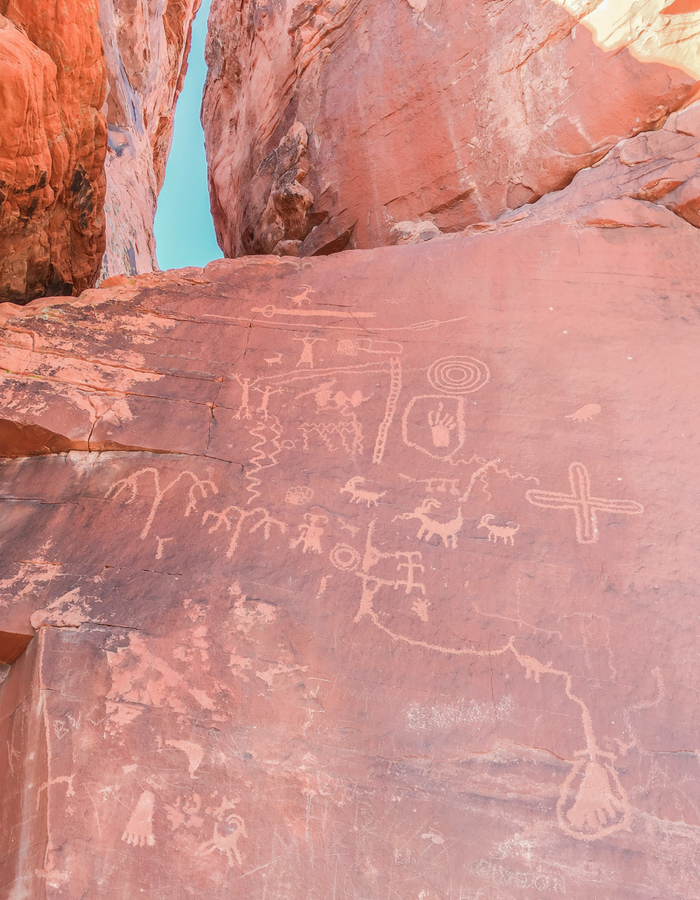 2. Atlatl Rock (Petroglyphs)
This is a quick off-road stop and well worth the hike up the staircase (and that's coming from someone who hates stairs more than anything). Atlatl Rock flattens out near the top and was carved into by ancient Indians. You can see several drawings – some more clear (bighorn sheep, trees, hunters) and some not as clear (spirals and other obscure shapes). The meaning of the drawings is unknown, but it's still interesting to see and the drawings are surprisingly well-maintained! Well, aside from the few jerks who decided to scratch their names into the wall. But I digress.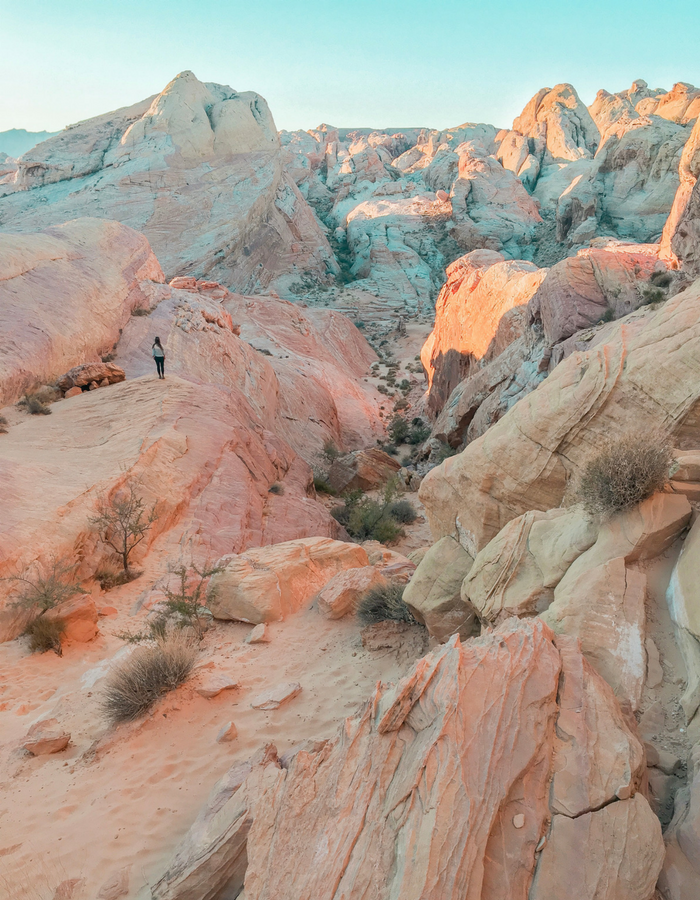 3. White Domes Trail
At the end of White Domes Road (a.k.a. Mouse's Tank Road) you'll find the trailhead for White Domes Trail. This loop trail is 1 mile long and takes you through some incredible scenery. The start of the trail takes you between two large rocks and you get an impressive and colorful view of the canyon below you (best viewed at sunrise, as pictured above).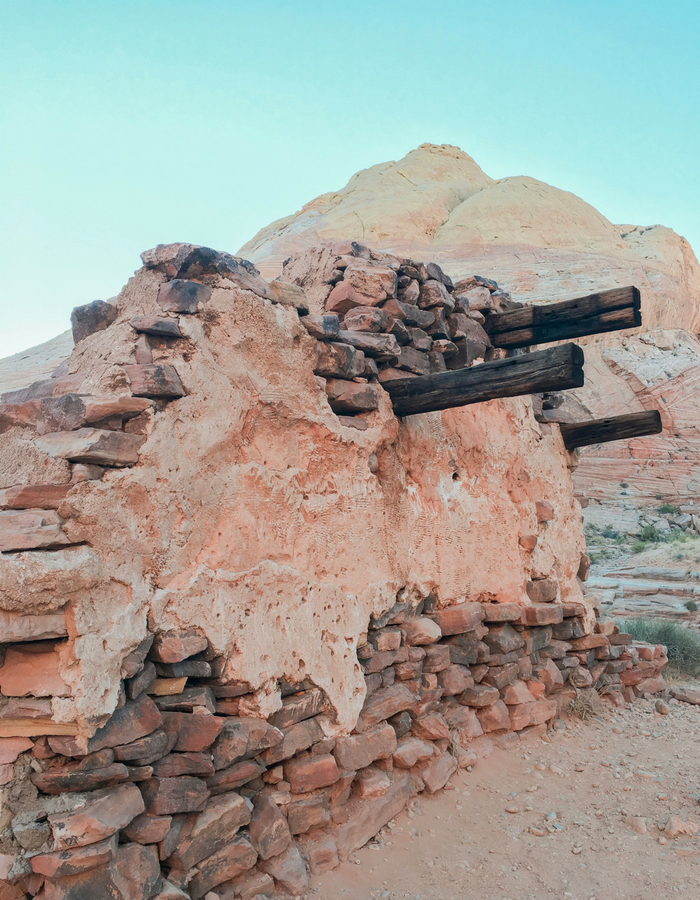 After taking in the views, you descend into what appears to be a site of ancient ruins. Not to ruin the illusion for you, but it is actually the remains of a film set from "The Professionals" (1966). After this, you'll squeeze through some science-fictiony narrows and begin the ascent to the parking lot.
A quick loop packed full of diverse views. Definitely a must-do for any Valley of Fire visitor.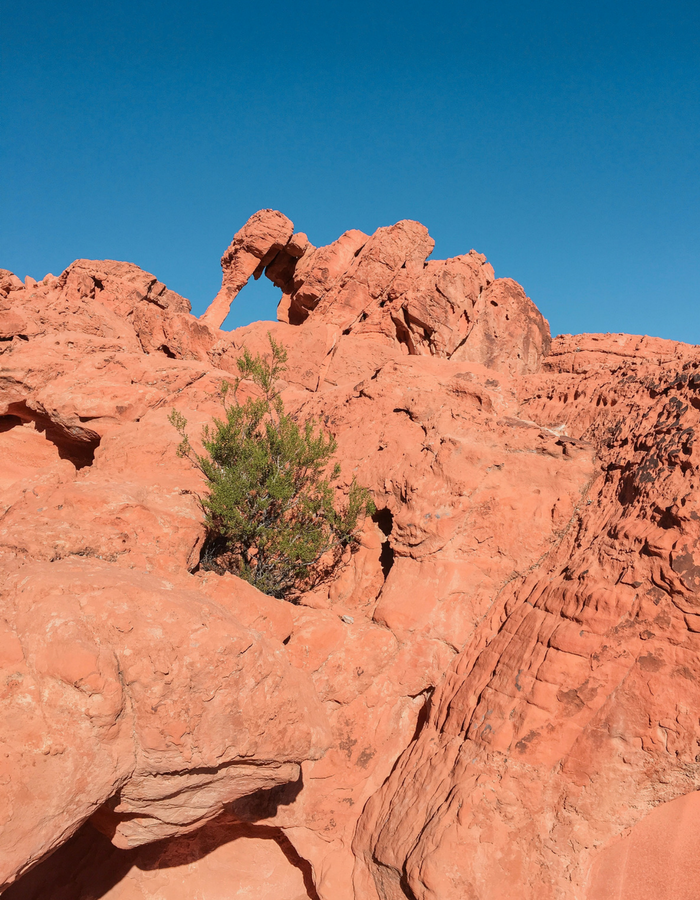 4. Elephant Rock
Elephant Rock is another quick stop on your Valley of Fire journey. This unique rock formation can be seen from the main road, or you can take a quick 1/2 mile walk which, inevitably, leads you to the road where you can view the rock from below.
It looks just like an elephant. Can't you see it?
Okay, maybe it's not as elephant-y as we'd hope – but it's got the basic shape down.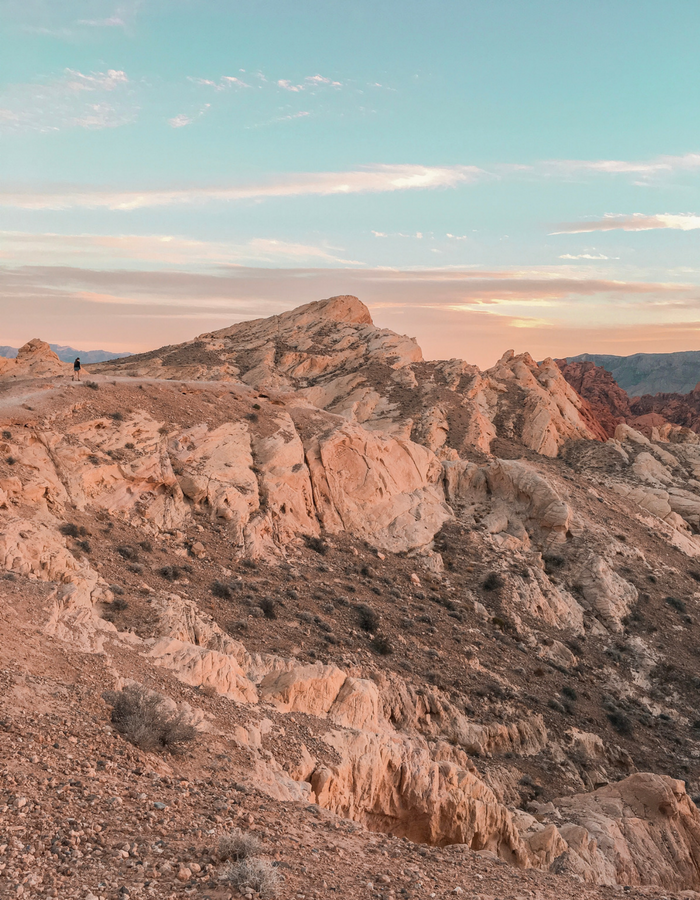 5. Fire Canyon and Silica Dome
An ideal place to watch a sunrise (or sunset), this overlook is not one to be missed. The Silica Dome has a completely different vibe to it than the rest of the park – almost like something from a distant, foreign planet. Which could explain why this location was used in the filming of Star Trek: Generations.
Whaaat?
Dropping some knowledge.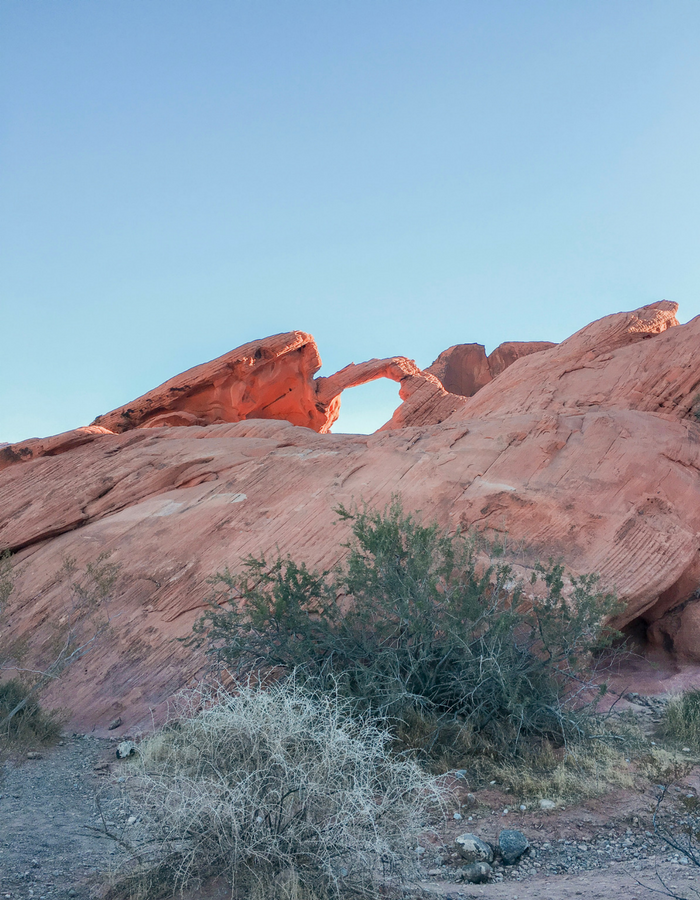 6. Arch Rock
Another quick photo stop, right off the road, Arch Rock is an interesting (if a little underwhelming) natural arch. If you've never seen a natural arch before, it's pretty neat. But if you've been to Arches National Park the size of this arch will likely disappoint you. Still, it's worth a quick stop and maybe you can even photoshop a tiny you beneath it to trick your friends.
NOTE: Please on't climb on top of the arch. Rock arches like this one are delicate – as proven by the fact that one of the park's more famous arches (on Natural Arch trail) has collapsed in recent years.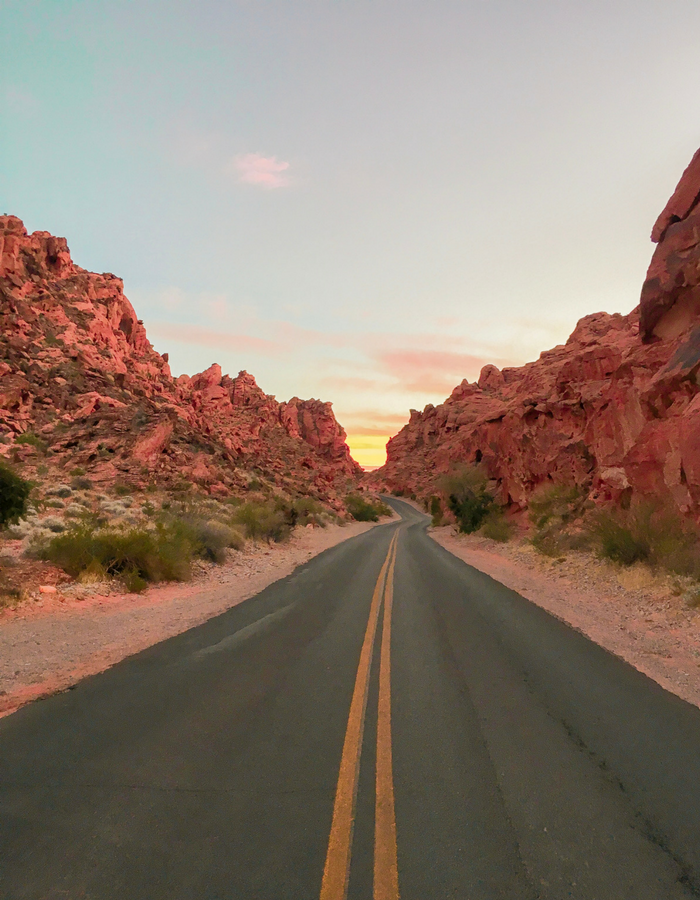 7. Mouse's Tank Road
This scenic drive (also known as White Domes Road) is absolutely breathtaking. You'll need to take this road regardless to get to most of the attractions listed here, but I recommend you take it slow. Stop to snap some photos and enjoy the drive.
Oh and, for those afraid of vermin, the name has nothing to do with mice. Little Mouse was the name of a Southern Paiute Indian who took refuge in the area and survived on the water in Mouse's Tank (a natural basin in the rock that collects rainfall). Another little piece of trivia for your next Show-and-Tell.
NOTE: Watch carefully and you may even see some Bighorn Sheep along the way (particularly at sunrise or sunset).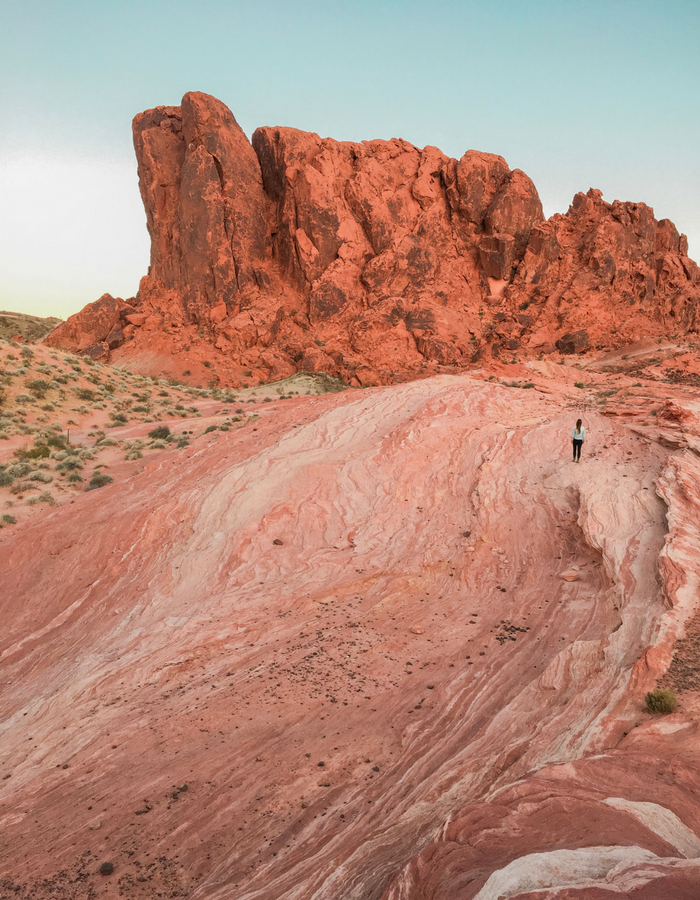 8. Fire Wave
A newer, and totally awesome, 1.25 mile hike just off of Mouse's Tank Road. This trail takes you down the hill, around some impressive red rock, and right up to a natural wonder you won't believe is from this planet.
Seriously, is this Mars?
You can walk along the "wave" for a ways and enjoy the views – which, if you can believe it, are even more stunning at sunrise (as seen above).
What's your favorite State Park (so far)? Let me know in the comments! 🙂
SHARING IS IN STYLE. PIN ME!