Las Vegas is an exciting city with no shortage of entertainment. But when the bright lights, constant traffic and Magic Mike shows start to get old, there's nothing like an outdoor day-trip to clear your head and cure your post-party blues.
So rent a car, lace up your boots, leave the booze behind for a day and enjoy one of these unique outdoor adventures near Las Vegas.

1. Red Rock Canyon
Located just 20 minutes from the Las Vegas Strip, this National Conservation Area is a great spot for hikers and outdoor lovers of all experience levels.
When describing this canyon, the name kind of speaks for itself. Walls of red rocks (and they really are red!) surround you as you drive through the park, and are best seen and photographed at sunrise and sunset.
COST: $7 for 1 day | FREE with America the Beautiful Pass
DISTANCE FROM VEGAS: 20 Minutes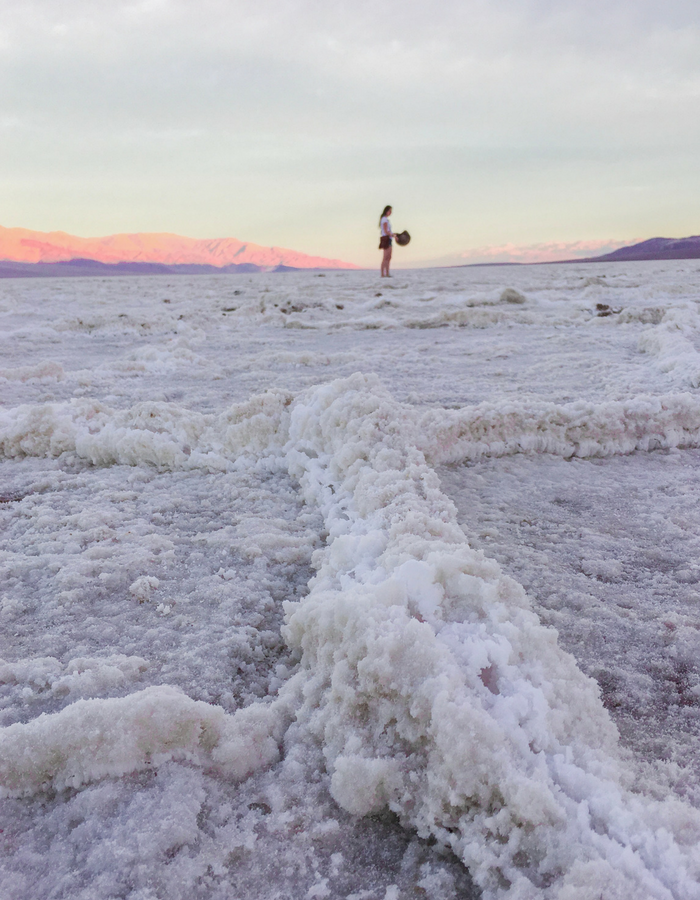 2. Death Valley
While this beautiful, diverse National Park is really located in California, it hugs Nevada's border and is only a 2 hour drive from Las Vegas! If you're down for a mini road-trip, you couldn't pick a better outdoor destination than Death Valley.
From narrow canyons and multi-colored rocks to salt flats and sand dunes. There is no shortage of things to see in this magical desert valley.
COST: $20 for 7 days | FREE with America the Beautiful Pass
DISTANCE FROM VEGAS: 2 Hours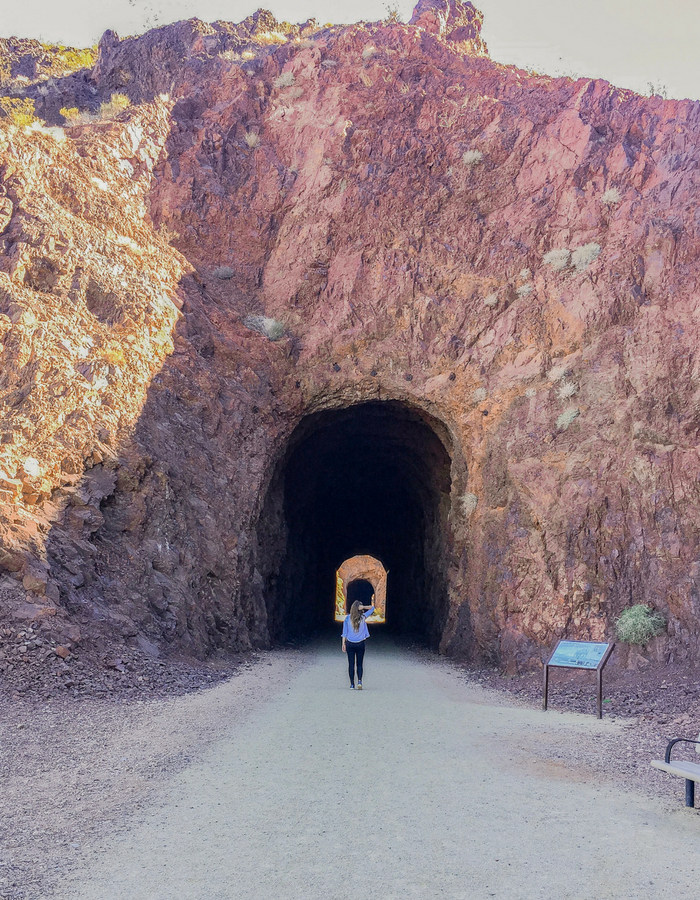 3. Historic Railroad Hike
This 4-mile trail takes you along the cliff side, around the south side of Lake Mead and through old, creepy, bat-infested train tunnels. The trail is gravel but almost completely flat, and the tunnels and cliffs provide good shade for most of the journey.
When you pass through the 5th and final train tunnel, you have the option to continue all the way to the Hoover Dam, but keep in mind, that will add another 3, mostly unshaded, miles to your hike.
This is also a popular bike trail, if you're into that!
COST: Free
DISTANCE FROM VEGAS: 30 Minutes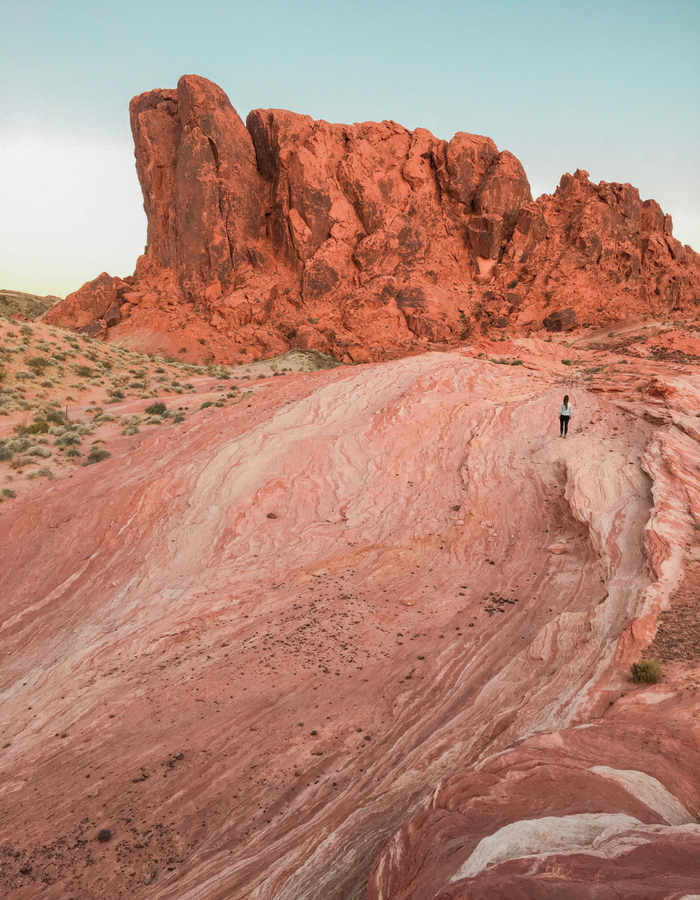 4. Valley of Fire
When in Nevada, you absolutely can't miss seeing this State Park! Valley of Fire is tangible proof that the desert is a beautiful place. With trails like the White Domes trail and the Fire Wave (pictured above) you'll feel like you've set foot on another planet.
And for sunset? The whole park comes to life in a fiery blaze. It's not hard to see how this park got it's enticing name.
COST: $10 for 1 day (America the Beautiful Pass does not work here)
DISTANCE FROM VEGAS: 54 Minutes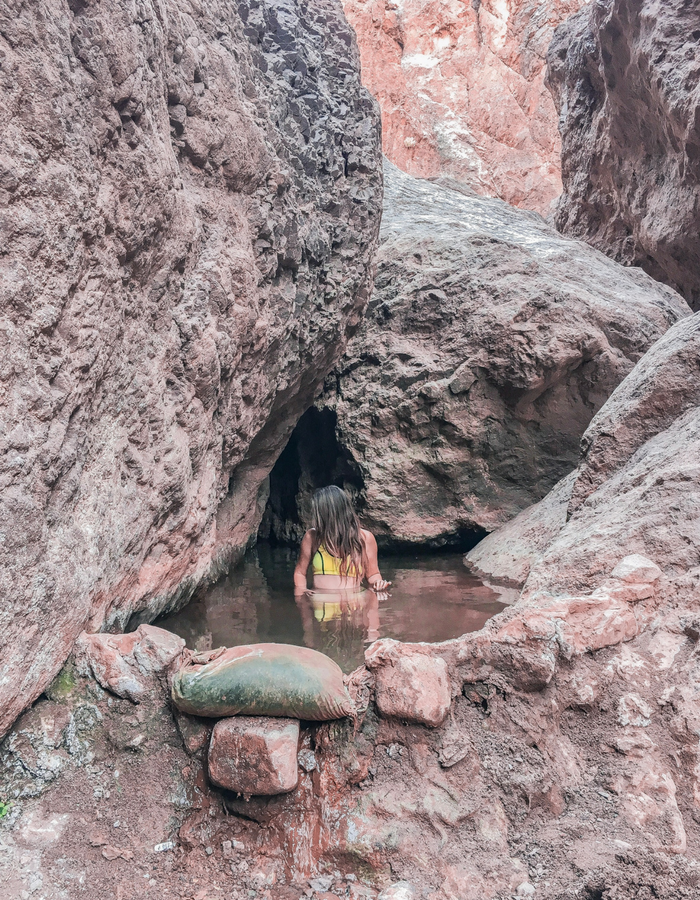 5. Gold Strike Hot Spring
This incredible trail is the ultimate outdoor adventure. With rope-assisted descents, a couple occasions for bouldering, and graffitied wreckage from trashed cars, I don't think I could dream up a cooler hike if I tried!
However, this once-hidden secret is now a super popular spot for locals and travelers alike. If you want this little desert bath to yourself, you'll have to get to the trailhead first thing in the morning. Might want to ease up on the partying the night before – if you can resist.
INSIDER TIP: This trail is closed between June and September.
COST: Free
DISTANCE FROM VEGAS: 30 Minutes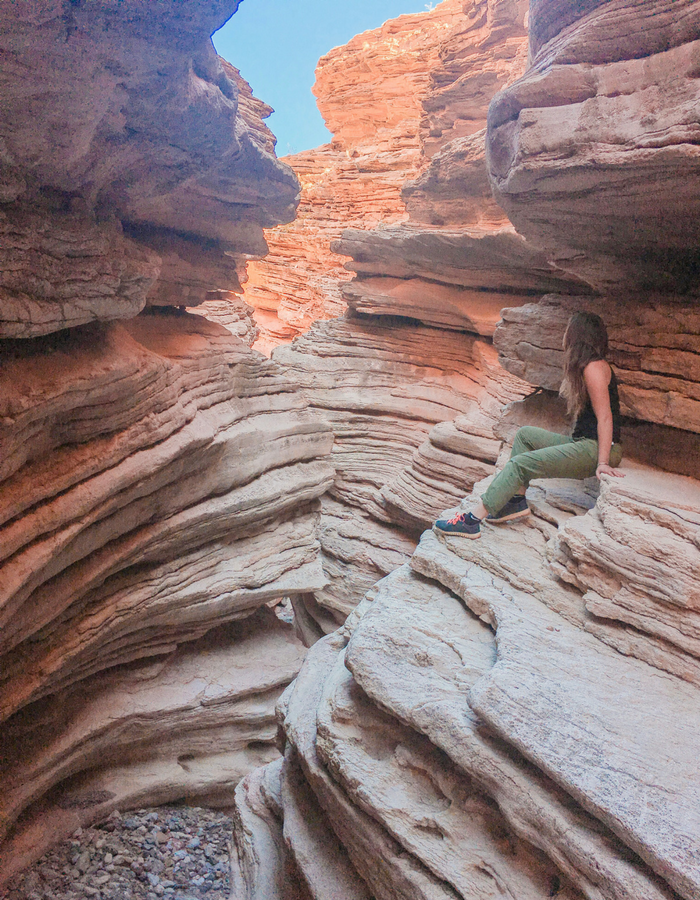 BONUS: Anniversary Narrows
Ah, the Anniversary Narrows. This trail has now been officially closed to the public, but thrill-seeking hikers still manage to make their way inside (which isn't too difficult with the dilapidated state of the fence). This once beloved outdoor wonder lies on private land and if you are caught trespassing, the owner could choose to press charges.
I would never encourage trespassing, but in the off-chance anyone goes inside, please stay out of the abandoned mines. They are unstable and incredibly dangerous.
COST: $20 to enter the Lake Mead National Recreation Area OR Free with America the Beautiful Pass
DISTANCE FROM VEGAS: 1 Hour
What's the best outdoor adventure in your home state? Let me know in the comments!
SHARE IT LIKE IT'S HOT.