The Oregon Coast has so much to offer. From secret beaches and moody coastlines to lush rainforests and abundant wildlife. This coastal road trip is packed full of surprises and more than lives up to all of the hype.
The downside? Many of the scenic stops aren't visible directly from the road, making it hard to see everything unless you already know where you're going. And being that much of Highway 101 winds around seaside cliffs, it can be difficult to turn around if you miss something!
So pull up your Google Maps and get ready to mark these 10 Oregon Coast hot spots. And remember, don't be an itinerary Nazi. If you see something cool you hadn't planned on stopping for – take the time to stop! Often, the best sights are the ones you hadn't planned on seeing.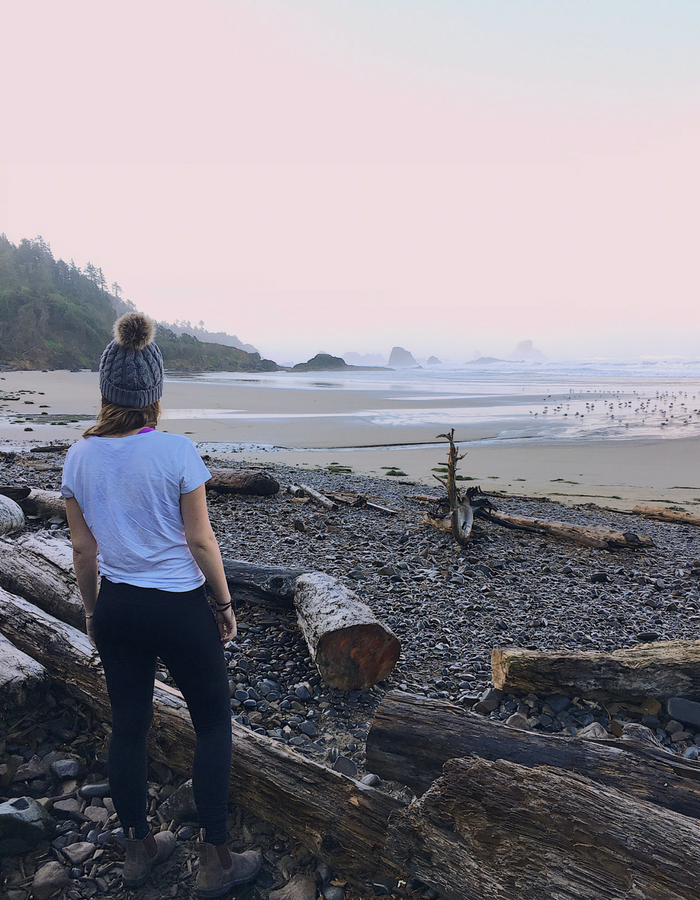 1. Ecola State Park
If your road trip takes you north to south on Highway 101, Ecola State Park is the perfect first stop to kick off your coastal journey! The beautiful Indian Beach is only a few minutes by car from the entrance, and the drive there winds through the lush rainforest that this park is so famous for.
If you'd rather explore the rainforest by foot, there is a trail near the entrance. It is on the right-hand side on route to Indian Beach and is blocked off to vehicles by a rusted, metal gate.
COST: $5 if entering by vehicle.
TIME: 30-40 minutes. More, if hiking the trail.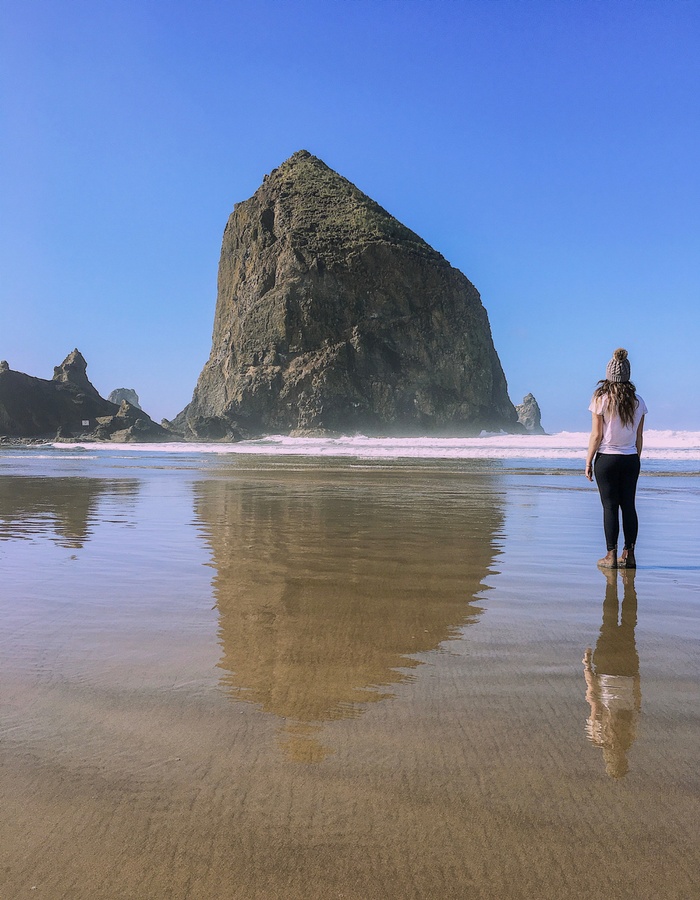 2. Cannon Beach
Just a quick jaunt from Ecola State Park, Cannon Beach is a worthwhile (however densely populated) stop along the Oregon Coast. The beach is nice enough but the real draw is the impressive, and famous, Haystack Rock that lies just off shore.
At low tide, you can walk out to the rock but climbing is prohibited as Haystack is home to a variety of fragile wildlife.
COST: Free when off-street parking is available.
TIME: 15-20 minutes.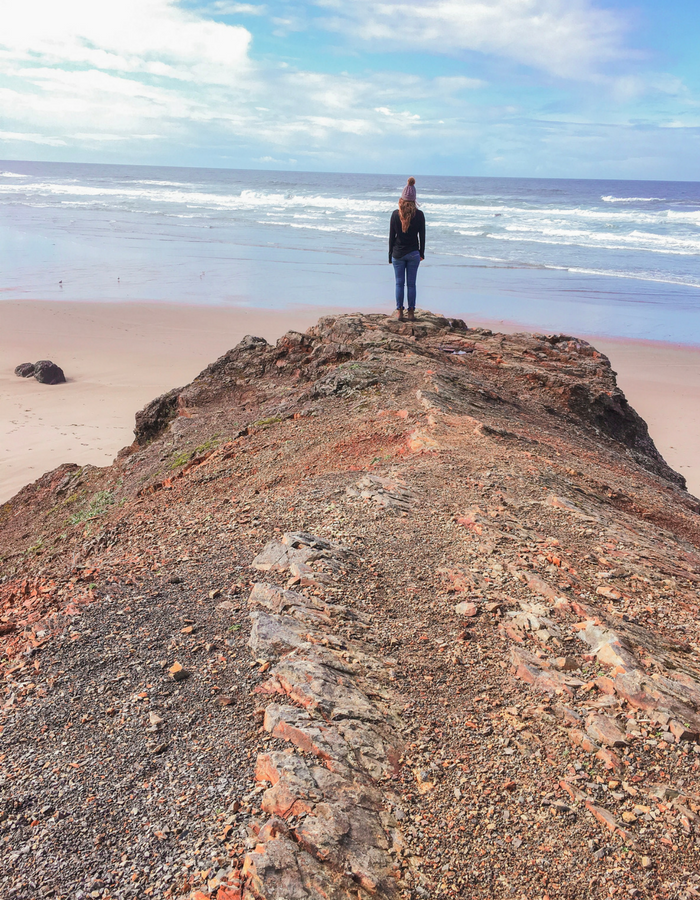 3. Cape Kiwanda
This is my favorite stop on Highway 101 and I spent hours photographing it's natural beauty. Some of it's most impressive landmarks are the colorful rust-hued sandstone, the massive sand dunes, and Haystack Rock.
Wait, didn't we just see Haystack Rock near Cannon Beach?
Yep. Just to confuse us, Oregon is home to not one, not two, but three Haystack Rocks. The tallest, however, is in Cape Kiwanda.
COST: Free.
TIME: About 1 hour.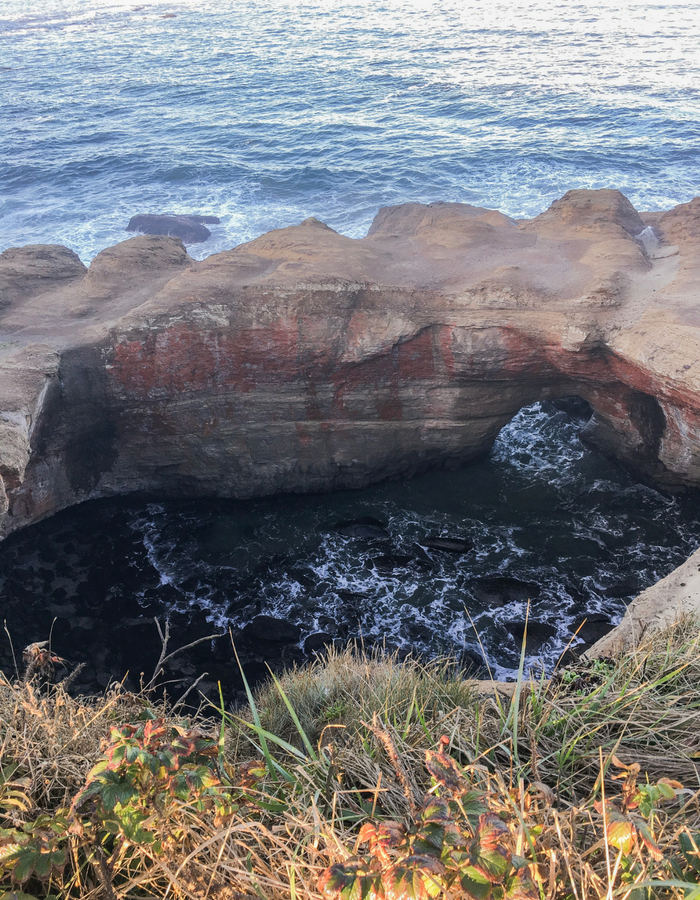 4. Devil's Punchbowl
While this is certainly a stop worth making due to it's fame, it wasn't quite all that I expected. As we all know, Pinterest has a way of hyping things up in our mind to be significantly better than they really are. However, it is still worthy of a picture or two and won't take much time out of your schedule as you can drive directly up to the overlook. Just keep in mind, it really is only an overlook and not much else.
COST: Free
TIME: 5-10 minutes.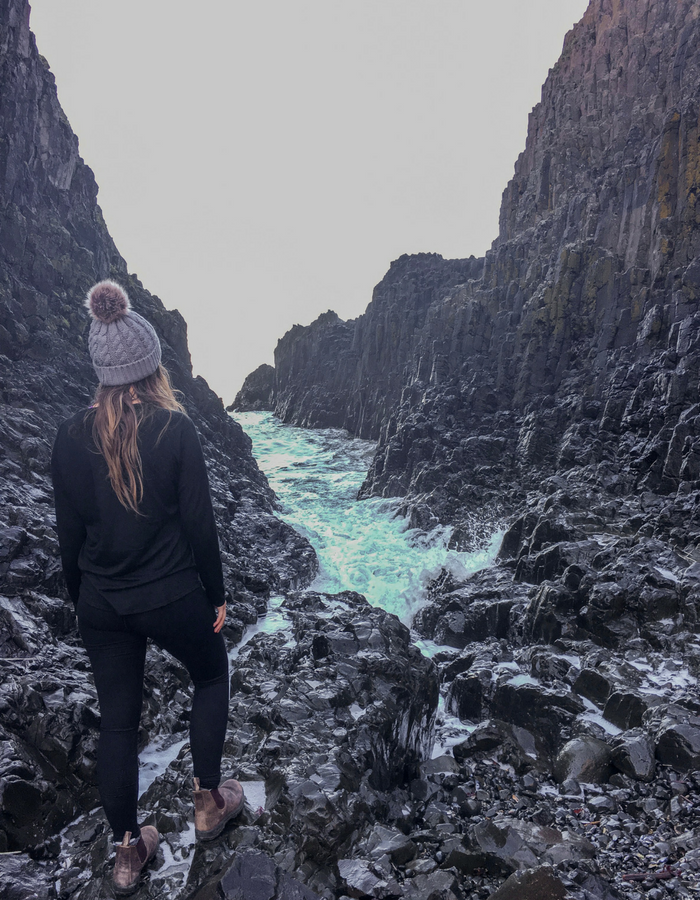 5. Seal Rock
Seal Rock was one of the "surprise stops" on our Oregon Coast road trip. When I saw a line of jagged rocks jutting out from the ocean, I couldn't resist the calling for an impromptu photoshoot. And I got more than I bargained for when I stumbled on the cool, yet incredibly dangerous, wave tunnel pictured above. Talk about photogenic!
COST: Free
TIME: About 30 minutes.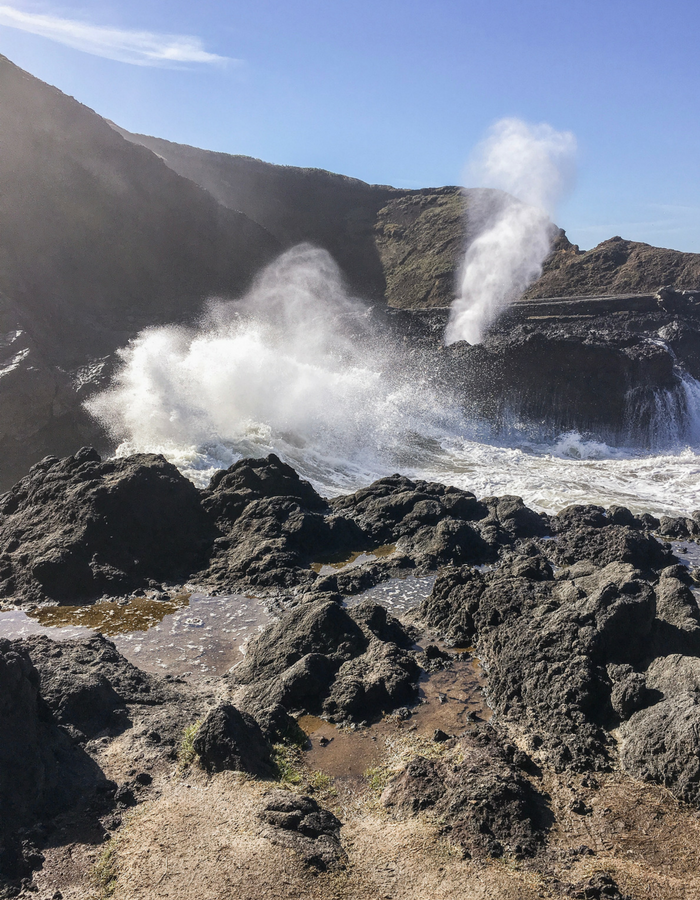 6. Thor's Well & Spouting Horn
If you're a fan of geysers this place will not disappoint! Every time a sizable wave rolls in, Spouting Horn shoots salt water out of the rock and into the sky.
What I loved most about this location was that it wasn't fenced off at all. You can get nice and close to the action. But please be careful as most of the rock is wet and slippery.
NOTE: The parking lot for this attraction looks as though it's only a scenic overlook along the Oregon Coast highway and can be easy to miss.
COST: Free.
TIME: 30 minutes or so – mostly to get the timing right for photos.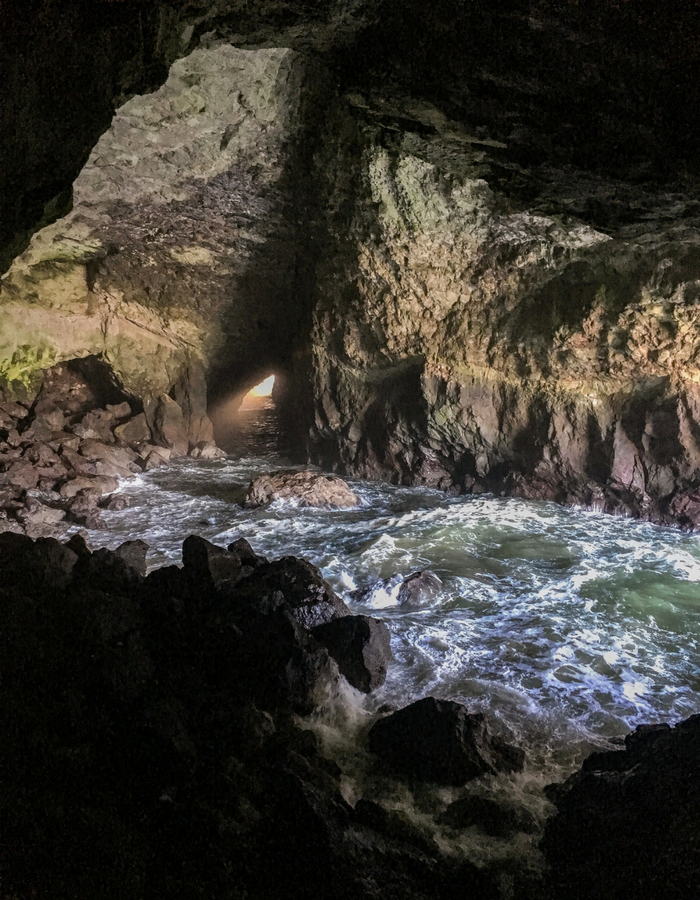 7. Sea Lion Caves
Wildlife lovers, rejoice! Sea Lion Caves is your surest way to see these beautiful creatures up close (and learn a lot about them in the process!).
Located in a protected area, the cave provides a natural place for the sea lions to rest during the colder months, while the rookery outside of the cave is used to breed and raise their young in the spring. Hundreds of sea lions congregate in the large sea cave for the winter and their iconic "barking" can often be heard even from above at the designated overlooks.
While we may be observing the animals as you would in a zoo, they are wild and come and go as they please. The best time to visit is in the winter, as you'll see a lot more action inside of the cave, but you can always call ahead and the staff would be more than willing to tell you if the sea lions are visible or not!
COST: 
Adults $14
Seniors: $13
Children 5-12: $8
Children 4 and under: Free.
TIME: About 1 hour.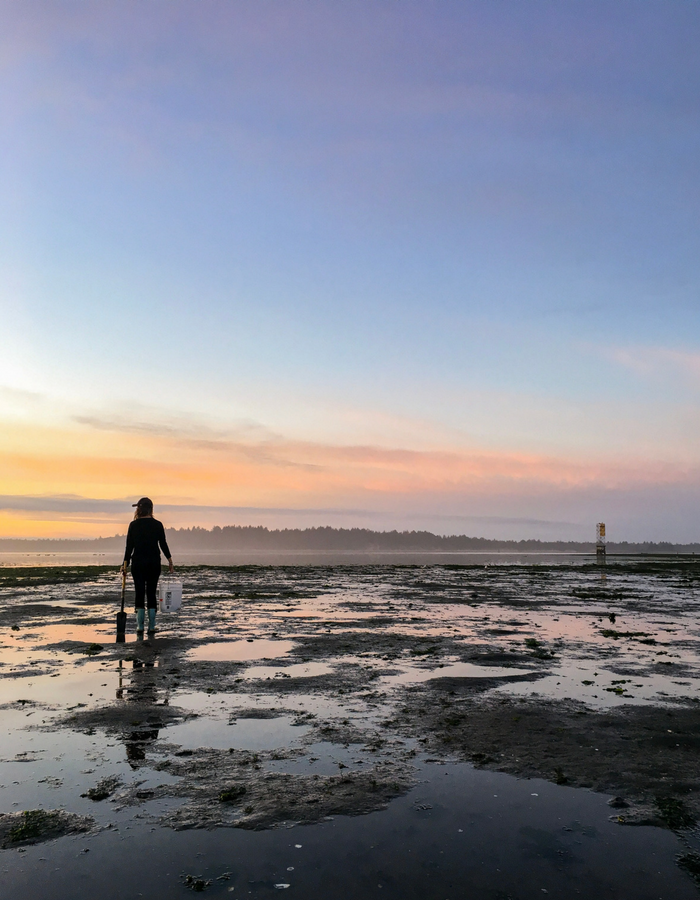 8. Coos Bay
Clamming is a true locals sport and there's no better place to do it than Coos Bay. All you need is a bucket, a shovel, a shellfishing license, and a whole lot of patience (because learning how to do it is mostly just trial and error).
Right off Cape Arago Highway near Mystic Mobile RV Park is a great spot for clamming! We found cockles, butter clams and giant gapers that were bigger than both of my fists put together.
And if you spot a local out clamming, don't be too shy to ask for tips. We wouldn't have found the gapers if it wasn't for a helpful man and his daughter showing us how it's done.
NOTE: Be sure to check the tide schedule before going out. You'll want to head out about an hour before low tide
COST: Free (park on one of the pull-outs).
TIME: 1-2 hours.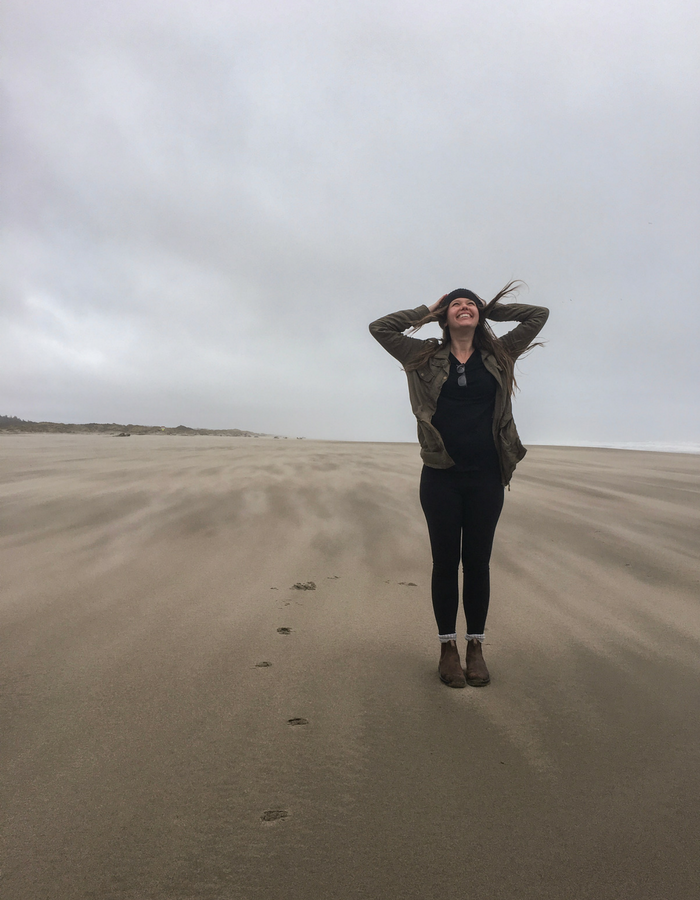 9. Bandon Dunes
The city of Bandon is a popular stop on most coastal road trip itineraries – so why not check out the beach, too? This gorgeous natural area is mostly flat, with great views of stack rocks submerging from the sea and a ridge of sand dunes lining the beach.
It was pretty foggy, windy and, some might say, miserable when we visited – but it actually worked to our advantage! Streams of loose sand blew across the flat ground in snakelike patterns as we walked along, making for some pretty cool video footage!
COST: Free (parking is right off the beach).
TIME: 30-45 minutes.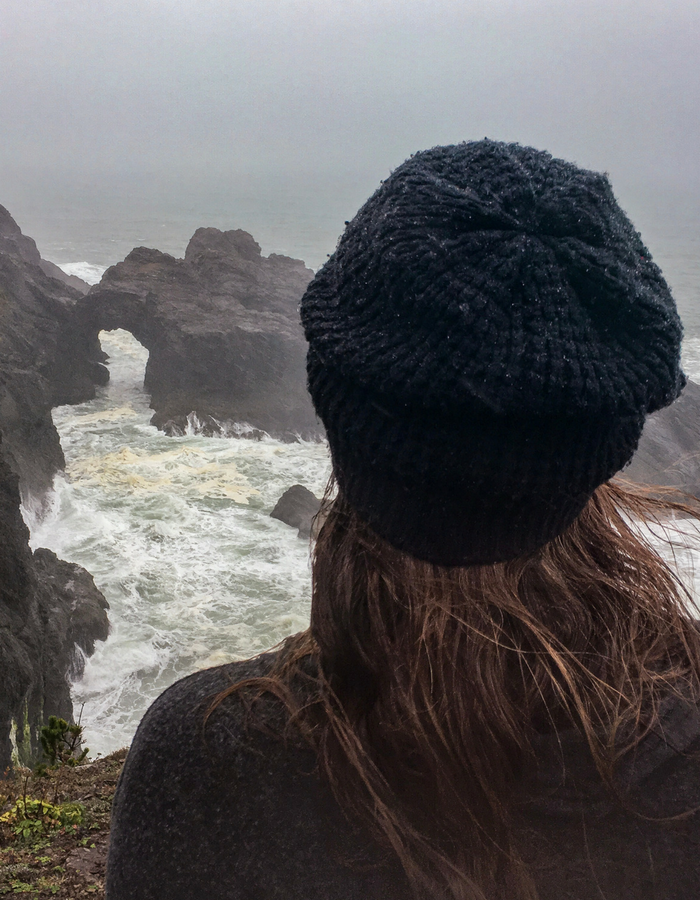 10. Samuel H. Boardman State Park
This park stretches across quite a few miles of coastline and encompasses some beautiful locations including Arch Rock, Natural Bridges (pictured above), and the famous, and maybe not-so-secret, Secret Beach.
What I love about this park is how short and accessible the trails are. Minimal energy exertion with a huge payoff? I'll take it.
Again, pretty crappy weather for our visit – but with views like these, who's complaining?
Dreaming of an Oregon coast road trip? Which spot would you most like to visit? Let me know!
SHARING IS CARING! PIN ME 😉