If you're planning on getting SCUBA certified or even just momentarily entertaining the idea, I would encourage you – DO IT. And if you're going to do it, do it on Koh Tao.
Koh Tao is a small island in the Gulf of Thailand. You may have heard of Koh Phangan, the island that hosts the world-famous "full moon" parties? Koh Tao is it's much quieter, Northern neighbor. A happy little diving community where people come from around the world to get certified.
Here's why you should do the same.
1. It's dirt cheap.
Probably the number one best reason for scuba diving on Koh Tao. It's unbelievably inexpensive. It only cost me $260 for my 3-day PADI Open Water course through Asia Divers Resort. And not only did that include all the scuba gear, it also included accommodation! Trust us, if we can afford it, so can you.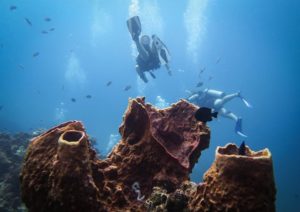 2. It's super easy.
No, really! Leave all of your preconceived notions about scuba diving at the door. It's not as scary as many people make it out to be.
I was once one of those people who claimed I'd never scuba dive. Risk brain damage or getting eaten by something twice my size? No thanks. But believe me, it's not as scary as it sounds. Sure you should be aware of the risks involved, but you'll learn all about them and how to avoid them during your classes. As long as you have a good instructor, (cough cough, Julien at Asia Divers) they'll be more than happy to answer any questions you have and work with you until you're comfortable.
But the truth is it's pretty hard to hurt yourself while diving, unless you're deliberately being stupid. 10 year olds are taking this class…I believe in you!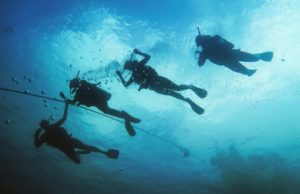 3. Koh Tao is basically one big scuba community.
You can easily strike up a conversation on Koh Tao because almost everyone is there for the same reason you are – to dive. You're pretty much guaranteed to make at least a few friends since you now have at least one super cool common interest.
Koh Tao is a Diver's haven and is one of the top 10 most popular places to get certified. All of the stores are stocked with wetsuits, regulators, dive watches and GoPro diving accessories and the employees are almost all foreigners who got so hooked on diving that they decided not to leave. And it's not hard to see why. Diving is an unreal experience and Koh Tao is the land of diving!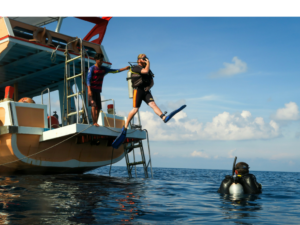 4. There are a LOT of dive sites.
For such a small island, Koh Tao has a lot of dive sites. 18 to be exact. Chumphon Pinnacle is by far the most popular, but you're guaranteed to see marine life no matter where you go. Quite possibly the most difficult part about learning to dive is trying to focus on your instructor when you're in the water – there is just so much to look at!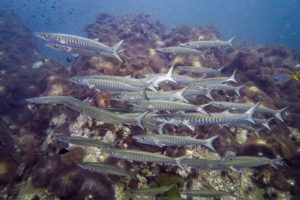 5. You can scuba all year round.
Koh Tao is known for its gentle currents and warm waters. The water temperature stays at about 84 degrees Fahrenheit the entire year! This gives you the opportunity to schedule your scuba course during the off season (May-November), when prices are cheaper and the island is much less crowded.
6. There's tons of fish.
I'm equally as obsessed with ocean life as I am terrified of it, and I was not disappointed swimming through the rich, blue waters of Koh Tao. We saw schools barracuda, a moray eel, a blue spotted stingray, and a huge Titan trigger fish. We even got to meet the famous, resident clownfish family. They live in a small anemone on the ocean floor which local scuba divers have surrounded by a ring of rocks to warn other divers not to touch.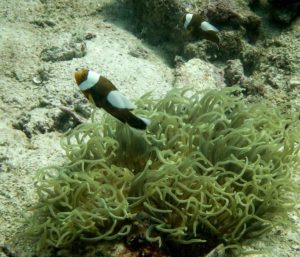 At Chumphon pinnacle you might even see a bull shark, if you're lucky – or unlucky, depending on how you look at it. It's one of the few places scuba divers can see bull sharks up close in the wild. Bull sharks can be aggressive, but there haven't been any reports of attacks in Koh Tao. It's fairly uncommon for a shark to attack a diver, especially when they're swimming with a buddy or in a group.
In the shallower areas, black tip Reef sharks can be seen as well as sea turtles.
7. It's home to the famous "twin" islands.
Formally known as Nangyuan Island, the two land masses are connected by a long, narrow sandbar and have been the subject of many-a-photo. And, bonus! You can scuba just off the coast. The dive site is appropriately named "Twins" and it was one of our favorite sites. Most of the footage from our Koh Tao video was filmed here.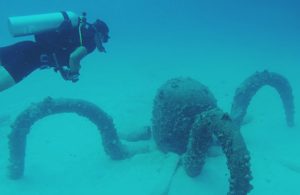 8. You might see a whale shark!
Dreaming of swimming with a whale shark? 
Quit dreaming and visit Koh Tao! Click To Tweet
Maybe the chances are slim – but definitely not impossible. In fact, since we left the island, the Asia Divers staff have shared TWO spontaneous encounters with the spotted beauties off the coast of Koh Tao. Why couldn't we have just stayed another month!?
If you want to increase your chances of a sighting, do your scuba diving in April or May. That's prime whale shark time in Koh Tao!
Here is just one of the spectacular photos captured by Asia Divers Instructor (and wonderful friend) Julian.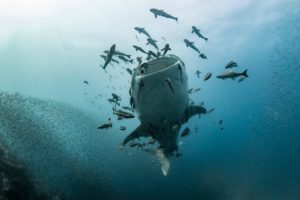 So what's holding you back? Get to the island and dive in! Taking your first breaths underwater is something you'll not soon forget. And from there on out, you'll often find yourself day-dreaming in blue.
DISCLAIMER: This is NOT a sponsored or paid post. Our recommendation of Asia Divers is based on the great experience we, and many others, have had with them.
PIN THIS ARTICLE