The Redwoods park is one of the most stunning national parks in America. With 37 miles of coastline and over 38,000 acres of old-growth Redwoods, it can all be a bit overwhelming – especially if you only have 2 days to see it all!
If you're anything like me, you probably have serious FOMO (fear of missing out) on your travels. There's nothing I dislike more than leaving a place and realizing I missed out on seeing something great. So when I finally made it to the Redwoods I knew had to make sure my itinerary was perfect.
Being a total noob to the Redwoods (and California in general, really) I quickly realized I'd be getting a lot more than I bargained for. There's a lot more to the redwoods than just redwoods: Beaches, prairies, tide pools, scenic overlooks and abundant wildlife. It seems impossible to hit all the hotspots in just 2 days, right?
Well good news. It IS possible!
What to Know Before You Go.
Conditions of the roads and trails are always changing (due to landslides, fallen trees, etc). Check the current conditions online, here, before writing your itinerary in ink.
RVS and trailers are prohibited on many of the roads. This park is best visited in a regular passenger vehicle, if possible. In this post, I'll be addressing which roads do and don't allow RVs, but you should verify this on the official Redwoods website prior to visiting – especially if you plan on stopping at any locations not detailed in this article.
Packing food before your trip is a must. Food options near the park are extremely scarce. The closest major city (Crescent City) is clear on the North end of the park. While it may not be too far distance-wise, the road is winding, slow and constantly under construction. It takes a long time to get from point A to point B, and you don't want to constantly be backtracking.
Pets are discouraged in the Redwoods and are not allowed on any hiking trails. They are only permitted in developed areas, roads, and campgrounds and must always be leashed.
Some trails may be more treacherous than anticipated. Always stay alert, especially when hiking on narrow, slanted trails at a high elevation. Sometimes trails get washed out and heavily wooded areas can also be pretty wet and slippery.
With all that being said, let's get to it!
Note: This itinerary is is set up for traveling from South to North on Highway 101.
DAY ONE
MORNING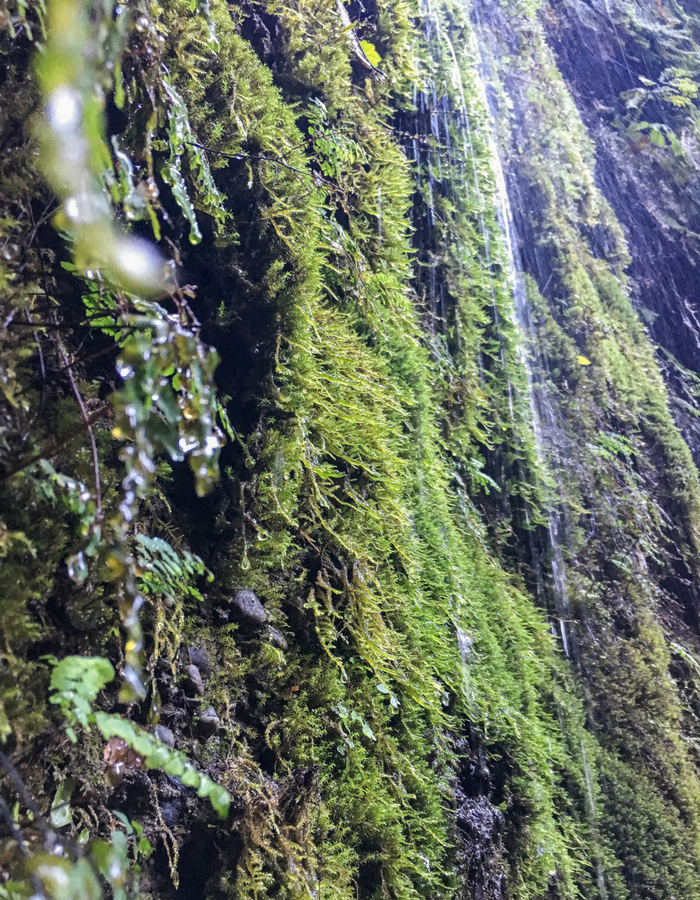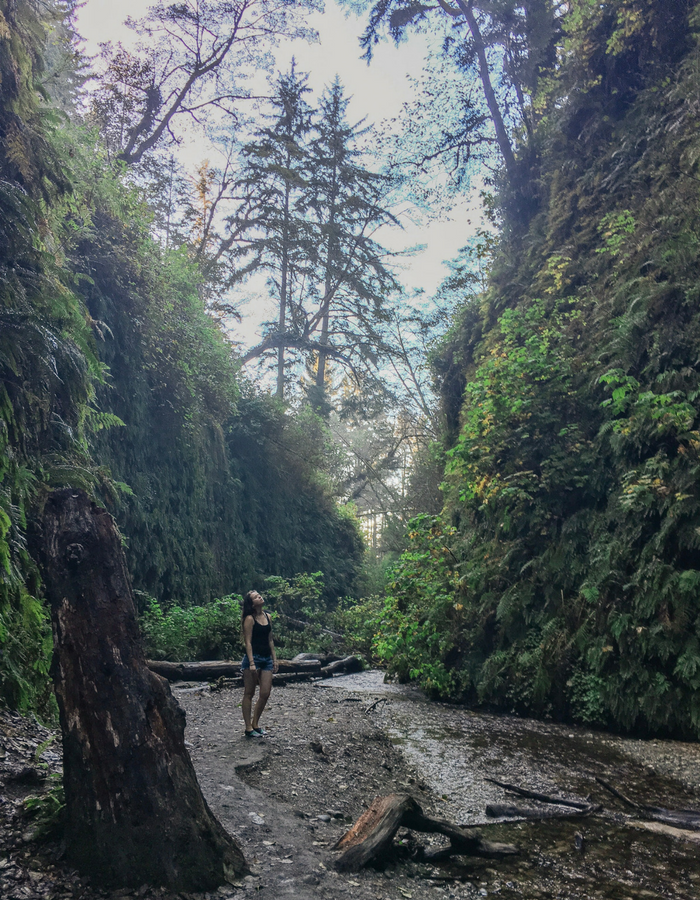 FERN CANYON
Fern Canyon is an iconic hike in the Redwoods National and State Parks. As the name probably gives away, the canyon walls are covered with beautiful, lush ferns. Some of the plant species in the 50 foot canyon are ancient – having ancestry dating back 325 million years! Though that doesn't fall under the Jurassic Period, it's not difficult to see why this was chosen as one of the film locations for Jurassic Park II. It almost feels like you're walking through a jungle!
The Fern Canyon hike is a short loop trail and honestly, not much of a trail at all but rather a creek bed that you can walk through. The hike itself is flat and easy but you'll find yourself running into some… er… obstacles. Downed logs block off parts of the trail and past them, the trail is technically closed. This doesn't stop tourists from climbing over and under them though, and really, who can blame them? This trail's uniqueness really can't be beat! Just remember, the logs are slippery and not guaranteed to be stable. If you climb, you climb at your own risk!
You can expect to get wet, at least up to your ankles, on this hike. One option is to call the Redwoods NP Visitor Centers prior to your visit and ask for the current water level so you can dress accordingly.
GENERAL INFORMATION:
Trail Length: .7 miles
Trail Difficulty: Easy – Moderate
Total Time Spent: 1 hour
RVs and Trailers?: No
Things to Bring: Waterproof or quick-drying shoes
Directions: Traveling North on Highway 101, turn left onto Davison Road. Take the road all the way to the Gold Bluffs Beach kiosk. You will need to pay $8 to enter unless you have a California State or National Parks pass. Follow the road until the parking lot at the end, where you'll find the Fern Canyon trailhead.
NOTE: If Davison Road is closed (or if you are driving an RV), you'll need to continue down the highway to Exit 753, park at the Prairie Creek Visitor Center, and hike to the canyon from there. You'll first take the Prairie Creek trail and then turn right onto the James Irvine Trail until you reach Fern Canyon. If you wish to do this, keep in mind, it will be a full day hike (10 miles). Davison Rd was closed when I visited and the hike wasn't too difficult but it took a very long time. On the plus side, it meant I got the normally hugely popular trail all to myself!
NEWTON B. DRURY SCENIC DRIVE AND ELK PRAIRIE
The Newton B. Drury drive is a scenic drive you can't afford to miss! The winding, but well-maintained, road takes you through a section of old-growth forest (the really large and impressive redwoods) and leads to a popular photography stop – Elk Prairie.
As you may have guessed already, Elk Prairie is full of, well, elk. Roosevelt elk to be precise. You'll usually see them grazing, crossing the road, or lounging in the prairie with their antlers protruding from the tall grass.
You can park anywhere along the road (you'll see a lane on either side marked "Park Only") to take a few photos, but be careful! Though the elk are on the other side of the fence (by choice, mind you) they are still wild animals. Many tourists tend to ignore the "Don't Approach On Foot" signs within plain view. Don't follow in their footsteps. Lead by example and observe the animals from a safe, respectful distance. If not for the sake of the animal, then for the sake of you not getting killed by a 1,000 pound elk.
GENERAL INFORMATION:
Total Time Spent: 20-30 minutes to complete the drive. Longer if stopping at Elk Prairie.
RVs and Trailers?: Yes, they are allowed on this road and there is typically plenty of room for them to park alongside Elk Prairie.
Things to Bring: A camera with a telephoto lens, if possible. If you all you have is your smartphone, try to avoid using the zoom as this will cause your photos to lose quality. Save the zooming for the editing process.
Directions: Traveling North on 101, take exit 753 for the Newton B. Drury Scenic Drive. At the end of the drive you'll reach the overpass, so you can easily hop back on Highway 101.
NOTE: If you have a pet, leave them inside your vehicle. The sound, sight or even scent of another animal can be enough to trigger a wild elk.
AFTERNOON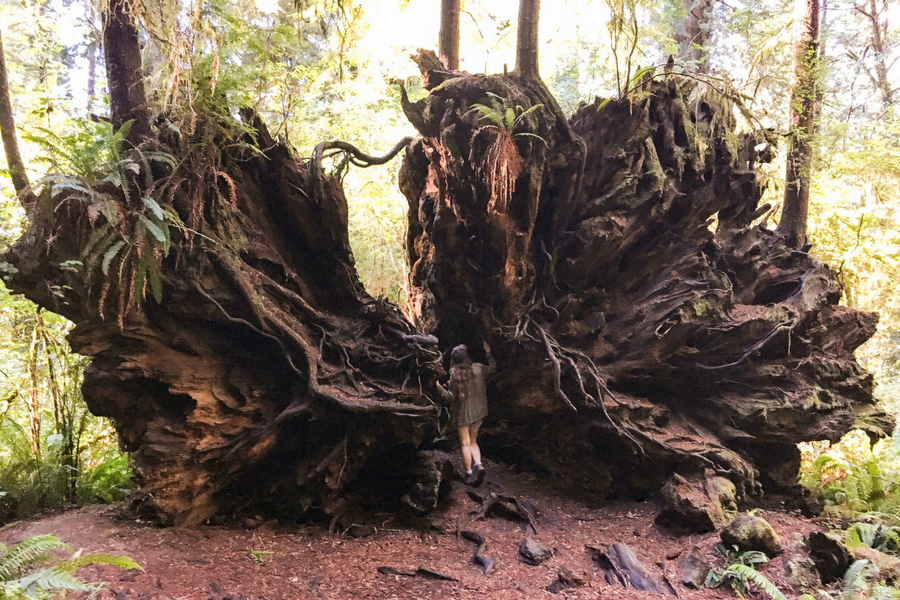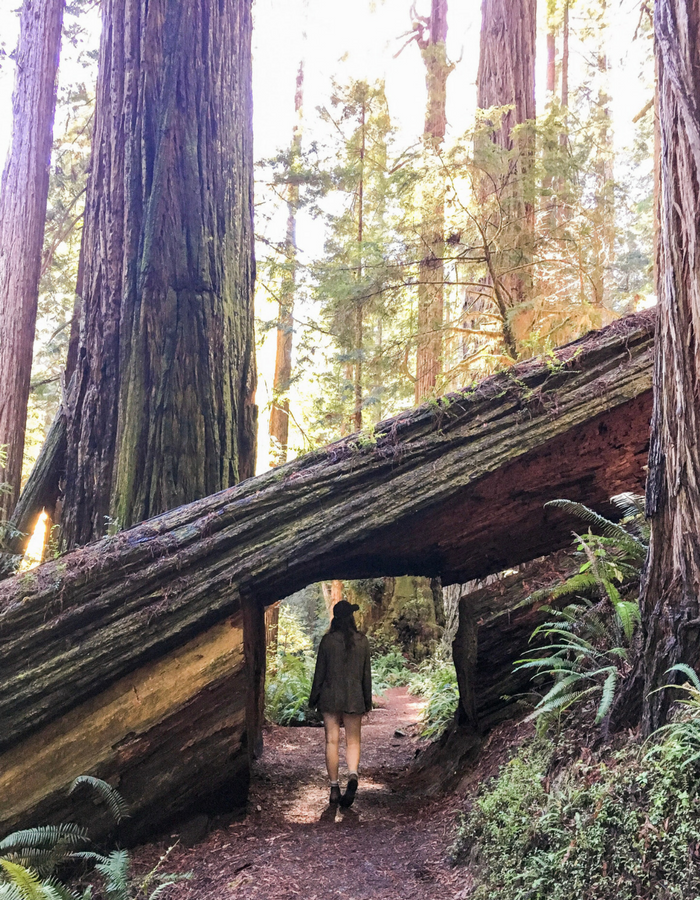 BIG TREE HIKE
If you're interested in getting up close and personal to some of the really large and impressive redwoods (not just the ones you can see from the road), this is the perfect hike!
Taking the Cathedral Trees trail to Big Tree will allow you to see (and even hug, if you want) these ancient giants. With some trees clocking in at over 2,200 years old, this old-growth section of the redwoods will leave you absolutely speechless. I mean, you can't visit the redwoods and not hike through the old-growth, right?
After hiking the length of the Cathedral Trees trail, you might actually be a bit disappointed with Big Tree. Why? Because most of the trees along the trail are surprisingly much larger than Big Tree. Based on it's name, you'd think it would be the largest tree in the redwoods. Not so. It is only the 10th largest single stem tree in the Prairie Creek Redwoods State Park. Many of the trees you'll see along the way have multiple stems, and appear much larger than the famous Big Tree.
After stopping to admire Big Tree, take the Prairie Creek trail (you'll need to cross over the road at one point) which leads back to the visitor center. This trail offers unique "tree tunnels" (archways that have been carved into fallen redwoods) that make for some really cool photos! Once you come to a "T" in the path, turn left to return to the parking lot.
GENERAL INFORMATION:
Trail Length: 2.3 Miles
Trail Difficulty: Easy. Mostly flat with just a few short, steep grades.
Total Time Spent: 1-1.5 Hours
RVs and Trailers?: Yes. They are permitted at the Visitor Center but may be difficult to park off the road if you choose to drive directly up to Big Tree.
Directions: Just after Elk Prairie, turn left into the Prairie Creek Visitor Center. You can park anywhere other than the 30 minute parking section (you can also stay parked in the parking lane next to Elk Prairie if the lot is full). The Cathedral Trees trailhead is right next to the visitor center. Follow this trail until you reach Big Tree, then follow the Prairie Creek trail back to the parking lot.
NOTE: If you don't have time to take the trail, you can continue driving past the visitor center until you see the sign for "Big Tree". Park alongside the road and walk about 1/10 of a mile to Big Tree. You'll still get to see some of the old growth along the way. If you have an additional 20 minutes or so, walk a ways down the Prairie Creek trail as well (to your left when you pull up to the Big Tree sign). Hike until you reach the 2 tree tunnels – just so you can finally say you walked through a redwood tree!
EVENING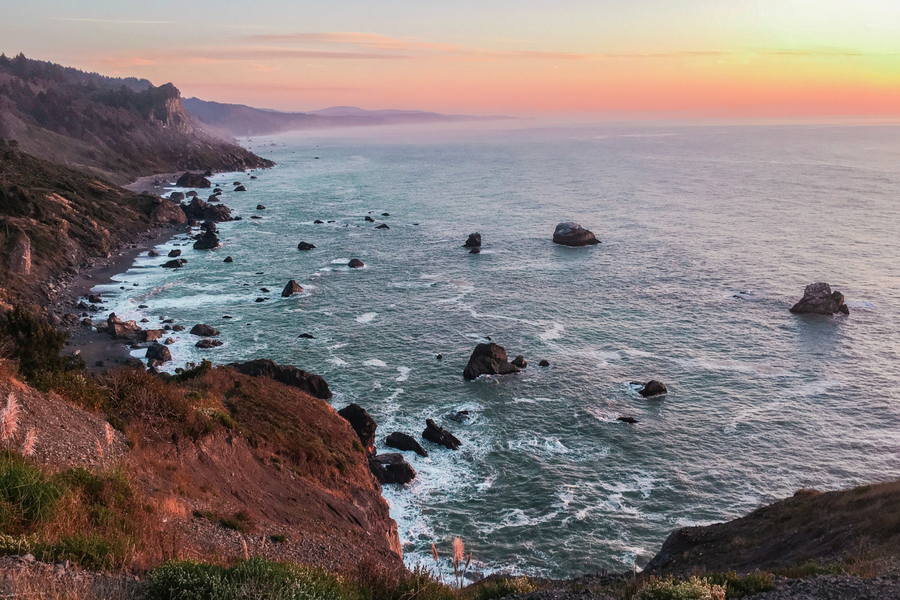 HIGH BLUFF OVERLOOK
The perfect place to enjoy one of those iconic California sunsets, High Bluff Overlook is probably the prettiest of all the overlooks Redwoods National Park has to offer. You can walk out, sit on the cliff edge, and watch the waves crash onto the rocks below while the sun sets and the sky fills with beautiful shades of pink, orange and yellow.
My advice? Pack up your dinner and make an evening of it! There are picnic tables, wood-fire grills, and bathrooms (pit toilet-style) available for use, making it the ideal spot for a romantic sunset picnic. On a clear day, the colors that light up the sky are mind-blowing!
GENERAL INFORMATION:
Total Time Spent: 1 hours (for dinner and to watch the sunset)
RVs and Trailers?: Not permitted on the road to High Bluff.
Directions: After exiting the Newton B. Drury Scenic Drive, head north on Highway 101 and then take Exit 768. Follow the signs up to High Bluff Overlook.
---
ACCOMODATION OPTIONS
Tent Campers:
Flint Ridge campsite (FREE) – This is where I set up camp. You will need to obtain a backcountry camping permit (which you can get from any visitor center) and make sure you have your tag with you at your campsite. The site is only a quarter mile from the parking lot (but it IS uphill the whole way). After exiting High Bluff Overlook, turn left onto Coastal Drive and watch for the "Flint Ridge" sign. If you make it back down the hill, you've gone too far.
Kamp Klamath campsite ($34.50) : If you don't mind paying a fee, this is a great campsite and only a short jaunt from the High Bluff overlook. They provide hot showers, water and electricity. After exiting High Bluff Overlook, turn left onto Coastal Drive and continue down the hill until you see the sign for "Kamp Klamath" on your left.
RVs and Trailers:
Kamp Klamath campsite ($39.50): This RV site provides full hookups, cable TV, wifi, hot showers, picnic tables and fire pits. You can access this via Klamath Beach Road (Exit 768 off of Highway 101). Continue on that road and watch for signs. The campsite will be on your right.
Hotels:
Holiday Inn Express (call or check online for rates): Hotels are surprisingly few and far between on this end of the Redwoods National Park, but the Holiday Inn Express is a beautiful, new and clean hotel just off of Highway 101. If you're leaving from the High Bluff Overlook, head North on 101. Shortly after you cross the bridge over Klamath River, you'll see the Holiday Inn on your right.
---
DAY TWO
MORNING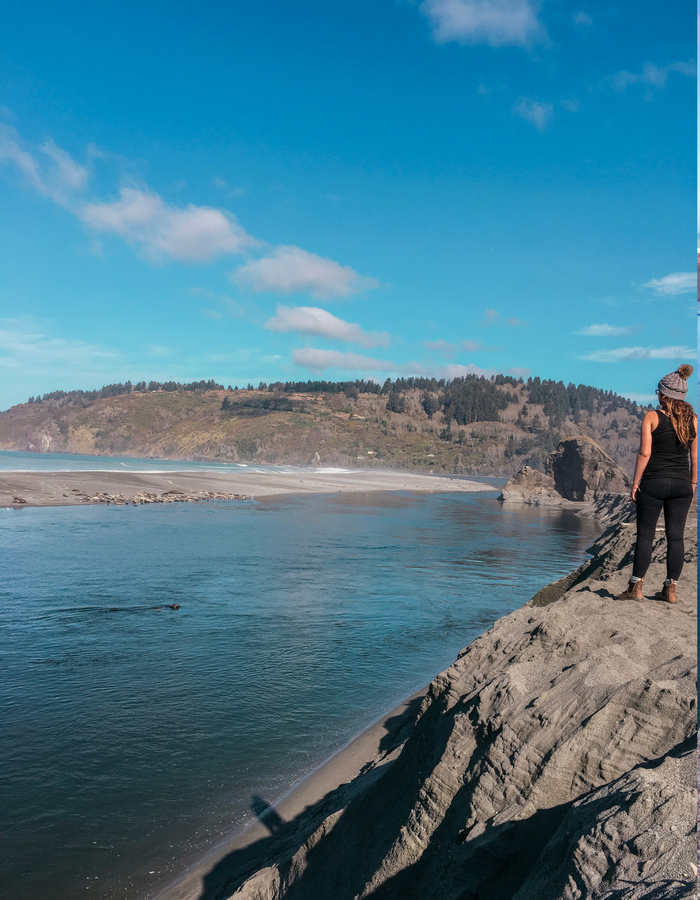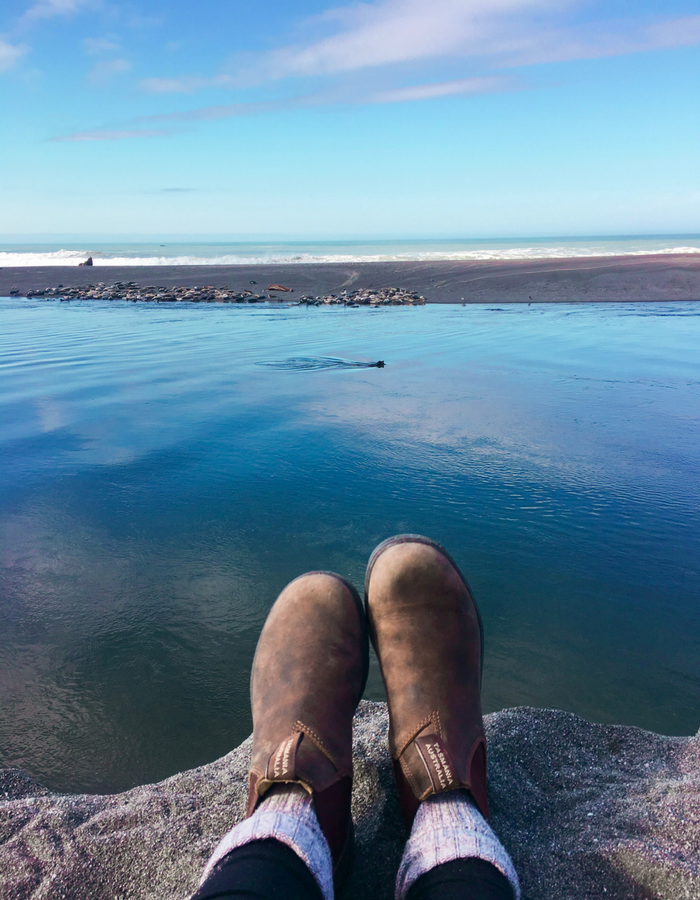 SEAL & SEA LION VIEWING
If you stay the night in Flint Ridge, you may get lucky and hear a pleasant "barking" sound from your campsite in the morning. That's because just North of the campground is a popular spot for seals and sea lions to hunt for fish. The sandbar between the ocean and Klamath river prevents predators from entering, but allows just enough water through for fish to swim inside. Prime hunting grounds! Sometimes, from the overlooks, you can see the seals and sea lions sunbathing below you.
If you are walking near Klamath river, you might also spot some seals swimming (and most likely hunting) in the water near you. Be sure to stay 300 feet away (and on the other side of the river, if possible – do not attempt to cross over to where they are resting), walk slowly and don't yell or make too much noise. I found it also helped to sit or lay on my stomach while observing them. That way, they didn't really notice me and when they did swim up to get a better look, they didn't seem to feel threatened – just curious.
Be respectful, don't interfere, and I promise you'll have a much more enjoyable experience! If you appear nonthreatening, the seals and sea lions will behave naturally and continue hunting, swimming, and playing.
IMPORTANT REMINDER: Approaching and frightening seals and sea lions can actually cause them more harm than you'd expect, as they will quickly head into the sea for safety without first checking for predators.
It is also important to note that during spring months, mothers will leave their babies alone on the shore while they hunt. The babies have not been abandoned and do not need help. Leave them and their mother will return. If you feel you have reason to be concerned, call a park ranger and they will take care of it the appropriate way.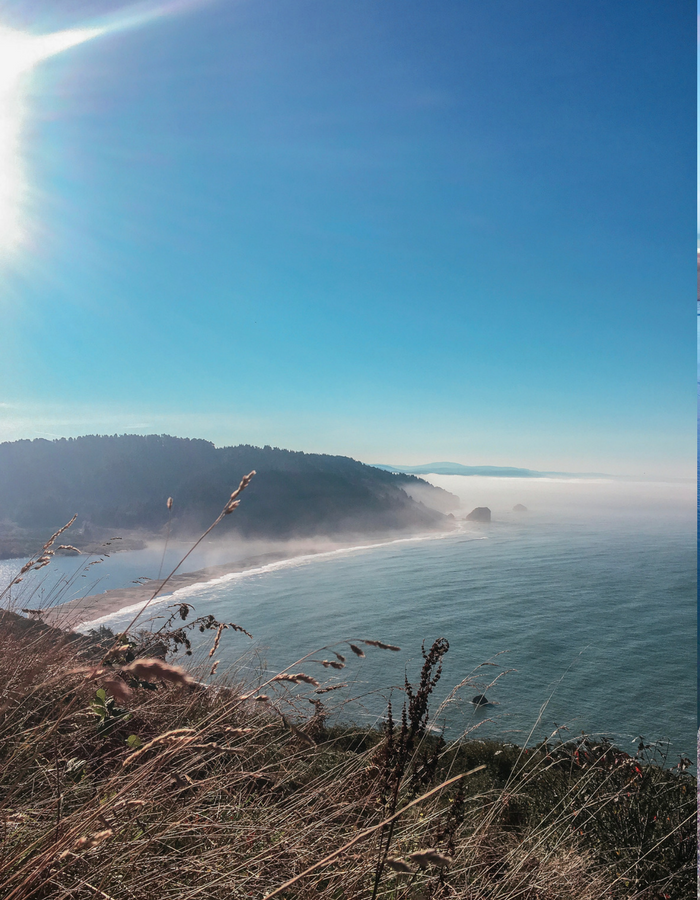 KLAMATH RIVER OVERLOOK
The perfect place to do some wildlife viewing! Klamath River overlook provides a view of the sandbar (where the seals and sea lions like to gather) as well as a clear view of the Pacific Ocean. If you're visiting sometime between March and May, grey whales can be seen off the coast during their huge migration from Mexico to Alaska. Every Monday, Wednesday and Saturday (some portions of each day) during the month of March, a park ranger will be at the overlook – helping visitors spot these giant beauties.
GENERAL INFORMATION:
Total Time Spent: 20-30 Minutes
RVs and Trailers?: Allowed, but not advised.
Things to Bring: Binoculars, if you plan on doing some whale watching.
Directions: Head North on Highway 101. After you cross the bridge over Klamath River, watch for the Klamath River Overlook (or Requa Road) sign on your left.
AFTERNOON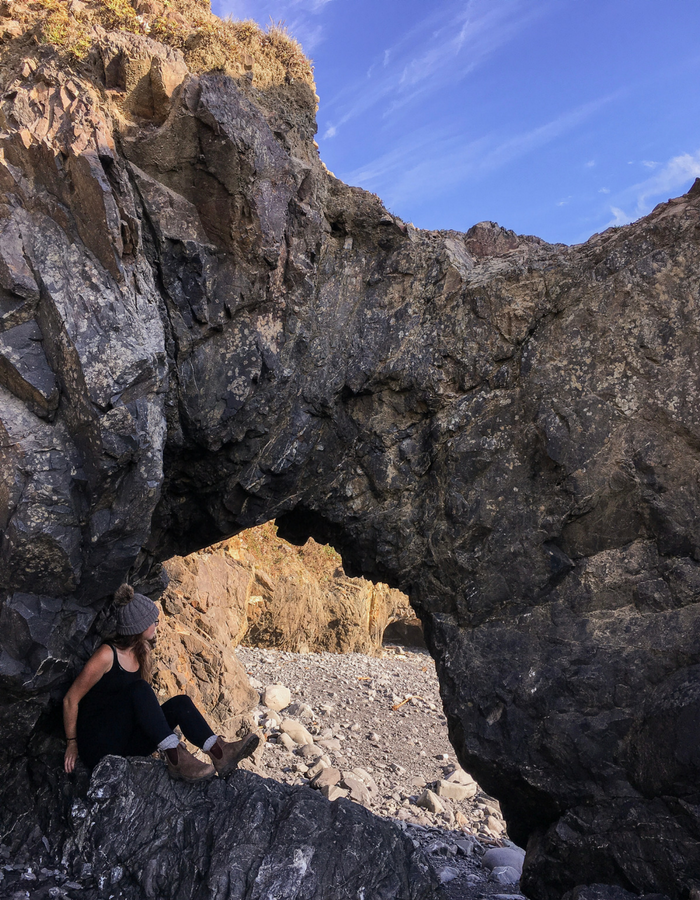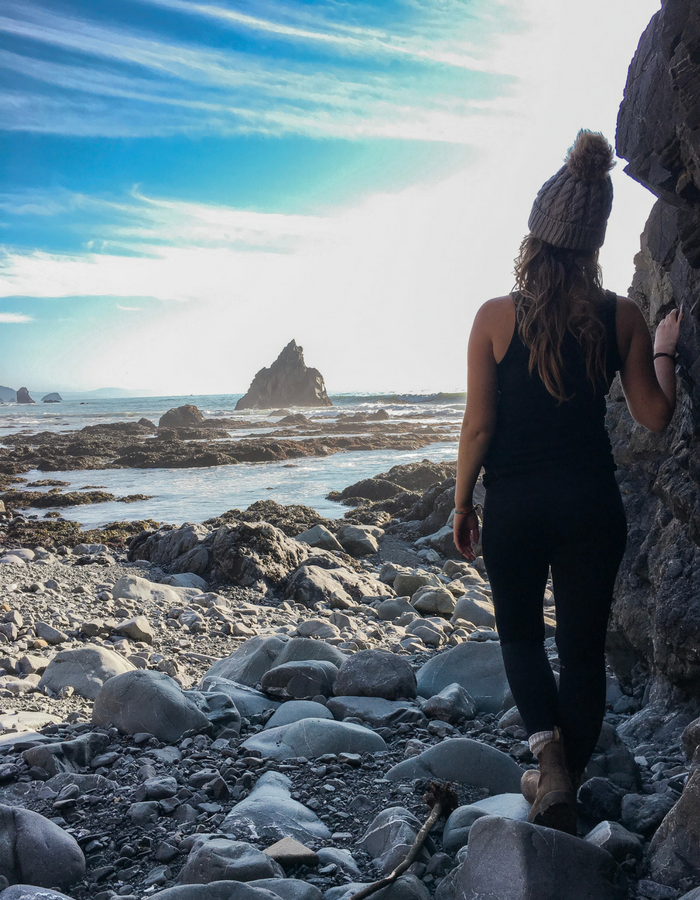 DAMNATION CREEK TRAIL (OPTION #1)
To finish up your redwoods vacation, stop off at Damnation Creek Trail! This short, but difficult trail leads you through the redwoods down to the coast, where you'll find a rocky beach packed with tide pools just waiting to be explored!
Towards the end of the trail, you'll need to take extra care and watch where you step. During the final decent, the trail becomes much more narrow, slippery and treacherous. Just before reaching the beach, you'll have to navigate your way down a rocky "staircase" that doesn't have much room for footholds.
If you are a semi-experienced or experienced hiker and want to finish your trip off with a bang this is the perfect spot to do it! For inexperienced hikers (or just hikers with a terrible fear of heights) Option #2, awaits you.
GENERAL INFORMATION
Trail Length: 2.2 Miles
Trail Difficulty: Hard. The first half of the hike is strictly downhill, and you lose about 1,100 feet of elevation (that you have to re-gain on the way back up). The trail also gets extremely narrow and slippery towards the end and many parts have been partially washed away.
Total Time Spent: 3-4 hours
RVs and Trailers?: Yes, but it may be difficult to park alongside the Highway.
Things to Bring: Shoes with good grip. The trail can be quite slippery and, if you plan on walking out to the tide pools, many of the rocks will be wet.
Directions:
NOTE: Try to plan your hike so you arrive 30 minutes – 1 hour before low tide. That way you'll get the best view of the tide pools, and their inhabitants. Remember not to touch or pick anything up. Observe – do not disturb.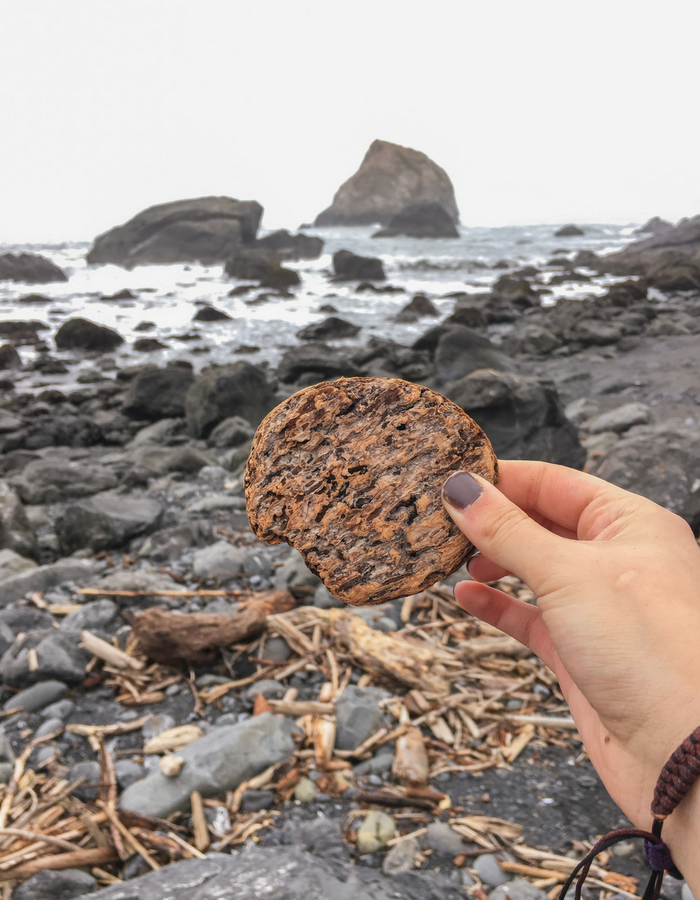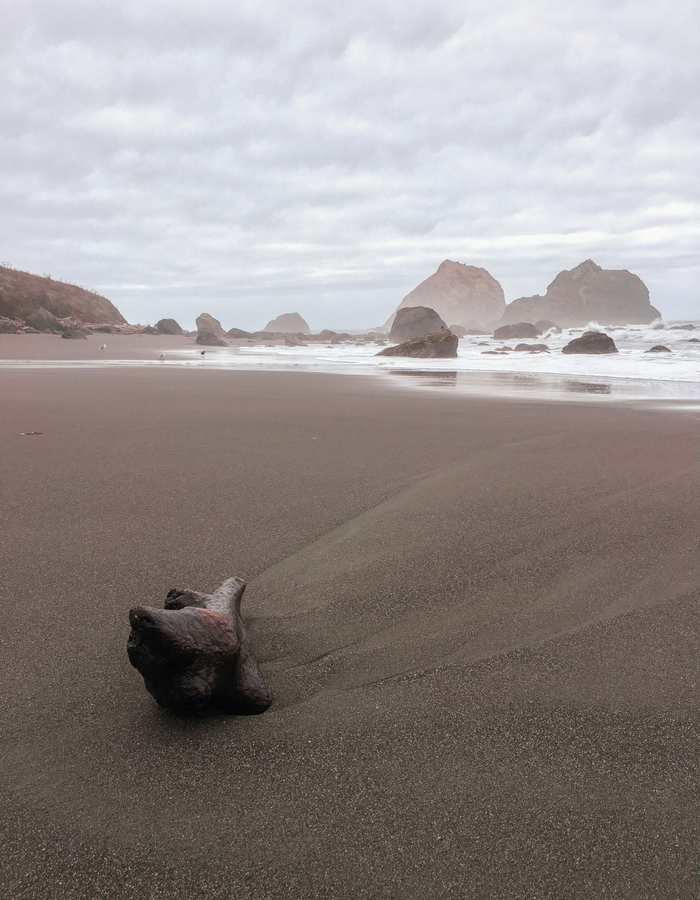 FALSE KLAMATH COVE (OPTION #2)
If Damnation Creek Trail is a bit too much for you, or you have some extra time, False Klamath Cove is a great alternative for exploring tide pools.
Just a quick walk down the beach (towards the large stack rocks in the distance) will bring you straight to the pools. Make sure you wear shoes with good grip that you don't mind getting wet and be sure to tread carefully. This is for two reasons:
1. So you don't fall
and
2. So you don't step on any of the fragile creatures.
GENERAL INFORMATION:
Total Time Spent: About 1 hour
Rvs and Trailers?: Yes.
Things to Bring: Waterproof or quick-drying shoes with good grip.
Directions: Head further North on Highway 101. After you pass the Trees of Mystery (on your right) and the Lagoon Creek Picnic Grounds (on your left), turn left onto the first vehicle pull-off. This is the pull-off on the South end of False Klamath Cove, where the best tide pools are found. You can park here and begin to walk further South down the beach until you reach the tide pools.
NOTE: Be sure you arrive 30 minutes – 1 hour before low tide. Do not touch or remove any creatures from the tide pools and be sure to take lots of pictures!
Visiting the Redwoods and have more questions? Drop it in the comments or send me an e-mail! I'm always happy to chat 🙂
SHARING IS SEXY. PIN ME!