Boise is a unique (and fast-growing!) city full of friendly people, outdoor adventures and, as it turns out, incredible street art. Though I don't live in the heart of the city, I do spend a lot of time in it, and Freak Alley is by far the most interesting and unique thing that I've come across (so far).
Freak Alley is an outdoor gallery that began in 2002 and has since featured over 300 artists, raging in ages from 7 to 35! The art is constantly changing, which I think is pretty cool, and new submissions are accepted year round.
The gallery is so diverse and it's really amazing to see different artist's styles. Most artists sign their work along with their Instagram handle, too. So if you like a particular mural, give them a follow!
Now, without further ado, onto the good stuff.
NEW TO FREAK ALLEY?: Scroll on for some general information
ALREADY BEEN HERE?: Scroll on for the photos


Either way, just scroll on, because this street art is freakin' amazing.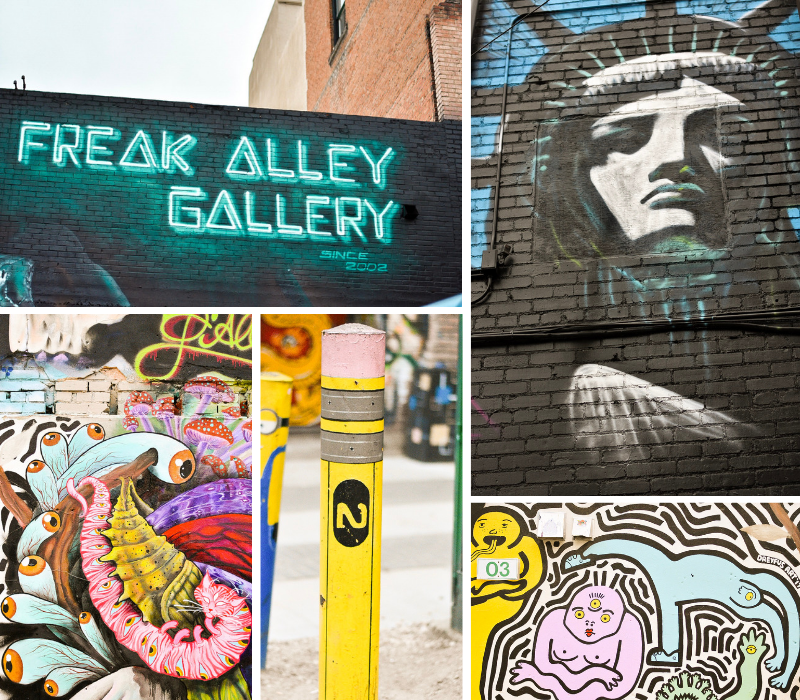 WHERE IS FREAK ALLEY LOCATED?
Freak Alley is relatively easy to find, and Google Maps should get you there. If not though, an easy way to find it would be to route yourself to Eureka. Just a few steps North of the restaurant will take you to the East entrance of Freak Alley – a good place to start.
Freak Alley's street art is in the center of the block surrounded by the following streets: West Idaho Street, N. 9th Street, West Bannock Street and N. 8th Street.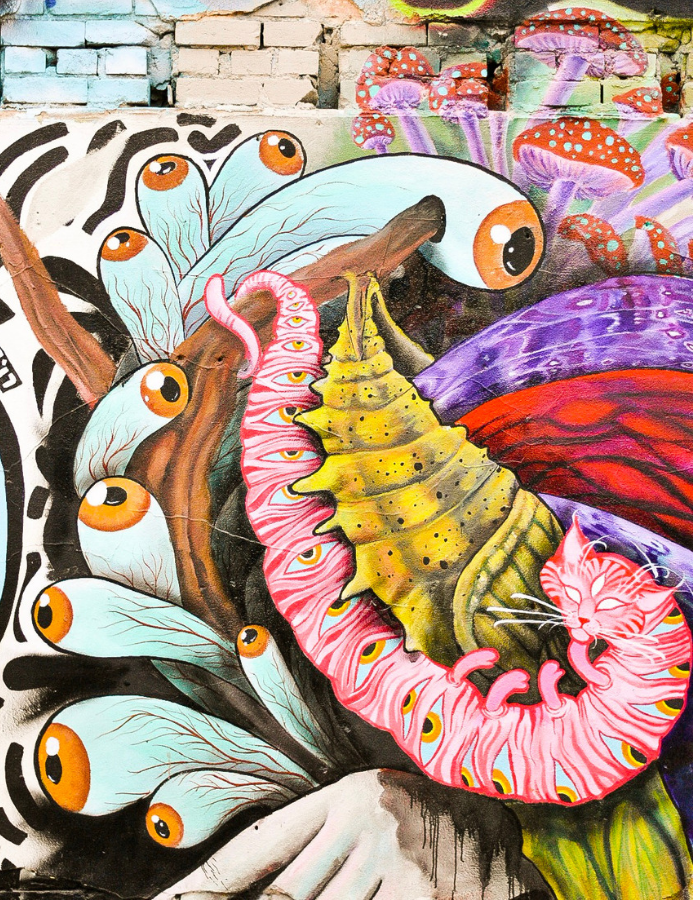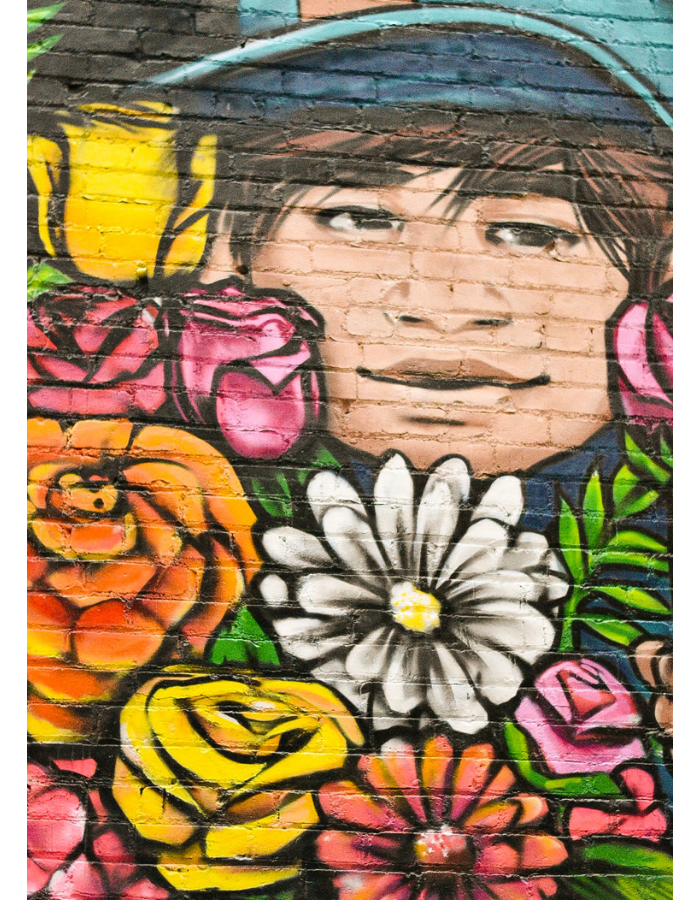 WHAT IS THE BEST TIME TO VISIT?
Anytime! Summer is busiest, of course, and winter can sometimes make the alley slick, but there really is no bad time to visit.
If you're looking for a UNIQUE Street Art Experience, try visiting during their annual Mural Event! There's live music & alley artists displaying their work. The dates of the event vary from year to year.


As far as the time of day goes, from a photographer's perspective, it's better to visit early-ish in the morning. Less people walking in front of you, better lighting, etc. But otherwise, there really is no good or bad time. You'll get an influx of people at around 5 or 6pm, and in the evening there tends to be more cars blocking the murals situated in the North parking lot (this is where the "Breaking Boise" mural is located).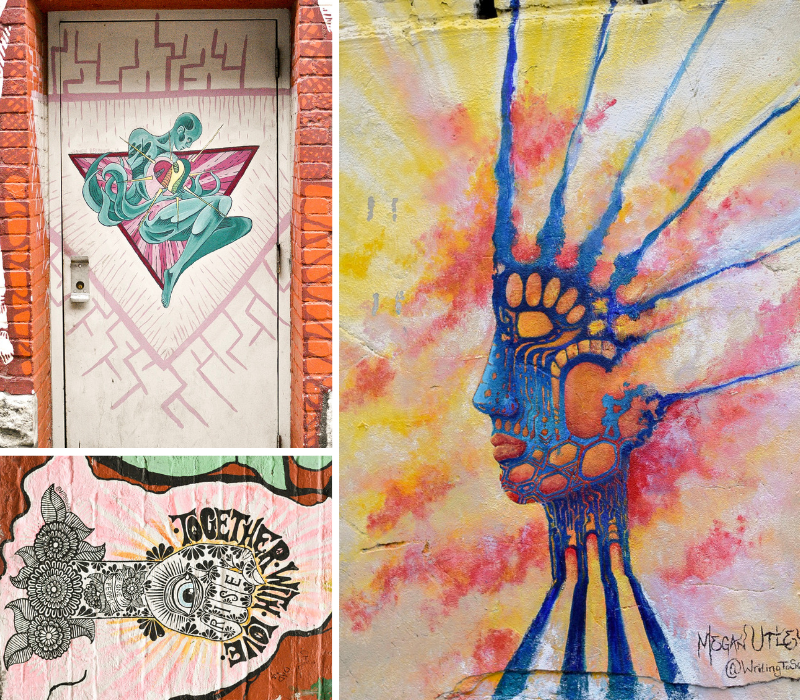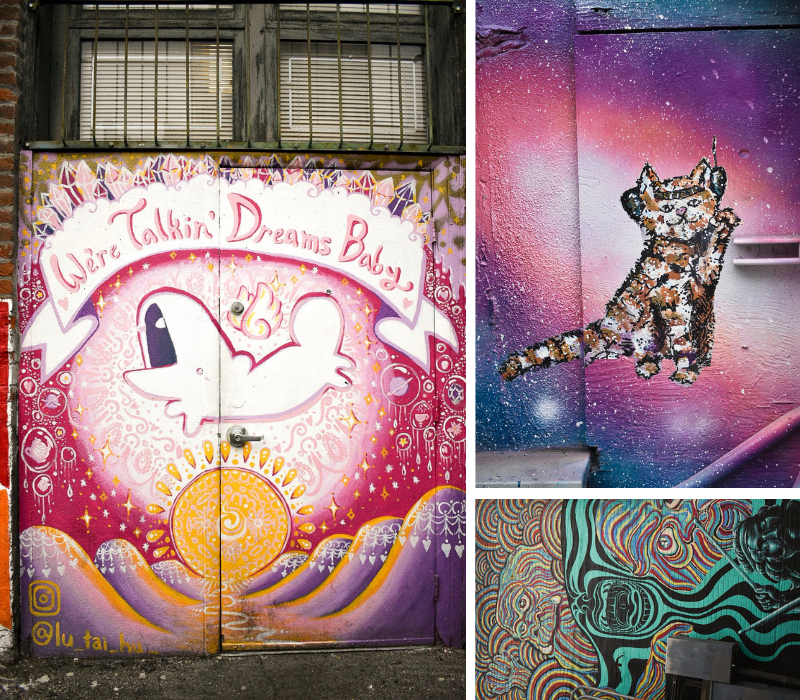 IS THERE A COST TO VIEW THE STREET ART?
No fees! Freak Alley is free and open to the public. That's part of what makes this project so cool!
There is, however, a possibility that you'll need to pay for parking. But if you want FREE PARKING just read my tips in the next section!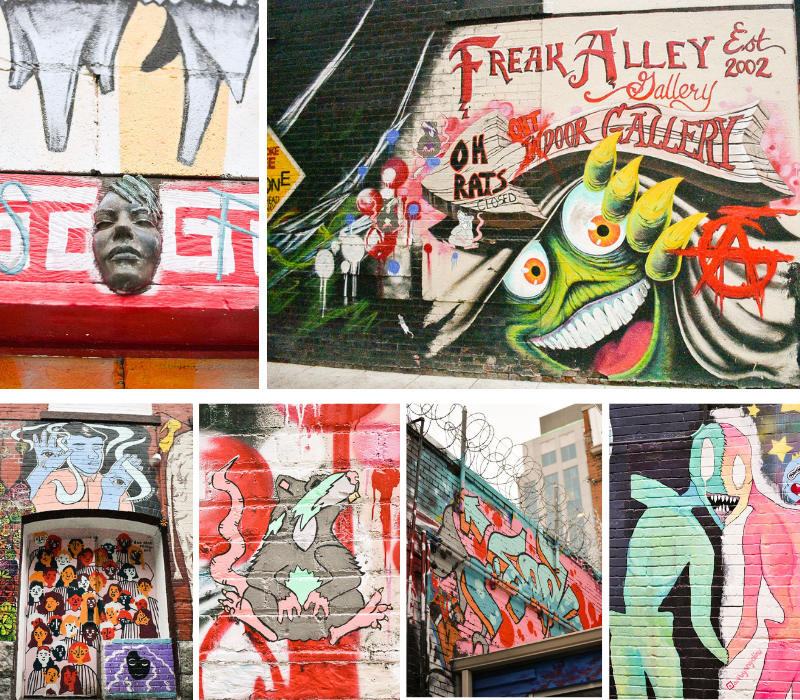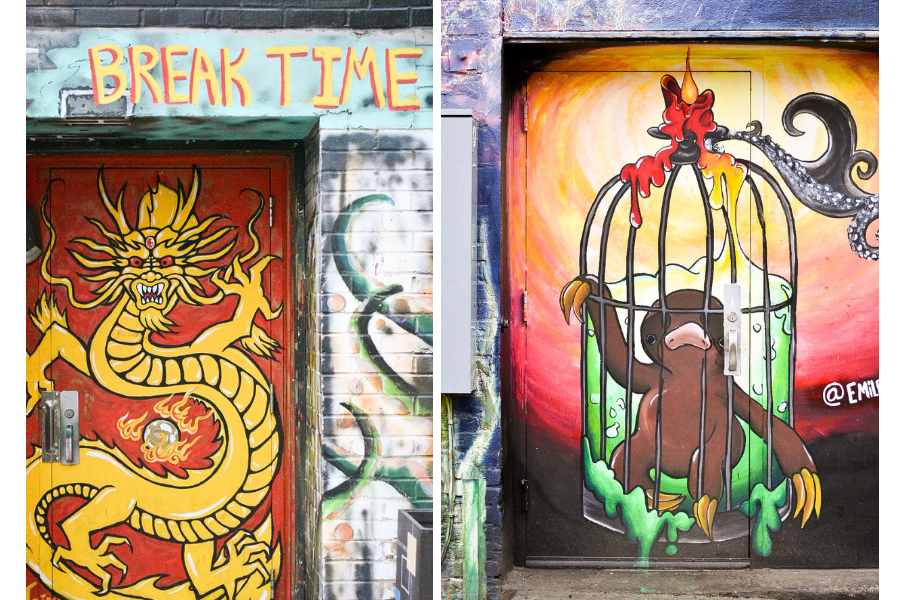 WHERE DO I PARK?
There is plenty of off-street parking available, but it is metered (and heavily monitored, I've noticed!). Open spots can also be difficult to find – I usually have to circle the block a few times – and while it isn't expensive by any means, there are better ways to park!
FREE PARKING OPTION #1
Park your car at the Car Park in Boise. It's a large parking garage right next to Chandlers restaurant. The first hour of parking is free, and for us (even with the extensive amount of photography) that was all we needed. The car park is only 1/4 mile from Freak Alley and it took us less than 5 minutes to walk there.
NOTE: If you go over your hour, it is $3.00 per hour. For reference, standard meters charge you $1.25 for the first hour and $2.00 for the second hour.
FREE PARKING OPTION #2
Meter parking is free on weekends as well as weekdays from 8PM to 8AM. So if you feel like a weekend or late-night visit, you can park in a metered spot for free.
NOTE: Some zones still monitor meters during the day on Saturdays, so be sure to check the listed times on the meter before walking off.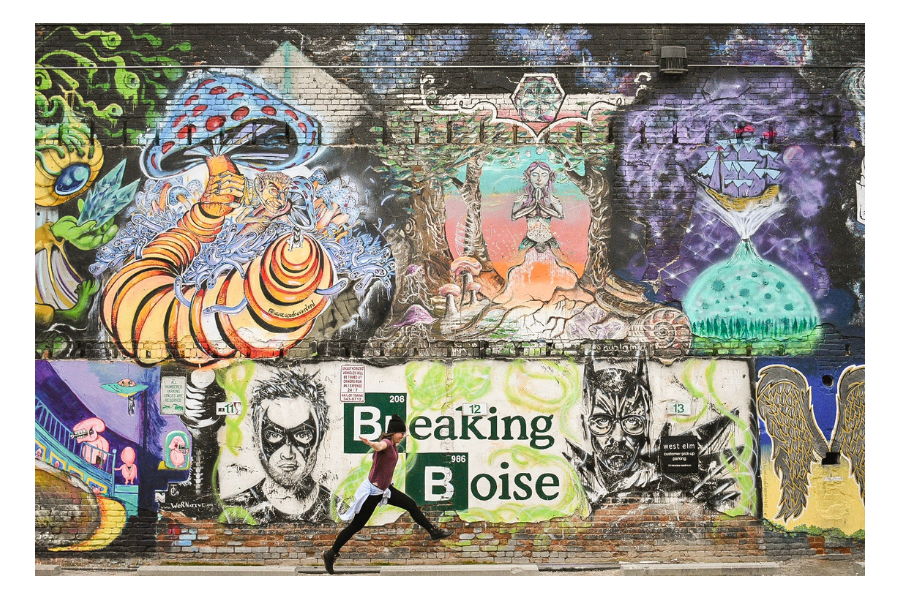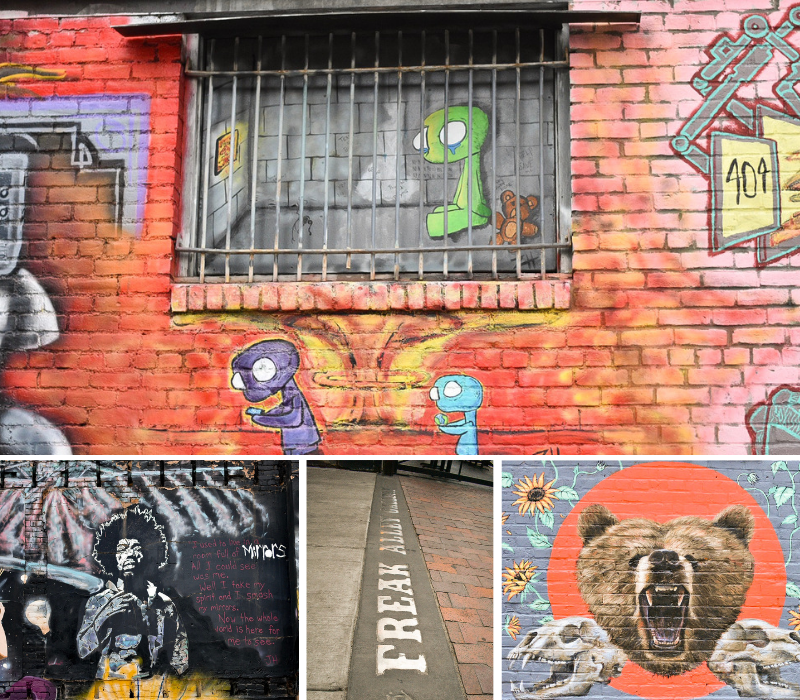 OTHER TIPS FOR VISITING
1. WATCH OUT FOR CARS, MOTORCYCLES, CYCLISTS, ETC.
Freak Alley is not closed off to vehicles, so you'll need to keep an eye out for traffic. It is not common for cars or bikes to come through, but it will likely happen on your visit. We saw 2 cars in the 45 minutes we spent in the alley.
2. BE RESPECTFUL OF THE SURROUNDING SHOPS
Don't block doorways or parking spots for extended periods of time. Many shops and restaurants are backed onto Freak Alley, and most of the employees have designated parking spots among the street art.
3. PACK THE RIGHT GEAR
I'm no professional (like, not even close) but photographers are definitely going to want a wider lens to capture the murals. Some stretch 2 stories high, others cover the width of a building. Most of my photos were close-ups of the street art so I used my 50mm, but I'd recommend bringing a 20mm as well. I used my 18-55 kit lens, which isn't great, but it worked!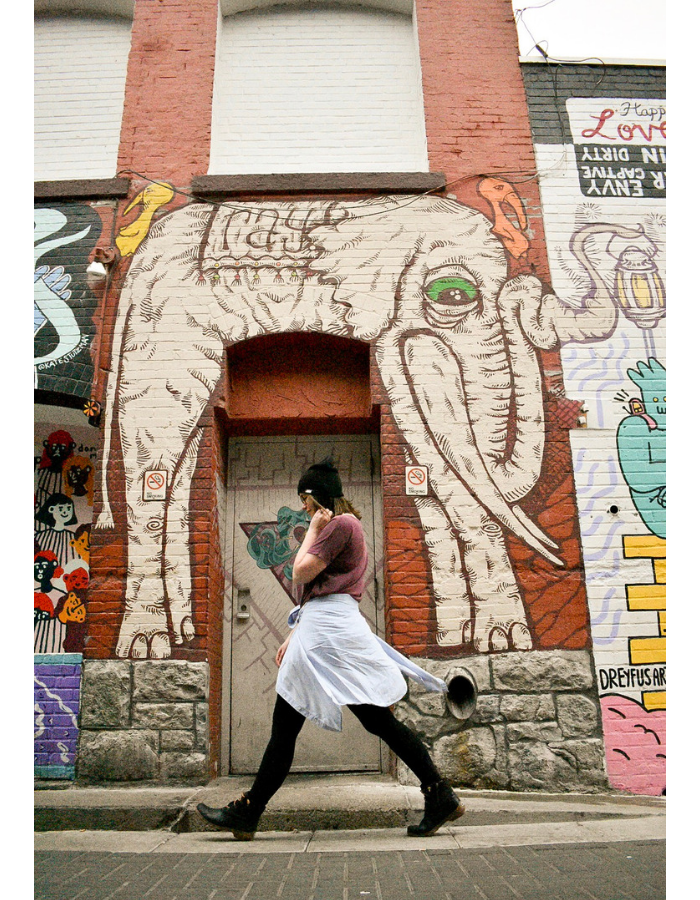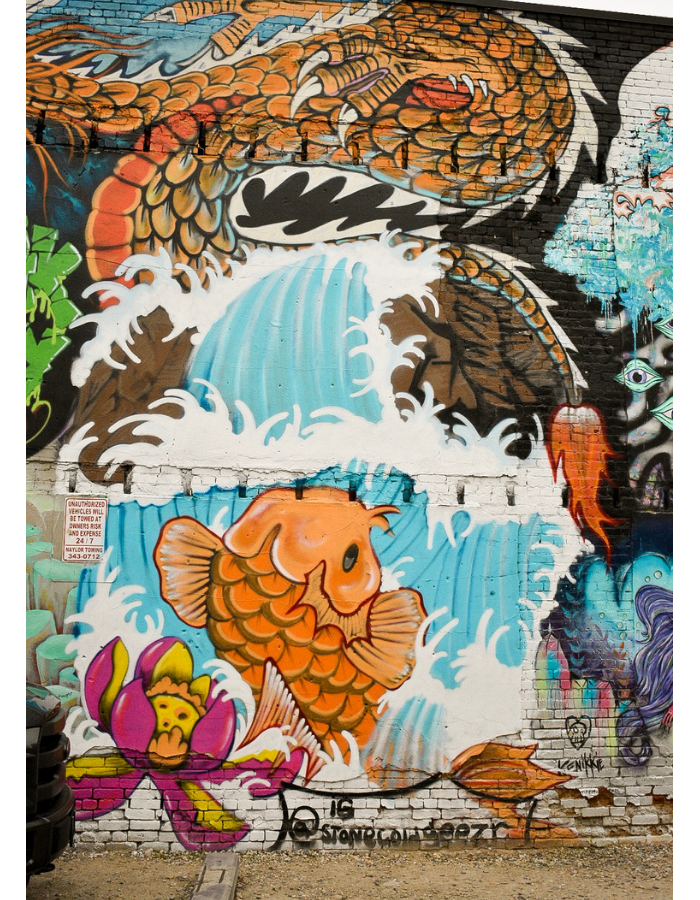 Have any more questions? Or favorite street art of your own to share? Drop it in the comments below!
DTP? (DOWN TO PIN?) I'M TOTALLY SHAREABLE!