When you're talking hot springs, Idaho usually isn't the first place that comes to mind. In fact, Idaho rarely ever comes to mind for the majority of travelers, unless they're making jokes about potato farmers. But this largely forgotten state is jam-packed with natural, secluded (and did I mention free?) hot springs. The best, and most beautiful of which are situated in the Boise National Forest.
NOTE: This post includes affiliate links. That means anything you purchase through my posted links earns me a small monetary kick-back (at no extra cost to you, of course). I only promote products that I believe to be useful and good quality. If you want more information on affiliate links and why I use them, click here.
Only 1.5 hours North of the City of Boise, the National Forest is the perfect place for a cheap weekend getaway and the hot springs are, by popular vote, the main attraction.

After spending 5 days in the mountains soaking up some warmth, I picked 4 of the best, most photographable, and most relaxing hot springs in the Boise National Forest. These are the hot springs you CANNOT afford to miss when in Idaho. The cleanest, warmest, most secluded, and just overall best. The hot springs that make freezing your butt off in the Idaho mountains 100% worth it.
#4 Pine Flats Hot Springs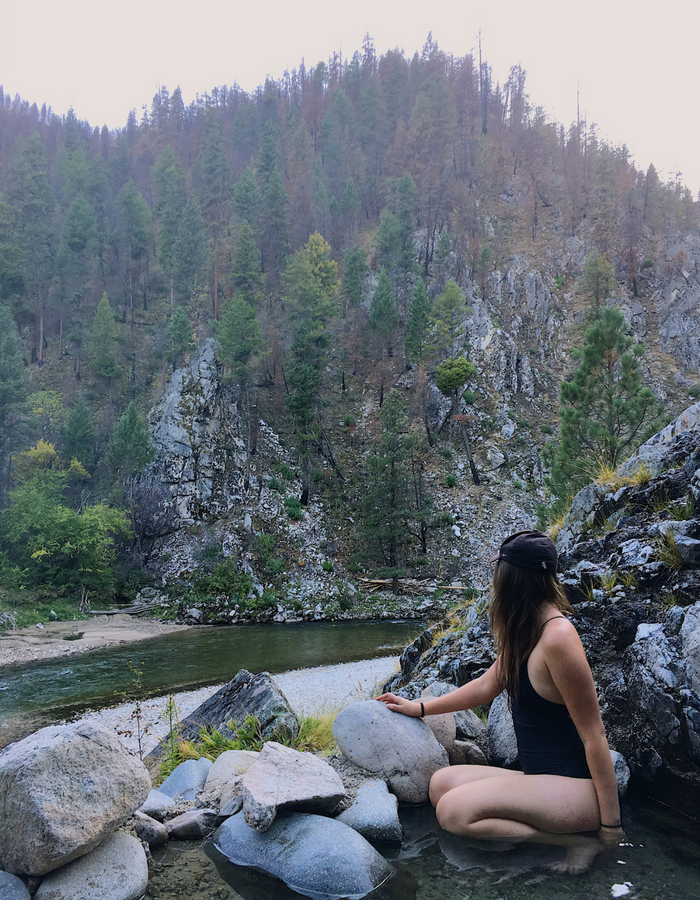 What Makes it my #4?

PROS:
Seclusion: I visited 3 times (in the fall) and there was never a single person there. Plus, it's far enough from the road and the nearby campsite to make you feel truly isolated.
View: The hot spring is stuck inside a cool-looking rock wall and overlooks the South Fork Payette river, making for a nice place to sit and soak up some views.

CONS:
Depth: The water comes up to about your belly button (when sitting). Not the deepest hot spring.
Size: The pool seats 2 people comfortably. Any more than that and you'll be sitting quite close.
Temperature: While it's warm enough to keep you comfortable on a cold, October day, it's probably the coolest of the hot springs I visited.
Best Time to Visit.
Summer or Fall. Anytime of the day is fine since this spring is pretty low-traffic. It's also good for pictures almost all day long since it's hidden away in a heavily shaded canyon.
Getting There.
I was not able to route myself directly to Pine Flats on either of my phone's maps. However, if you're heading East towards Kirkham hot springs, keep an eye out on your right for a sign reading "Pine Flats Campground". This is a paid campsite (and there is also a $5 day parking fee). You can park your car here, or to save a few bucks, you can park on a nearby turn-out. The path to the hot spring begins at this campground.
INSIDER TIP: There are 3 pools. The lowest is level with the river (and quite cold), the middle is at the end of the main trail, and the highest you have to follow a steep, narrow trail and cross some slippery, wet rocks to reach. The highest pool is the prettiest, but it is WAY too hot to soak in. The middle pool is where you want to be!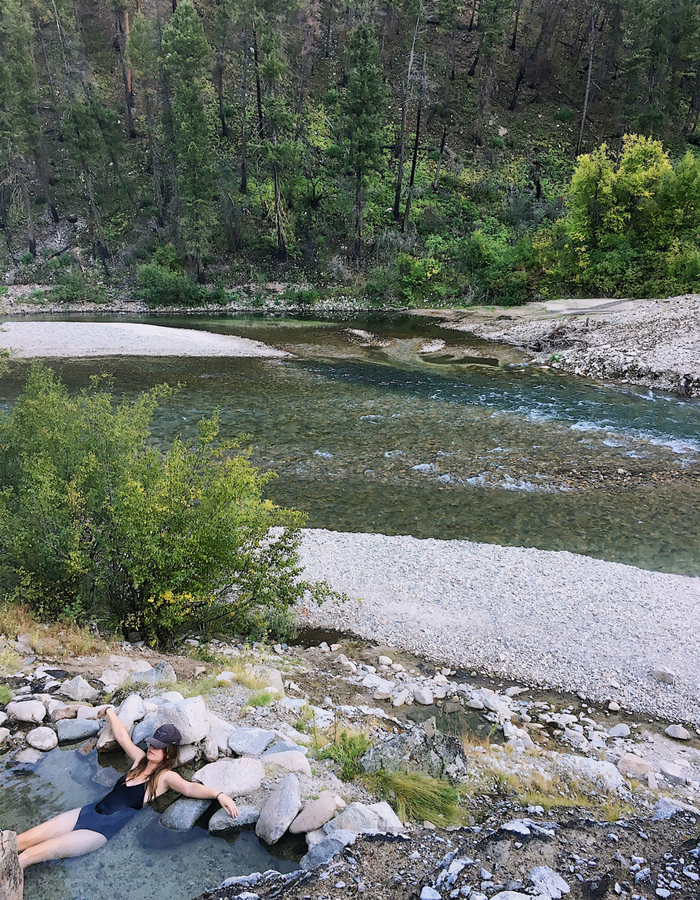 #3 Kirkham Hot Springs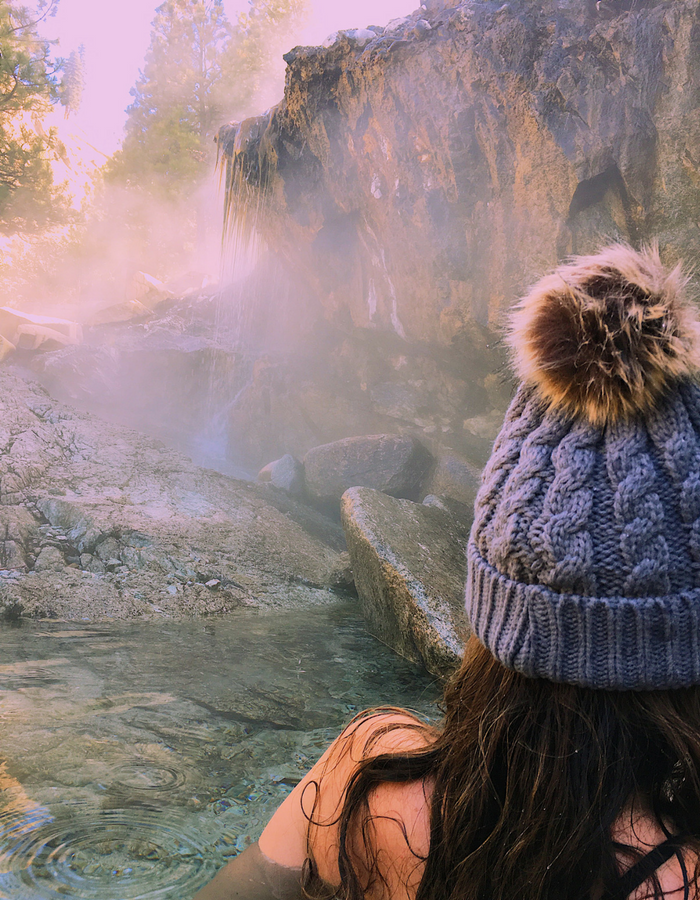 What Makes it My #3?

PROS:
Setting: This hot spring is by far the best for photos! It has multiple waterfalls, cool rock formations, and it's right on a river. There is also massive amounts of steam rising from the water, making for the perfect "chill-vibes" Instagram shot.
Waterfalls: The "waterfalls" in the other hot springs are fairly wimpy, but Kirkham has a couple of waterfalls and the biggest one is actually pretty impressive! Not to mention, standing underneath it is like taking a hot, high-pressure shower. But don't bring your shampoo. Please.

CONS:
Crowds: This hot spring is right off the main road and right next to a fairly popular campground, making it a hot stop for travelers (no pun intended).
Temperatures: It's difficult to find that "perfect spot" at Kirkham. One second you're too hot, then you're shivering again. However, the best, most consistent pool is found by climbing over the rock wall at the back of the main pools.

Best Time to Visit.
Summer or Fall. Try to get there early in the morning and you'll likely have this (typically crowded) hot spring to yourself!
Getting There.
Kirkham is super easy to route to, though I would recommend getting the Maps.Me app (which provides directions offline) as you'll have zero signal traveling through the mountains. Your GPS will get you there, but in case you somehow get lost, just follow the crazy amounts of steam!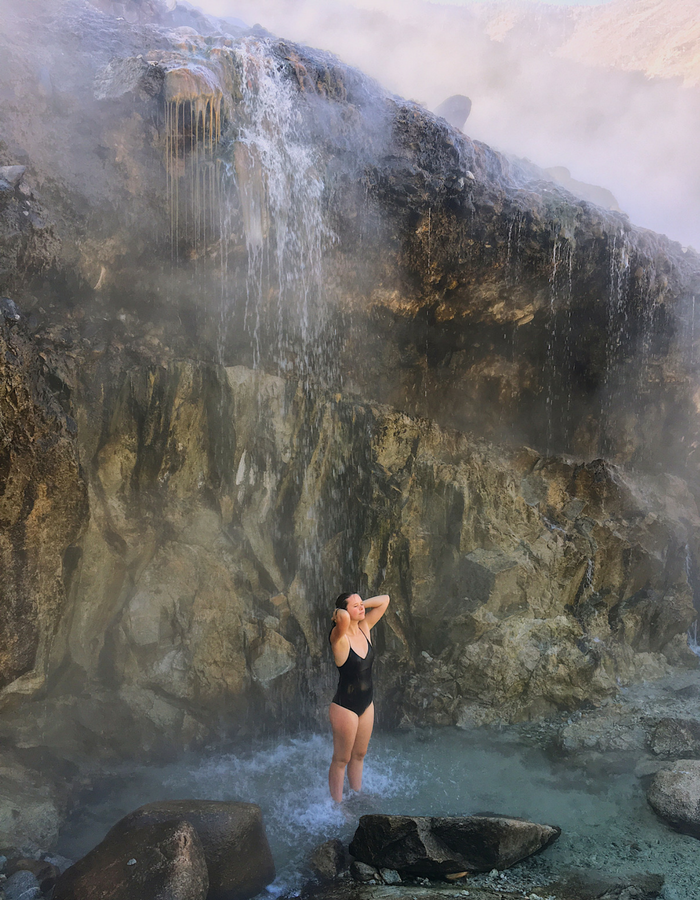 #2 Rocky Canyon Natural Hot Springs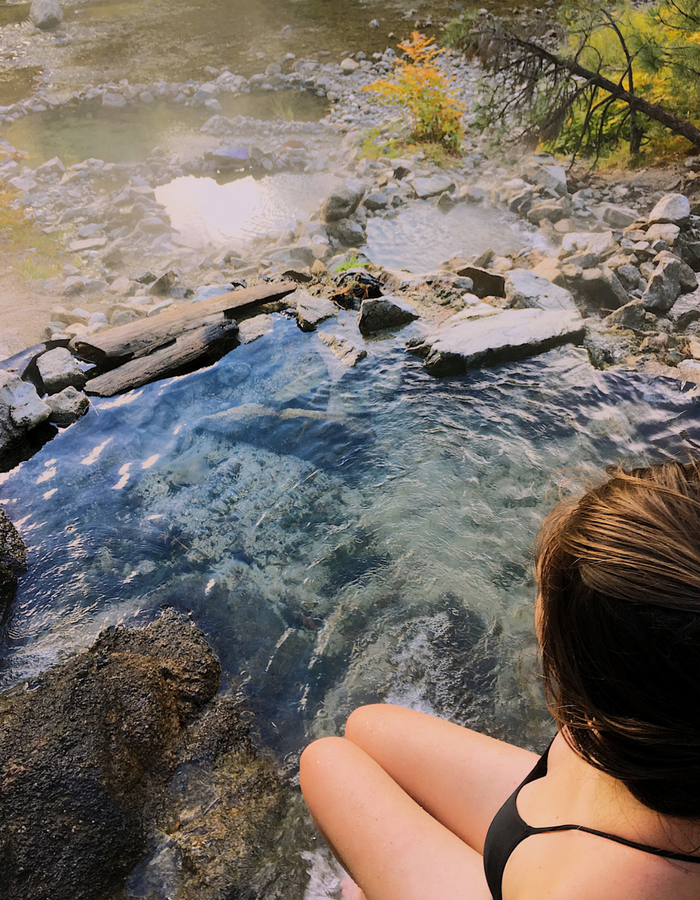 What Makes it My #2?

PROS:
Multiple Pools: You have 4 pools to choose from, all of varying temperatures and all (except maybe the last one, which is 97 degrees) are warm enough to soak in. The pools cascade down the side of of a cliff – it's basically like a giant hot spring waterfall. Pretty cool!
Size: Since there are 4 different, reasonably sized, pools you could probably a host a party at this hot spring.
Seclusion: Oddly enough, since this hot spring is technically right off the road, it is actually pretty private. There is no signage, and though nothing is blocking it from view, it has incredible camouflaging abilities. The only giveaway is the steam rising from the rock, which is visible from the road depending on the weather.

CONS:
The journey: You have to freeze before you can get warm. In order to get to this hot spring, you have to cross a river. And that river is really, REALLY cold. 32 degrees cold to be exact. You won't be able to feel your legs and if your rain boots are anything like mine, they won't be tall enough to keep the water completely out. Totally worth it, though.
Occasional Strangeness: Normally you'll be alone in this hot spring. And if you're not alone, you'll be accompanied by friendly locals looking for a soak. But occasionally, you'll get a shirtless man and a naked, chalked-up woman doing a photoshoot in the tall grass beneath you. Yeah, strange right? I'm actually not sure if I should be crying or laughing at the awkwardness of the situation.

Best Time to Visit.
Summer, Fall or Winter. Try visiting in the morning or evening when the sun is lower in the sky. Mid-day the sun is glaring down on the pools. Not as pretty in pictures or in person.
Getting There.
This secluded and gorgeous hot spring is not traceable via GPS (which is why it remains so secluded). It is located just over 10 miles North of the little, old-timey town of Crouch. If you can spot it, you can soak in it! (Hint: On extremely cold days, the steam rising from the rock is a dead giveaway!)
INSIDER TIP: There are several free, dispersed campsites nearby for campers. Most of them are also RV accessible.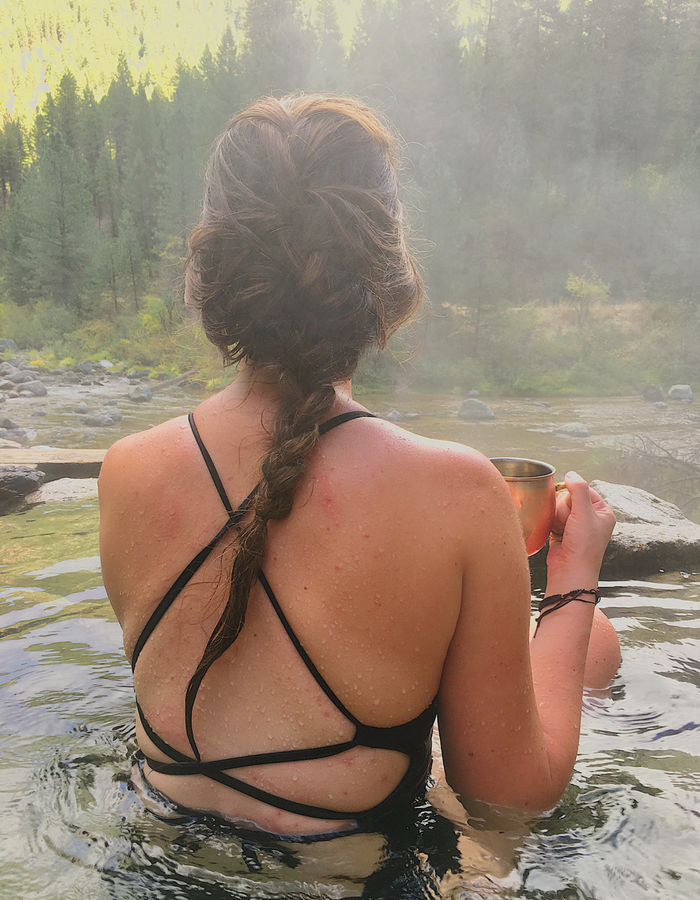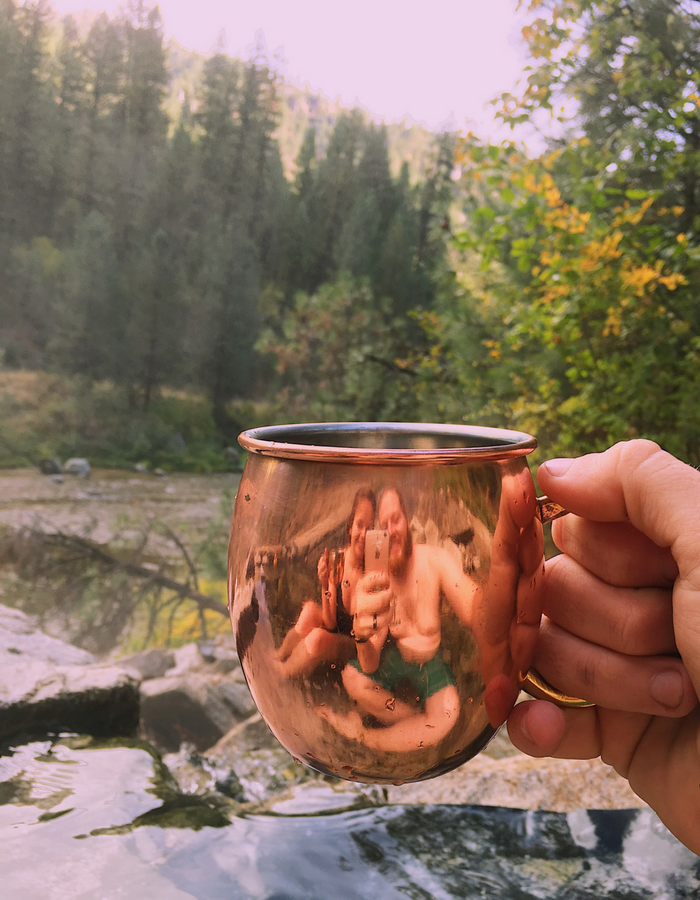 #1 Trail Creek Natural Hot Springs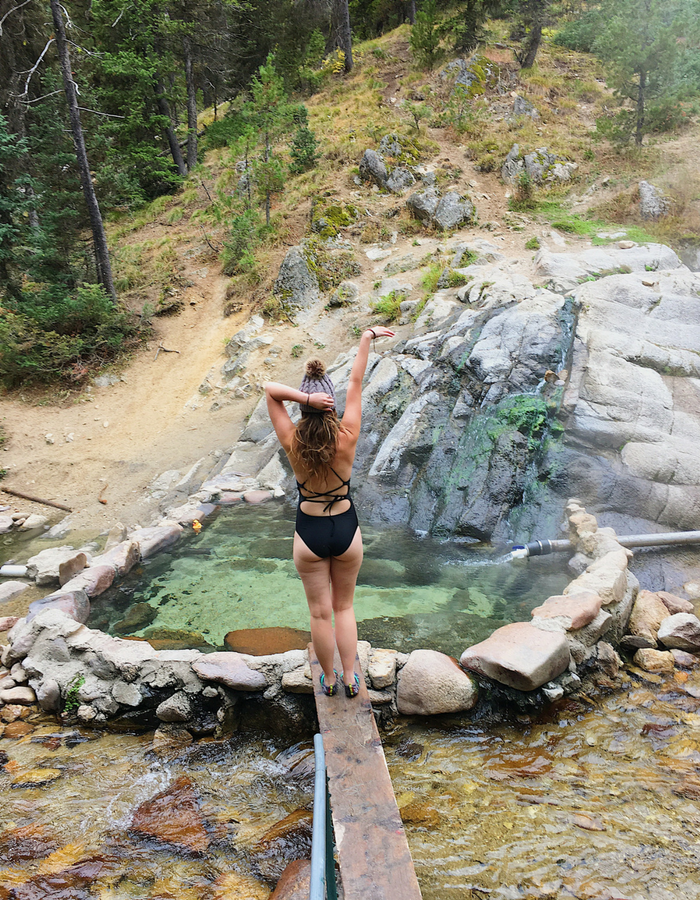 What Makes it My #1?

PROS:
Depth: Ah, finally! A hot spring you can actually sink up to your shoulders in! Surprisingly, this is actually somewhat of a rarity in natural hot springs.
Temperature Control: This is an amazing feature. This hot spring has hot water coming down from the rock and a tube piping cold water in from the river which you can, GET THIS, turn on and off! Yes, you can control the temperature of this natural hot spring by deciding how much cold water you want to let in, if any at all (but really, you will need some or it'll get unbearably hot).
Seating: No more sitting on a scratchy, gravely pool bottom! In this hot spring there are large, submerged rocks (that aren't scratchy) on which you can rest your delicate posterior while still staying nice and toasty. I'm tellin' ya, this place is ideal!
Seclusion: Again, there is no signage for this hot spring. It's also surrounded by thick forest and the steam can't be seen from the road. So in order to find it you must, in the words of Captain Jack Sparrow, "already know where it is".

CONS:
Dirty Trail: The hot spring itself is clean, but the trail and campsites leading up to it are filthy with underwear (how do you forget that?), beer cans and…erm…human feces. (Seriously, why wouldn't you at least move OFF of the trail?) It's actually pretty upsetting since this is such a beautiful little spot. But I get it, where there are hot springs there are drunk idiots.
Possible Nudists?: Yes, this is, as the poorly crafted leather sign says, a clothing optional hot spring. Perhaps you don't mind soaking it up and staring at some old guys junk, but if you DO mind, just visit during one of the many times the hot spring is empty (usually mornings and early afternoons).
Best Time to Visit.
Summer, Fall and Winter. Try to make it there sometime in the morning. The evenings are usually reserved for the party people.
Getting There.
These cozy natural hot springs are located Northwest of Cascade, Idaho and is about a 25 minute drive up Warm Lake Road. The "parking lot" for the hot springs is basically just a slow vehicle turnout and can be difficult to spot unless people have already arrived – in which case, just look for all the cars!
When you reach the bottom of the trail, if you come across a leather sign nailed to a tree that reads "Hot Springs. Clothing Optional", you're in the right place. Watch out for naked bods.
HOT SPRING MUST-HAVES
Click images for details

UPDATE (09/20/18): I visited these natural hot springs again recently (during a weekend getaway trip) and made a solemn vow to myself that if the place was trashed any more than usual, I'd remove any, even subtle, hints about its location as well as the location of the other hot springs listed here. I have to say, I was super stoked to see that it was much, MUCH cleaner than it was during my last visit! Which only leads me to believe that all of you (my awesome, nature-loving readers) are keeping it clean and respecting this beautiful, natural place. Faith in humanity = semi-restored. You guys are the best! Keep on hot springing.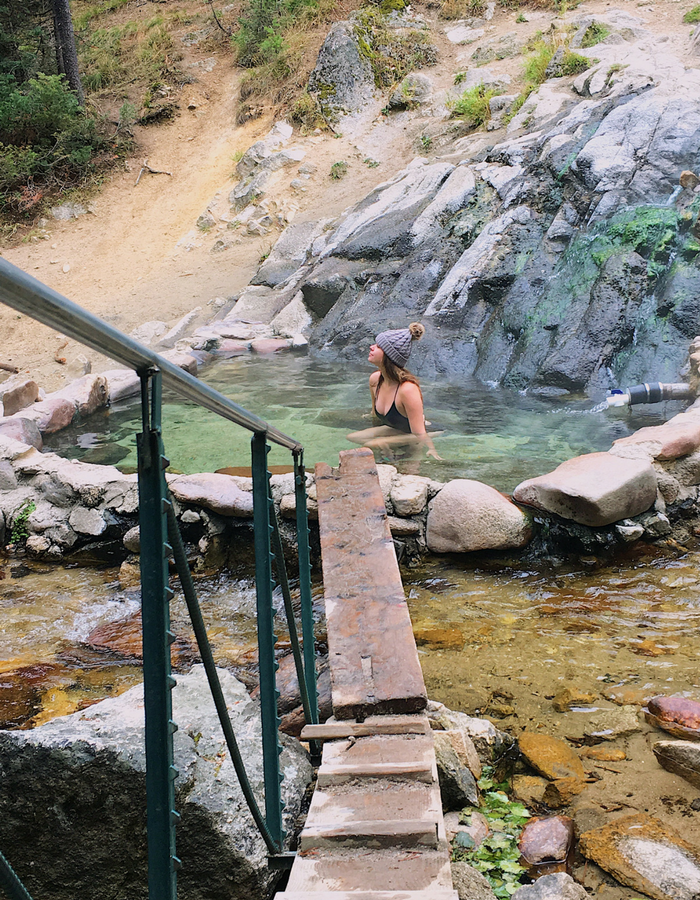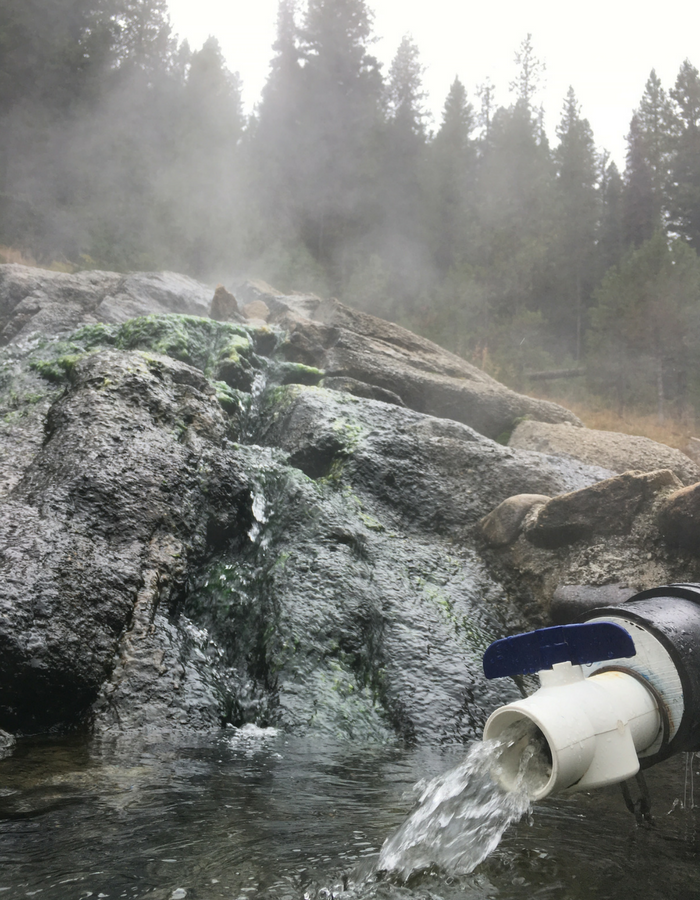 Have a favorite hot spring of your own? Or an awkward, "clothing optional" story to tell? Drop it like it's hawwt in the comments section below!
PIN THIS