Hidden away in a narrow canyon in Southern Nevada lies Gold Strike hot spring. A tiny oasis perfect for soaking away those wintertime blues. This fun but treacherous trail is the ultimate adventure. You'll descend precarious ropes, pass some peculiar wreckage, and even get a chance to test out your bouldering skills!
Helpful Tip: If you're just looking for general information on the hike, scroll past the details to the bottom of this post. 🙂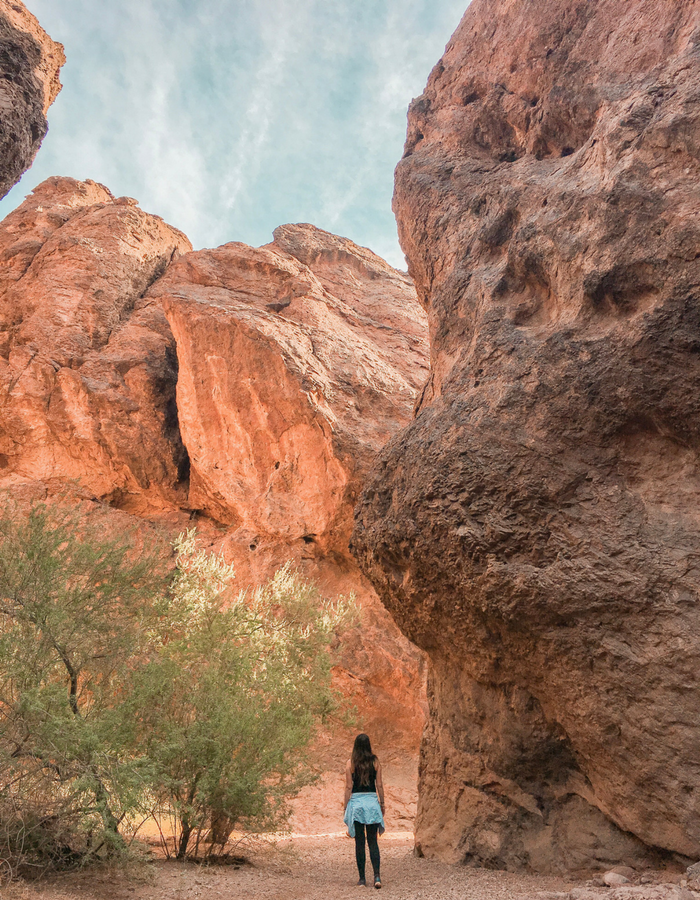 The heavily-trafficked trail begins just off of Highway 93, near the famous Hoover Dam. It starts out easy and flat but the ground is mostly gravel and sand making it somewhat annoying on the calves.
NOTE: Keep an eye out for desert bighorn sheep! You're likely to see a few if you arrive early enough.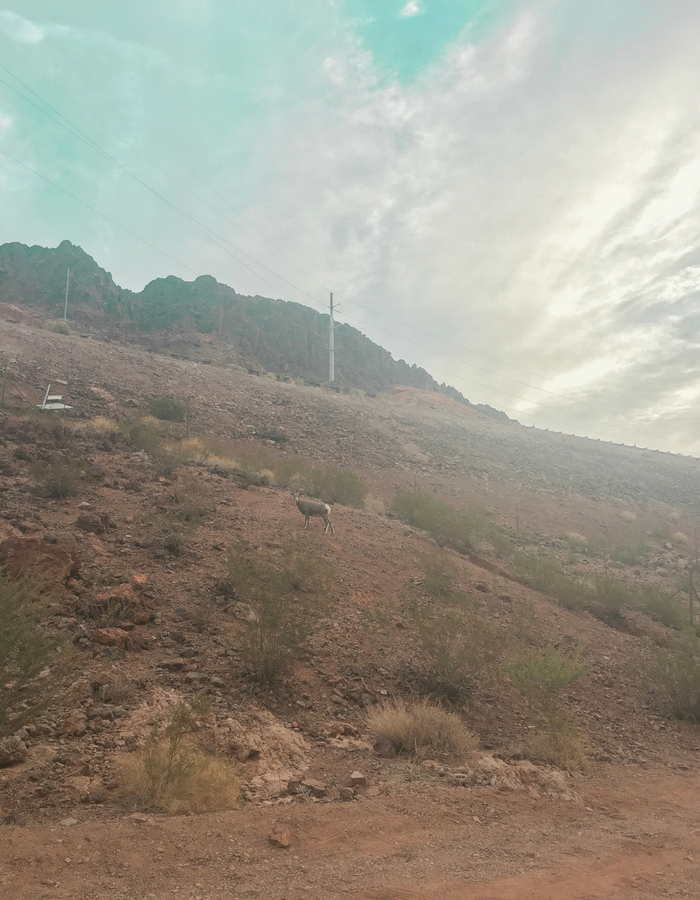 After you pass the Highway 93 bridge, you'll see your first car wreck. It's totally peculiar and I couldn't quite figure out how a vehicle managed to get down there (even if it did fly off the road from above). A strange anomaly, but interesting to look at and to photograph.
Further down the trail, if you look carefully, you'll see the next wreck – flattened like a pancake against the cliffside and stuck on a sturdy bush. There's also some wreckage below that I can only hope and assume was from the same vehicle. (Seriously, what is happening in this canyon?!)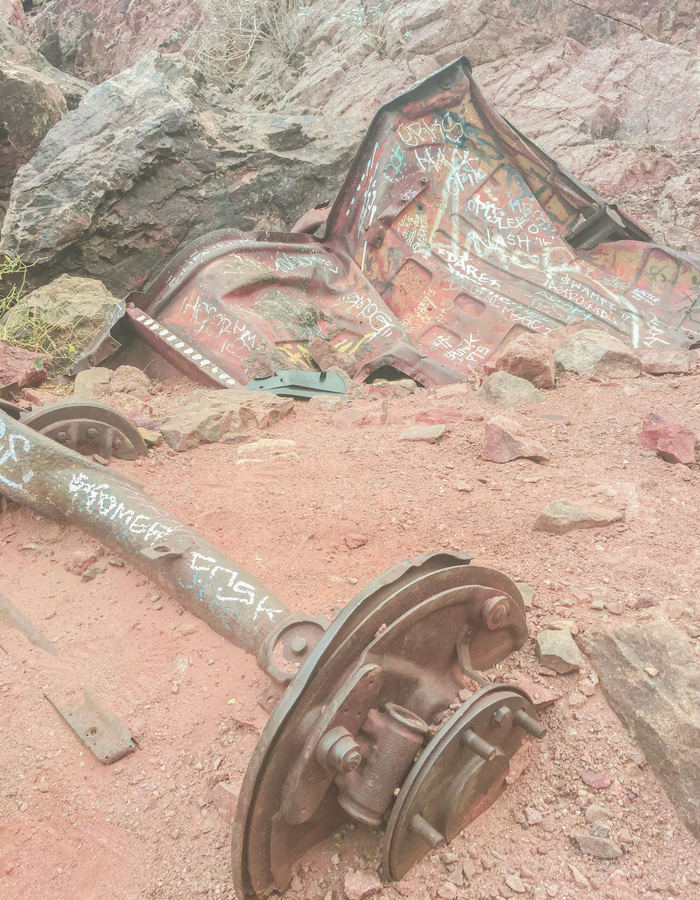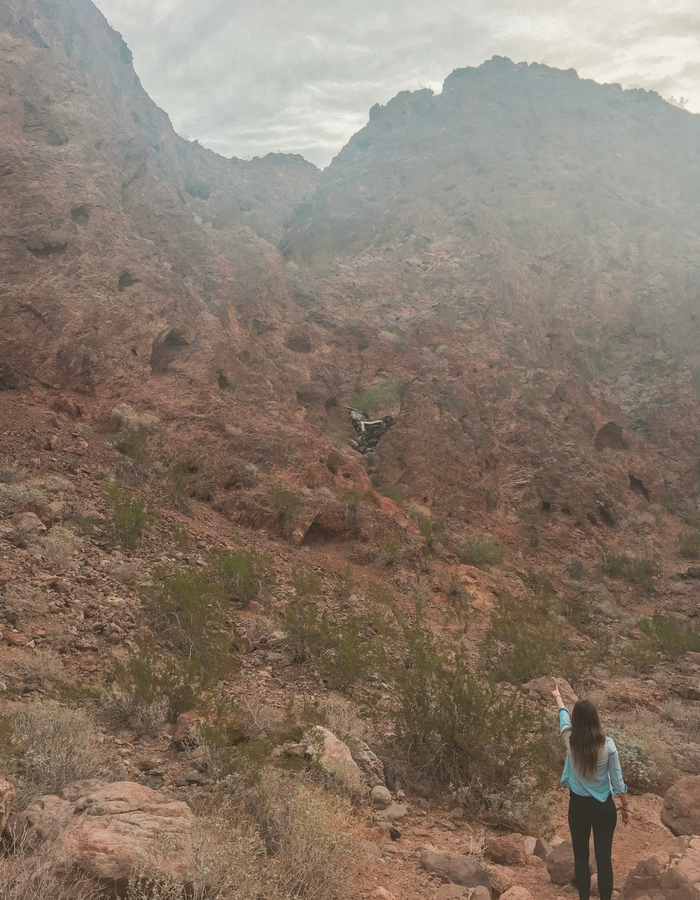 After another 5-10 minutes you'll reach this nice attempt at a refueling station. The thought was there, but unfortunately people seem to only leave their trash (not water or snacks, as intended) and the garbage bag was broken and overflowing. *Sad Face*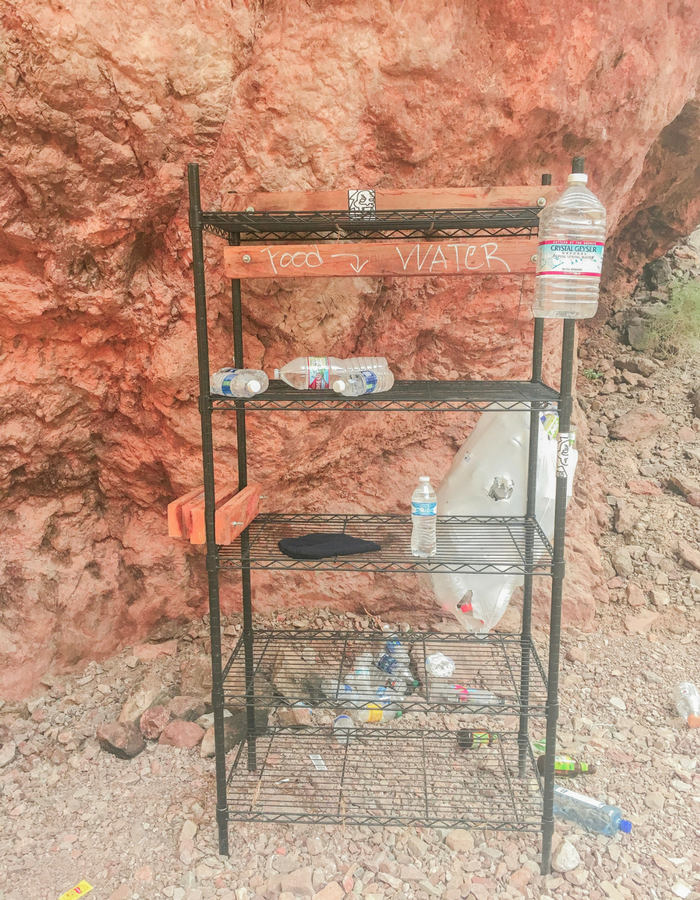 Soon after the refueling station, you'll reach your first set of large boulders. Find the easiest and safest way to get up and over to the other side. (I promise it's not insurmountable and it's feasible for even newbs such as myself!)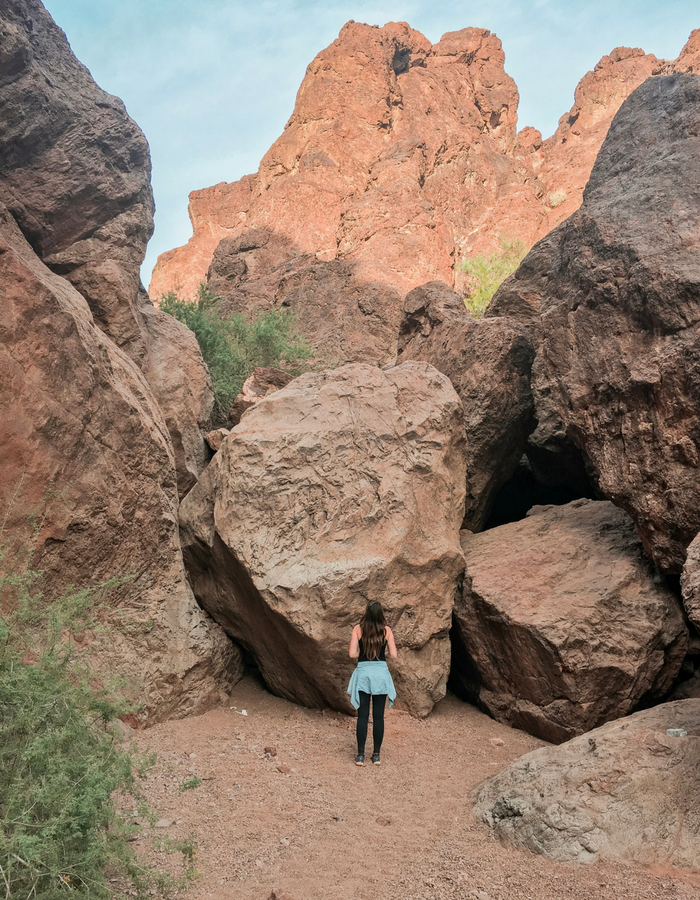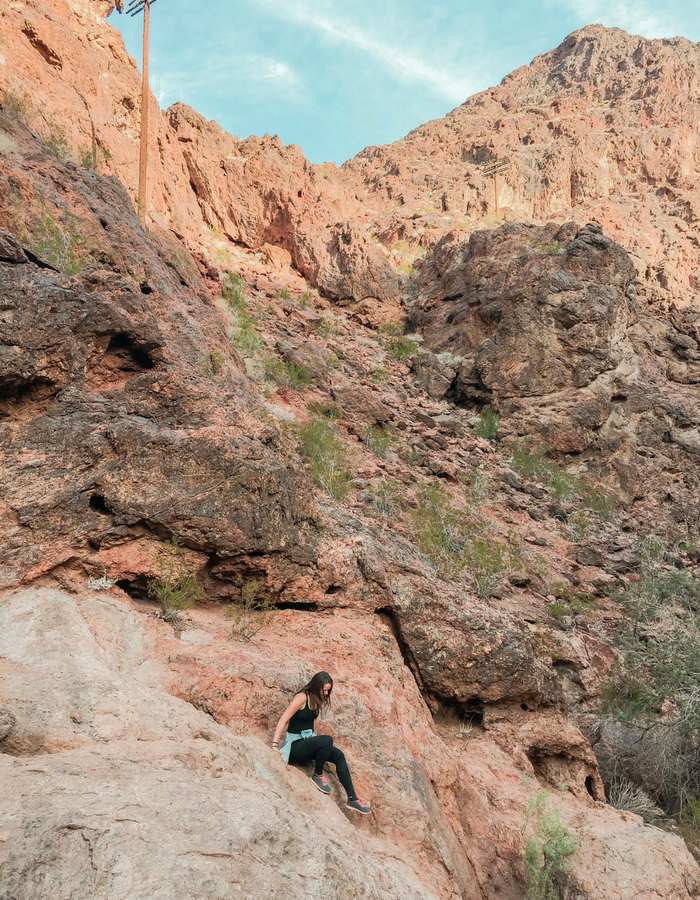 The trail starts to get more precarious at this point, but still quite doable. If you ever have doubts about which way to go (which is bound to happen), just follow the spray painted arrows. They'll direct you to the easiest route…most of the time.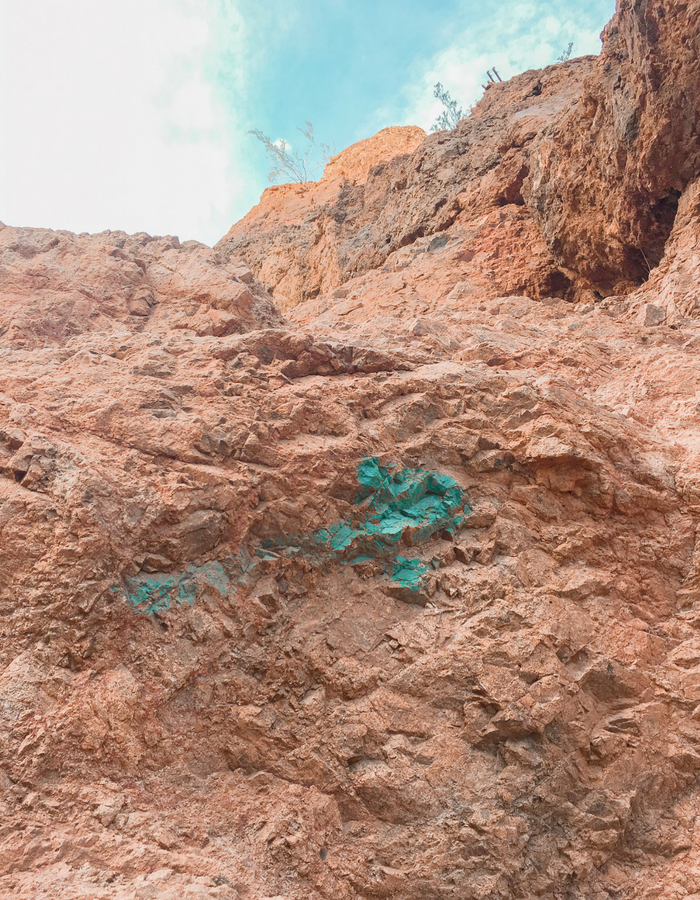 Before reaching the hot springs, you'll have to descend 3 different ropes. The first rope can be a bit hairy at first, but once you reach the carved steps it becomes a lot easier! Take your time and remember, that drop isn't as bad as it looks at first glance.
NOTE: Always test the ropes before putting your full weight on them and be sure to LEAN BACK. It might feel scary at first, but it'll make it a lot easier and prevent you from slipping and knocking out your teeth.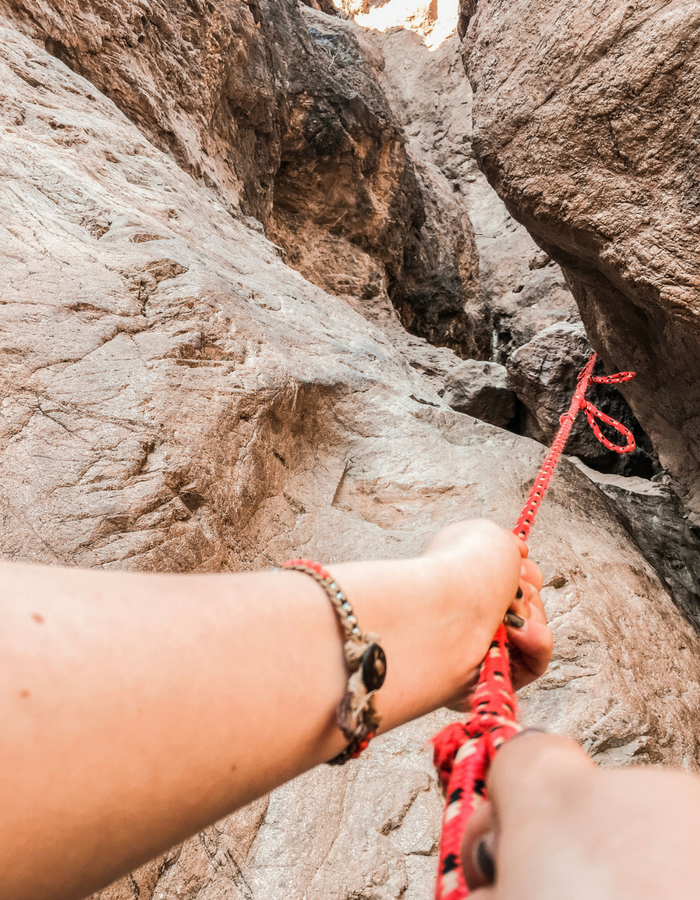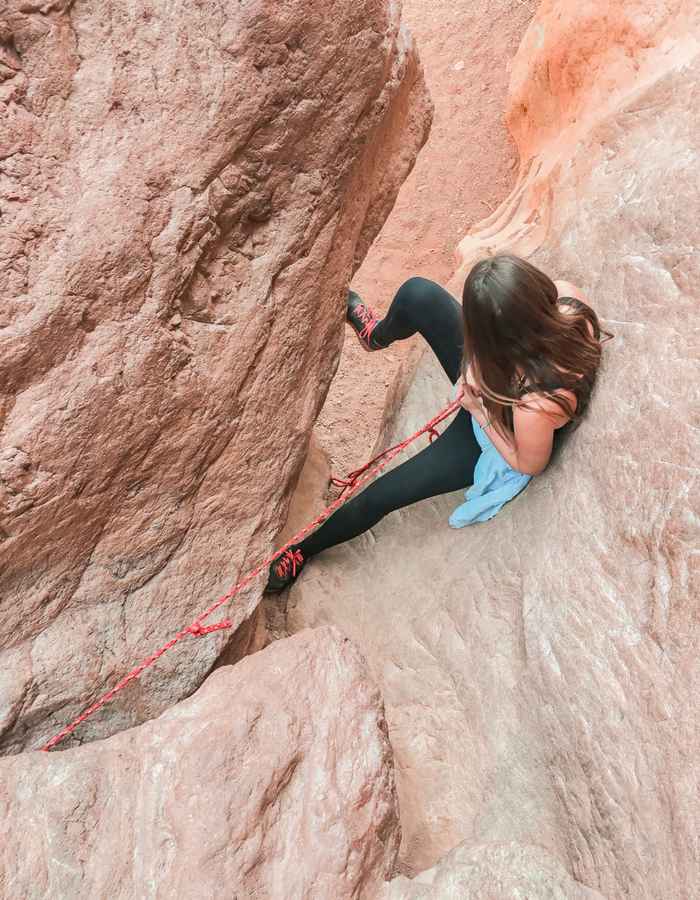 The second rope is a tad easier (but in a tight space) and the third rope is really more of a slide. You're basically just holding the rope so you don't slide down too fast and bust your ankles. If you're really concerned with this one, ask a buddy to go down first and guide your feet down with their hands.
After that third descent, you'll see a tiny stream of hot water and soon after that, you'll see the first hot spring. You can stop and check out this hot spring if you want, or you can continue on to the more famous hot spring in Gold Strike. It's just around the corner and a slight descent from the first pool (hidden behind some rocks on the right-hand side).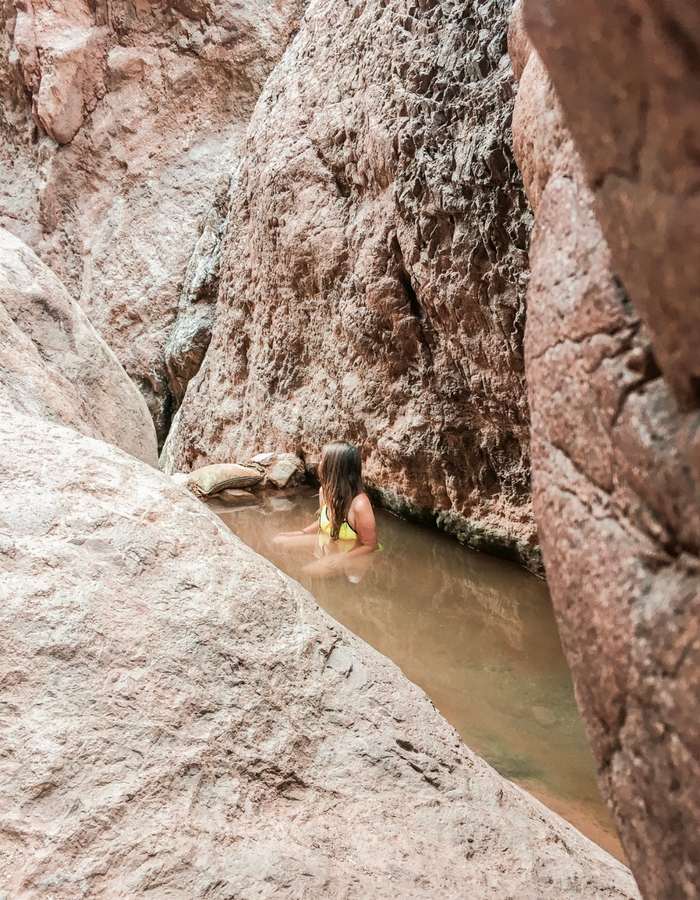 This hot spring is the perfect depth for sitting and soaking (about 2.5 feet deep) and the water is a comfortable temperature. Though personally, I'd compare the feeling to that of a warm bath rather than a hot tub.
The bottom is fairly soft but that's because it's covered in silt, which makes for some murky water if you move around at all. Overall, not my favorite hot spring, but definitely a cool, unique experience that I'd recommend to anyone in the Las Vegas area!
NOTE: Be sure to arrive early. By 9:30am people were arriving at the hot spring and disturbing my awesome, peaceful soak.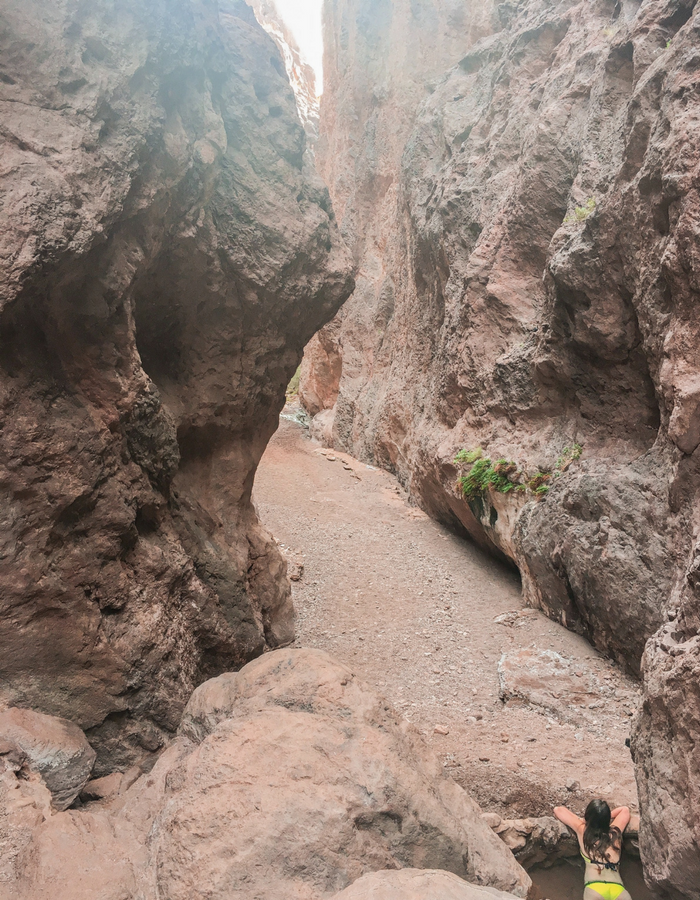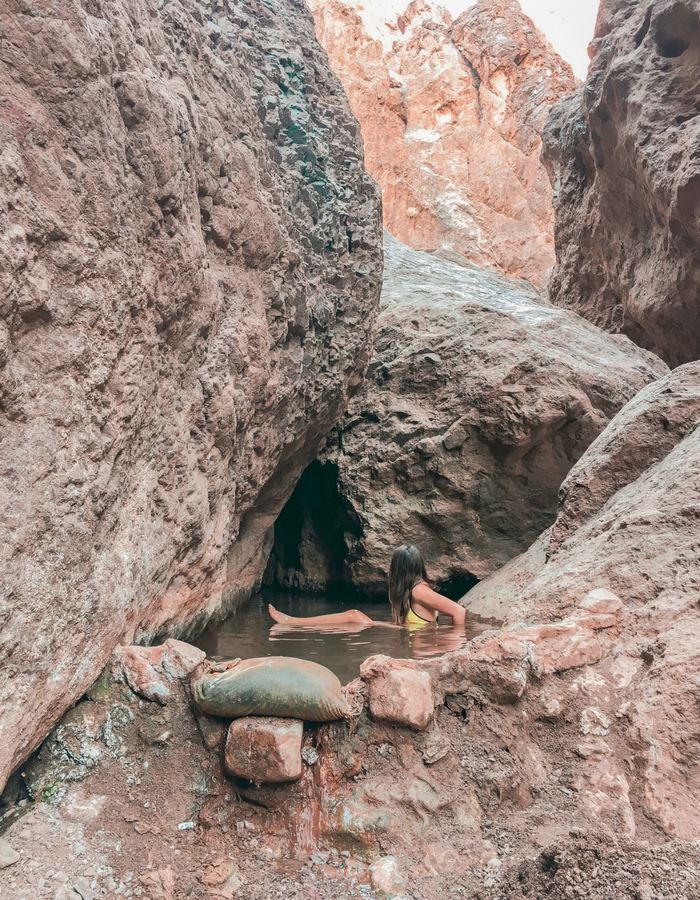 General Information
Best Time to Visit
Early in the morning, anywhere from November – April. Arriving early will allow you to beat the crowds (this is a surprisingly popular trail) and stay cool in the dim morning light.
NOTE: The trail to Gold Strike is closed from May – October. This is for your own safety as the trail becomes brutally hot during the extended summer months. I hiked the trail in November, and it was pretty comfortable but a lot of water is still needed.
Trail Information
Length: 3.2 miles. To Gold Strike hot spring and back. The trail continues down (past the hot spring) to the Colorado River, but it becomes much more treacherous and difficult. If you continue down the trail to the river, the hike is over 6 miles roundtrip.
Difficulty: Moderate. While the Gold Strike trail requires a bit of climbing and descending, it's doable for the average hiker. The descents are not too difficult and not too far down and there are only a couple places where bouldering is necessary.
Time Spent: 2-3 hours. It took me nearly 3 hours to complete the hike, but that's including frequent photo stops, of course.
What to Bring
Shoes with good grip. For bouldering.
Sunscreen. Depending on the time of day you visit, you'll be in the sun quite often.
A swimsuit. If you plan on taking a dip in the hot spring.
Clothes you don't mind getting dirty. You'll probably be covered in dirt and dust by the end of the hike.
Plenty of water. I'd recommend 750ml at the very least.
A pack. To hold your water and belongings. You'll be descending using ropes and will need both hands.
Safety Risks
Naegleria Fowleri. This is a (VERY RARE) brain eating amoeba that thrives in warm water and is most commonly found in areas with consistently warm climates (mostly Florida and Texas). If you choose to soak in the hot spring, try not to kick up too much muck and do not put your head under the water. The amoeba travels through the nasal passage into the brain.
Want more hot springs?
SHARE IT LIKE IT'S HOT 😉