When it comes to natural hot springs, the West side really is the best side, and Utah is no exception to this rule! Utah's hot pools may not be tucked away on mountainsides or surrounded by towering pines, but they offer their own unique, deserty flavor that is sure to stir up the ole' wanderlust.
However, during my road trip, I quickly discovered just how hit-and-miss Utah's popular hot-pots are. Sometimes photos can be deceiving, information can be outdated, or new laws/changes can be instituted. It totally screws with your road trip and you find yourself on a 1 hour detour for no reason.
To spare you from this madness, I've compiled a list. I'll first share with you 4 accessible hot springs in Utah that are worth your visit. After that, we'll get to the 3 terrible, no-good ones that you should skip altogether.
So let's get soakin'.
PART I: MUST VISIT HOT SPRINGS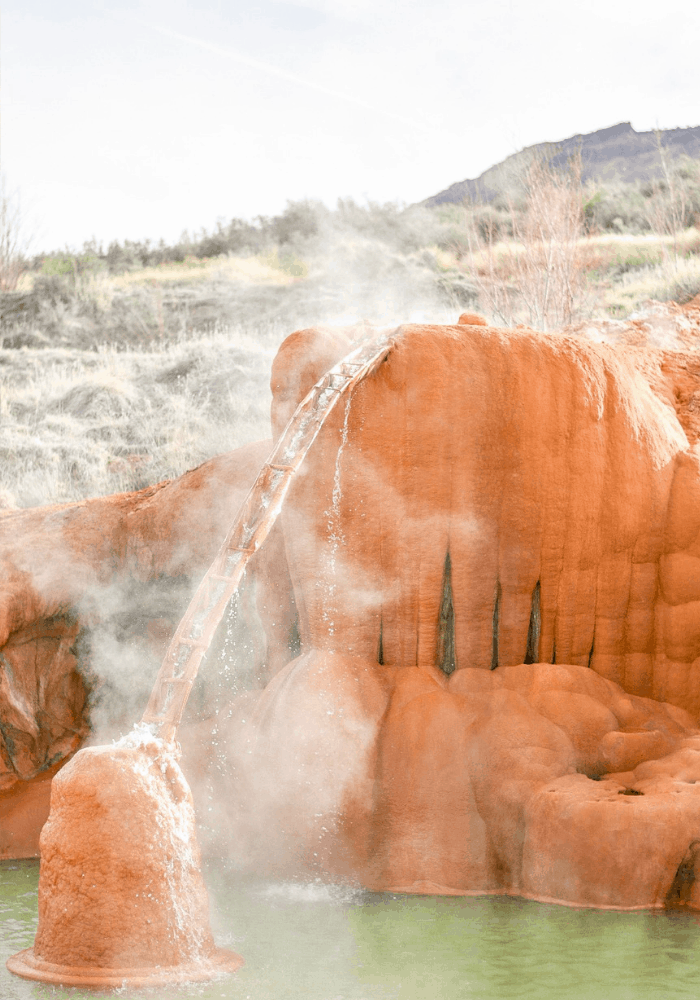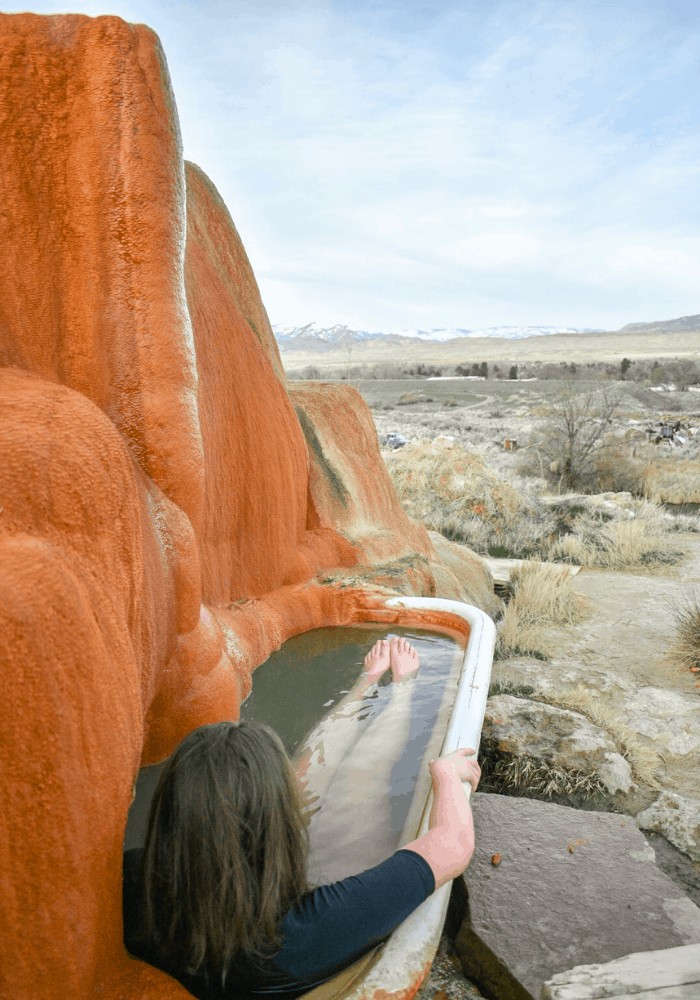 Mystic Hot Springs easily takes #1 for must-visit soaking spots in Utah. It's clean, maintained, and totally unique. But of course, with cleaning and maintenance comes a price.
These springs are owned and managed as part of a rustic resort. A $15 entry fee is mandatory (unless you are an overnight guest). But don't let that deter you! These hot pools (and tubs) are unlike anything you have ever, or will ever, see. The price is well worth the experience.
You'll have a choice between 2 large soaking pools and 6 porcelain tubs, piped full of the natural hot spring water. The two most famous tubs are quickly being over-run by a mound of fiery-orange travertine. The travertine is growing day by day as minerals collect and calcify. The same stunning travertine is found in the main soaking pool, where a pipe has been used to create an alienesque arch. This arch guides water into the pool and makes for an interesting view.
NOTE: The 2 photos at the top of this post were also taken at Mystic Hot Springs.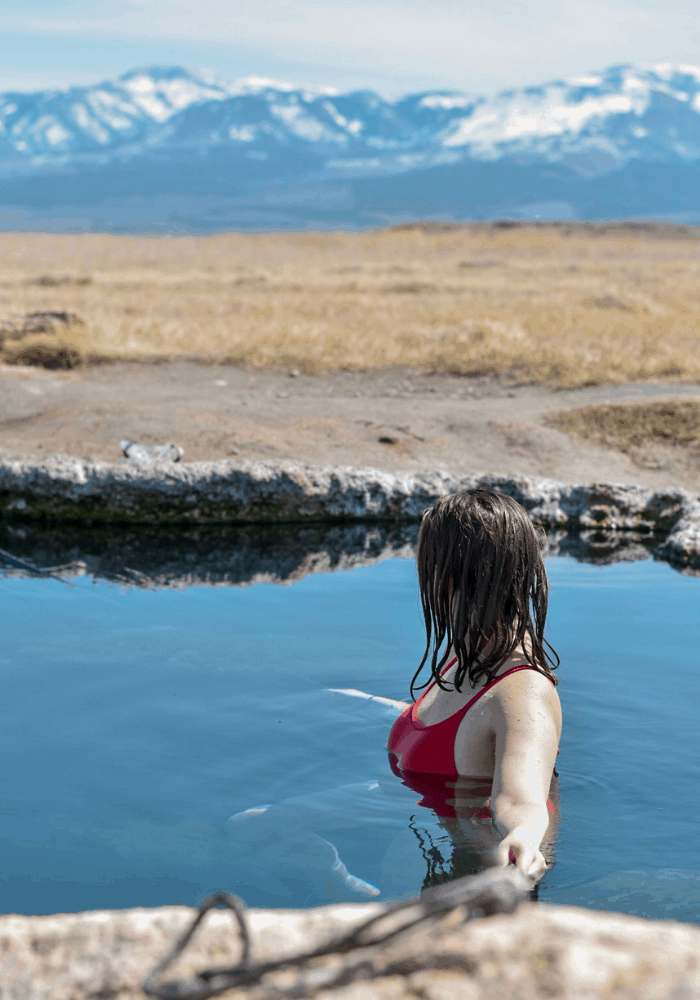 #2 Meadow (Meadow, UT)
Meadow Hot Springs is famous in part because of it's depth, and also because of it's emerald-green color. Both the vibrance and depth of these pools are super unique – it's something I've never come across in my hot-springing before.
Meadow hot spring consists of 3 pools: 2 medium-sized, hotter pools and 1 large pool (with a dock) that's really more like a heated swimming pool. Unlike most other hot springs, the water comes up solely through the ground and is not fed in through any sort of pipe or stream.
Remember, these pools are on private property, but the owner is kind enough to leave it open for public use. They are free but donations are accepted, and I'd encourage you to donate if you can! The owner is really nice and has to clean up a lot of garbage left behind by inconsiderate people.


#3 Fifth Water/Diamond Fork (Spanish Fork, UT)
This hot spring is probably the most famous in all of Utah. Sadly, because of this, it ranks much lower on my list. With the increase in visitors, there's also an increase in waste. Not to mention, these hot springs are consistently packed with people. I arrived at the trailhead at first light on a weekday and there were already 7 cars in the parking lot. So if you're hoping for a secluded soak – this is not the place for it.
The saving grace of this place is, of course, it's natural beauty. The colors of this hot spring just can't be beat. The milky blues will remind you of a mini Blue Lagoon and are even more pronounced when there's a snowy-white backdrop.
If only there weren't so many people… sigh.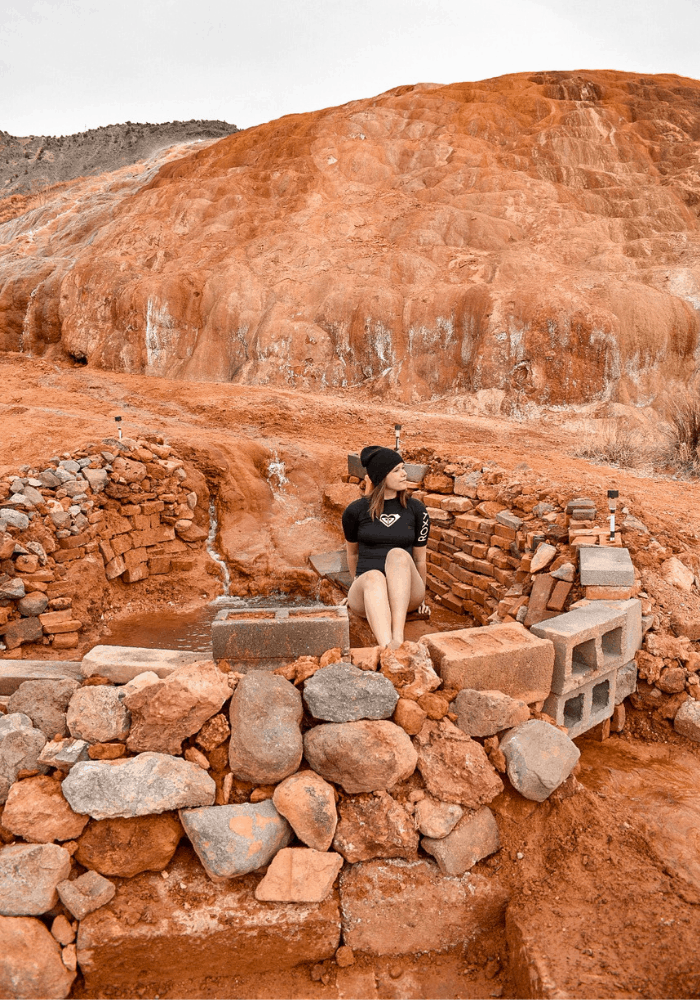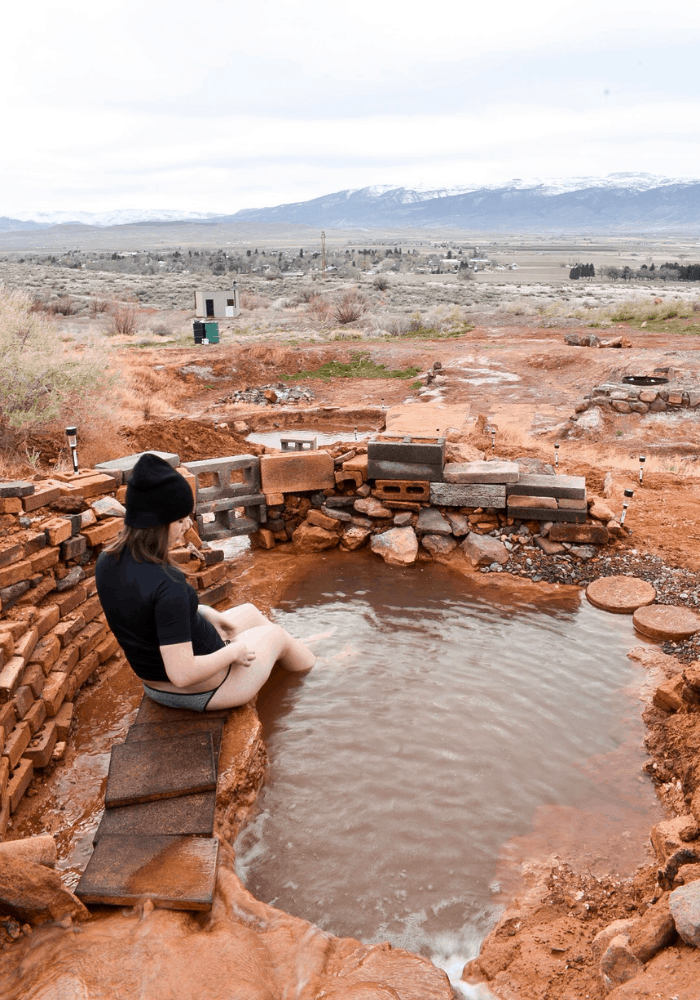 #4 Red Hill (Monroe, UT)
I had really high hopes for Red Hill hot springs but, alas…
It wasn't a total let down, but it wasn't at all what I expected. Photographs of this hot spring show an interesting staircase, a couple of narrow tubs, and one large circular metal tub buried in the red dirt. The tubs are cascading down the hill side, leading the eye to the gorgeous mountains ahead. Lovely, right? I thought so.
Instead what I found were 2 large holes in the dirt full of cloudy, hot spring water. I'm not sure why the decision was made to dig up the metal bins (maybe they didn't react well with the minerals), but the result was much less visually appealing than before.
These hot springs still hold a place on the list because they're free, they're accessible, the location is unique and the water is a comfortable temperature. But expect to find what you see in photos above – not what you see on Google Images.


---

PART II: MUST AVOID HOT SPRINGS
NOTE: There are no photos of these hot springs because 2 were unreachable and 1 was so sketchy I didn't much care to stick around. Images can be found through other sources, but I did not want to steal the work of others.
#1 Pah Tempe (Hurricane, UT)
Pah Tempe is gorgeous, that much is undeniable. But what many people don't know is that this famous hot spring is now gated off and closed (permanently) to the public.
Some visitors choose to ignore the No Trespassing signs, hop the gate and soak in the hot springs anyway. Please don't do this. It's not worth the potential fines and/or jail time.
NOTE: There has been talk recently about reopening these hot springs and creating a resort, but for now, this one is off-limits.
#2 Baker (Delta, UT)
Baker Hot Spring looked hopeful, but ended in utter and complete disappointment.
This 3-tub hot spring is located in the middle of the Utah desert, and it took quite a bit of dirt-road driving to get to. I hoped it all would be worth it – yeah, no.
The whole area felt sketchy – and I do not use that word lightly. We saw people soaking, fully-clothed, clearly living out of their van (which was packed with trash that they brushed onto the ground). Not to mention, the springs were smelly, the water was murky, and the temperature was far too hot to be enjoyable. Mounds of fabric block the hot water flow and you have to move them around to adjust the temperature of the water.
We left without getting in. I recommend all visitors do the same.
#3 Ogden Canyon (Ogden, UT)
Sadly, Utah has a terrible track record for trashed, vandalized, or shut down hot springs – Ogden Canyon checks all those boxes.
These hot springs were overused, trashed, and built on private property without permission. The owner of the land recently closed off the hot springs and doesn't seem to see any value in reopening them (although he has expressed interest in selling that section of his property, if anyone is interested). Otherwise, it looks like Ogden Canyon will be forever closed.
Have any natural hot springs of your own to recommend – or advise against? Share with the group! (Comments section is below 🙂
SHARE IT LIKE IT'S HOT!