Mystic Hot Springs is truly a world of it's own. With calcified formations of gold, rust, and sometimes even shades of green, the location of these hot springs is almost otherworldly. But despite their rustic and untamed appearance, this place is not as natural and isolated as most photos suggest. The springs were purchased in 1995 and built up by self-proclaimed hippie, "Mystic Mike".
Boooo. I know, I like natural & secluded hot springs just as much as the next guy, but seriously, don't let that stop you from adding this to your bucket list of Utah experiences! This hot spring "resort" is unlike anything you have ever, or will ever, see again.
Old hippie buses that you can sleep in? Check.
Live musical performances? Yep.
Sassy llamas? You bet.
And of course, porcelain tubs piped full of natural hot spring water, for your soaking pleasure.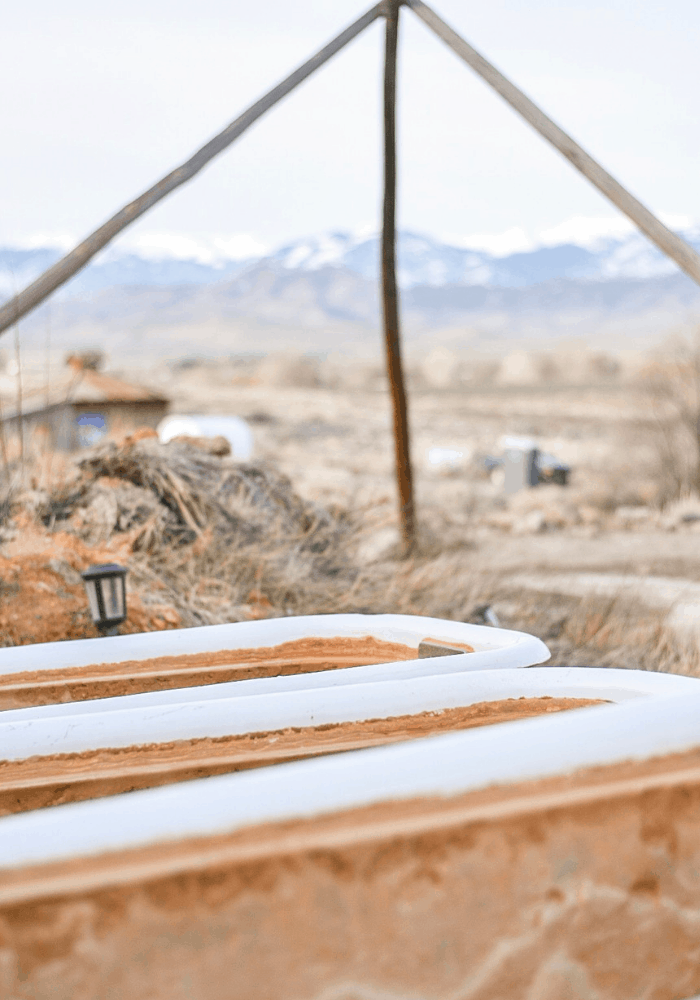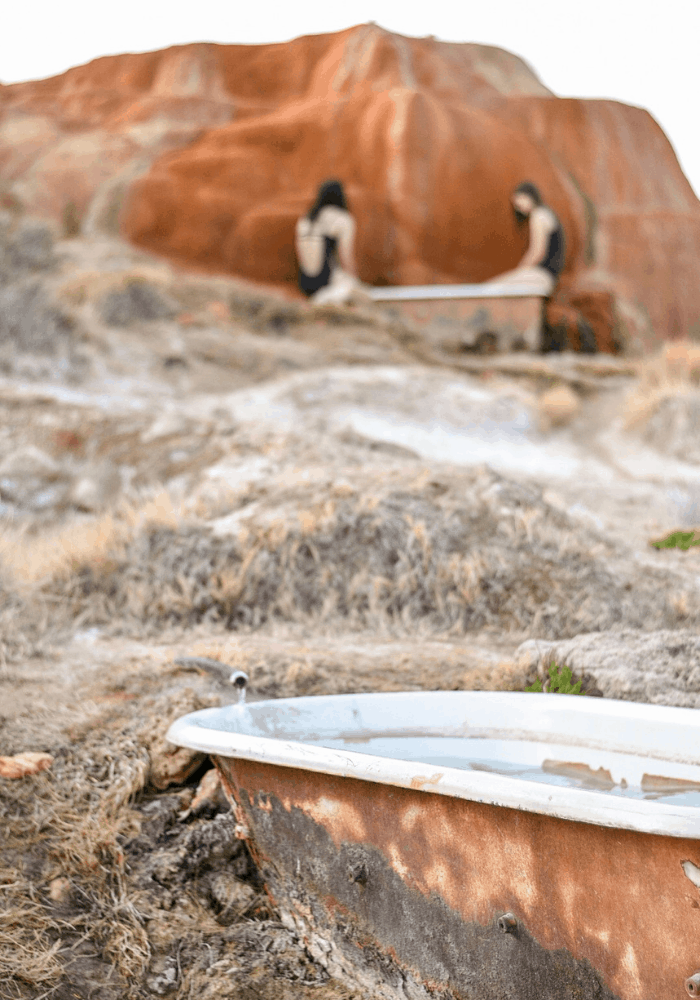 Yes, Mystic Hot Springs has sort of a low-key festival vibe that is true to bring out your inner flower-child. But despite the Summer Camp mood, they manage to maintain a soothing, spa-like atmosphere for their overnight guests and day-soakers.

So if that all sounds good to you, let's get to the guide!
In this blog post I will be sharing hot spring pricing, accommodation options/information, packing tips and useful information for your visit – along with my thoughts on the experience.
NOTE: This post contains affiliate links. Anything you purchase using one of my links earns me a small monetary kickback at NO extra cost to you. Of course I only link to products that I believe to be useful and good quality. If you want more information on affiliate links, click here.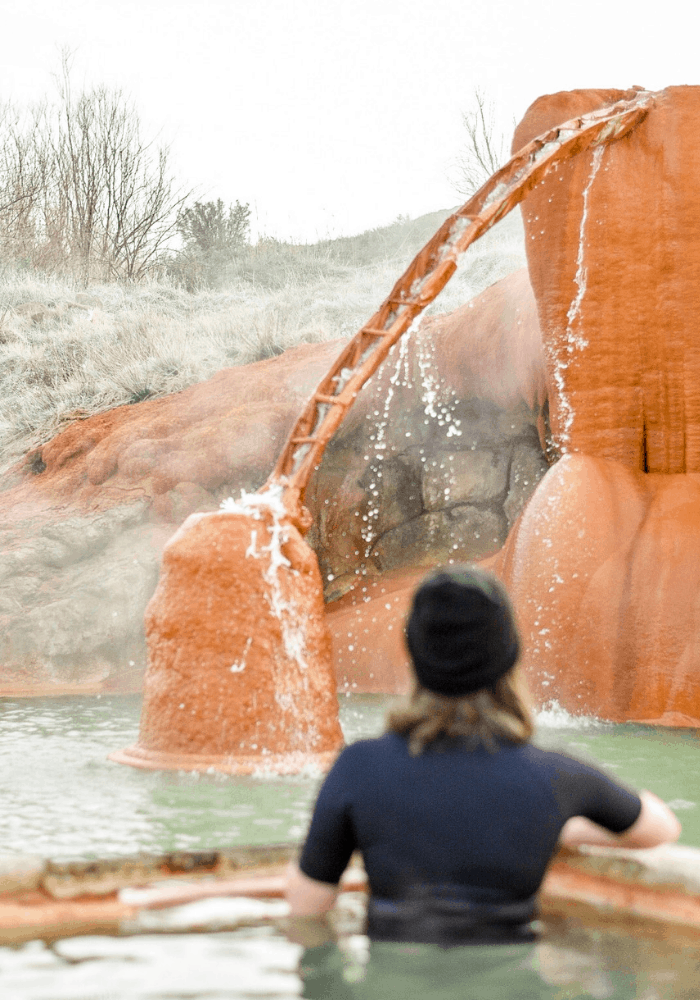 THE HOT SPRINGS
The hot springs are, obviously, the highlight of the resort – and for good reason! Some of the formations are so obscure they look like they belong in an old Star Trek episode and the old, porcelain tubs are total Instagram-material. But most importantly, the springs are the perfect place to unwind and relax.
Originally, the hot springs were used by Native tribes and later (in the 19th century) the area was homesteaded and soon became a "hang-out" for horse-and-buggy travelers, complete with a wooden dance floor. The history of it all is actually very interesting, and you can read more about it on the Mystic Hot Spring website, here.
Today though, the property has been turned into a makeshift resort for the more "rustic" traveler. Below, I'll go further into what to expect from your visit, hot spring costs & hours of operation.
What to Expect
As previously stated, the hot springs aren't quite as remote as photos would have you believe. When you pull into the parking lot, you'll see a large "L" shaped building, an empty swimming pool, some unusable vintage buses, and the hot springs – just a quick jaunt up the hill.
After you check in (signs should direct you to the check-in area), you'll receive a wrist band and can head up the stairs to the hot springs. You'll pass a covered seating area and a duck pond (complete with ducks and geese).
The staircase will take you to 2 large pools. The biggest pool is where you'll find the iconic, calcified arch that funnels the mineral water into the 2-feet-deep soaking area. The smaller pool (that can only be entered by climbing another staircase) is 4 feet deep, and slightly cooler than the shallow pool.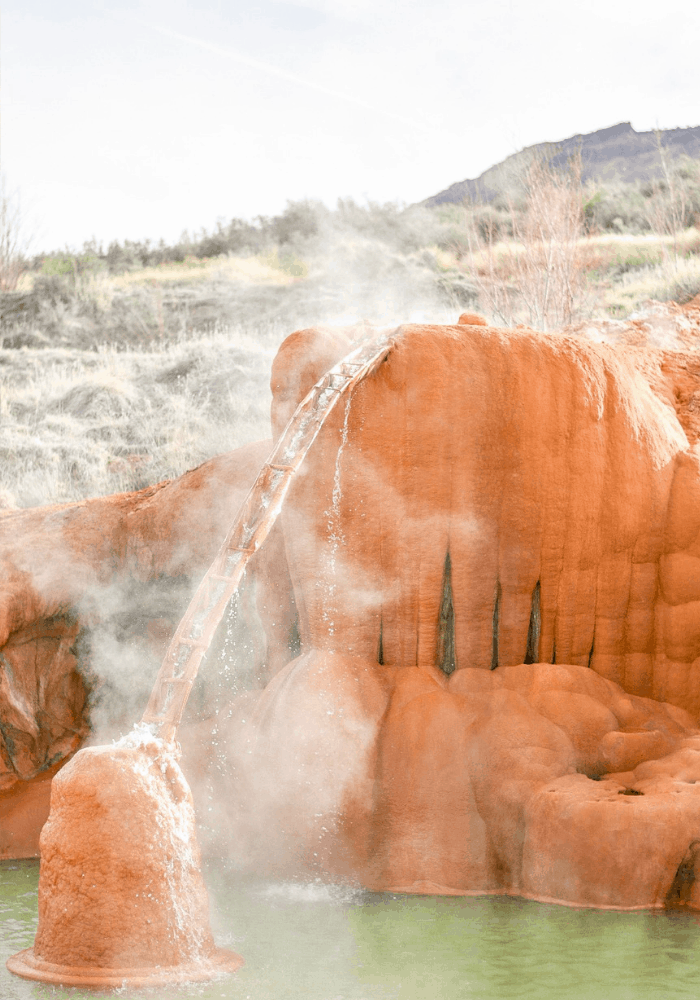 If you want to get some tub-soaking time, you'll need to hike uphill just a bit further to find the famous hot spring tubs.
NOTE: There is no staircase ascending this part of the hill, so be careful with your footing here.
Once you're up the hill, you'll find a cluster of 3 soaking tubs, a teepee with a fire pit beneath it, 2 more isolated tubs beyond that, and even further back are what I like to call "the Instagram tubs". These tubs are the ones you'll see the most photos of online. They are quickly being over-run by a mound of fiery-orange travertine. I call them the Instagram tubs because honestly, they aren't super comfortable to soak in and are better for pictures than they are for relaxing. The water inside is very hot and with the travertine closing in, it leaves a lot less room for reclining.
If you want a long-term soak, the 2 bathtubs just beyond the teepee are the most comfortable! I tried them all out for you, like Goldilocks. 😉
IMPORTANT NOTE: Keep in mind, the water in the tubs is generally much hotter than the water in the main soaking pools.
Despite the fact that the hot springs are essentially the "backyard" to the building, you'll still feel fairly immersed in nature. Mystic Hot Springs is a quiet spot and most of the noise you'll hear comes from their farm animals (llamas, emus, peacocks, etc.) which I'll talk more about later.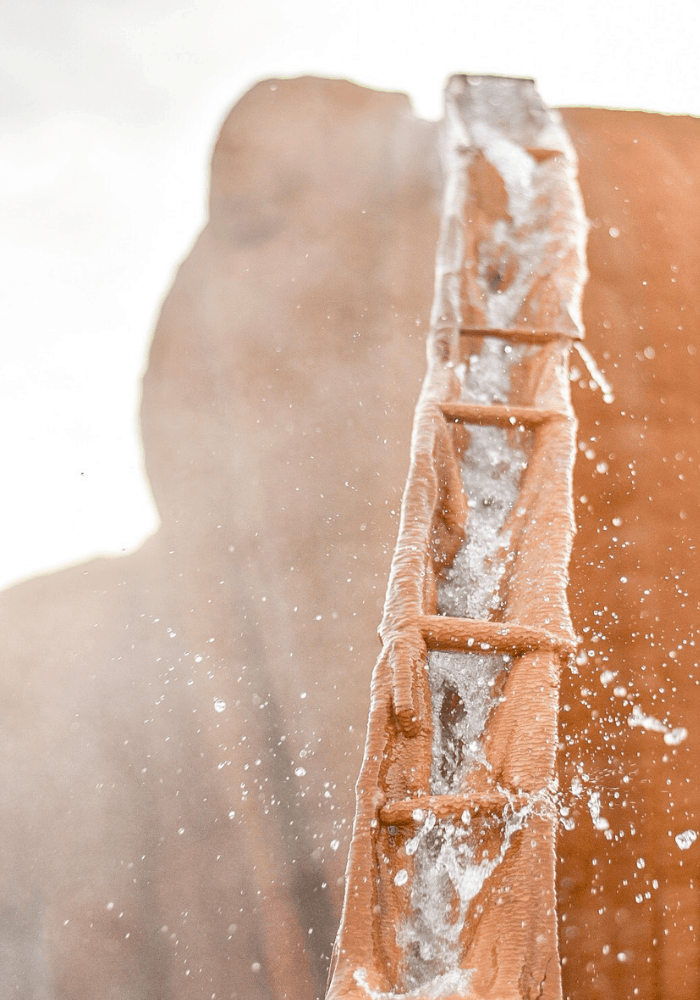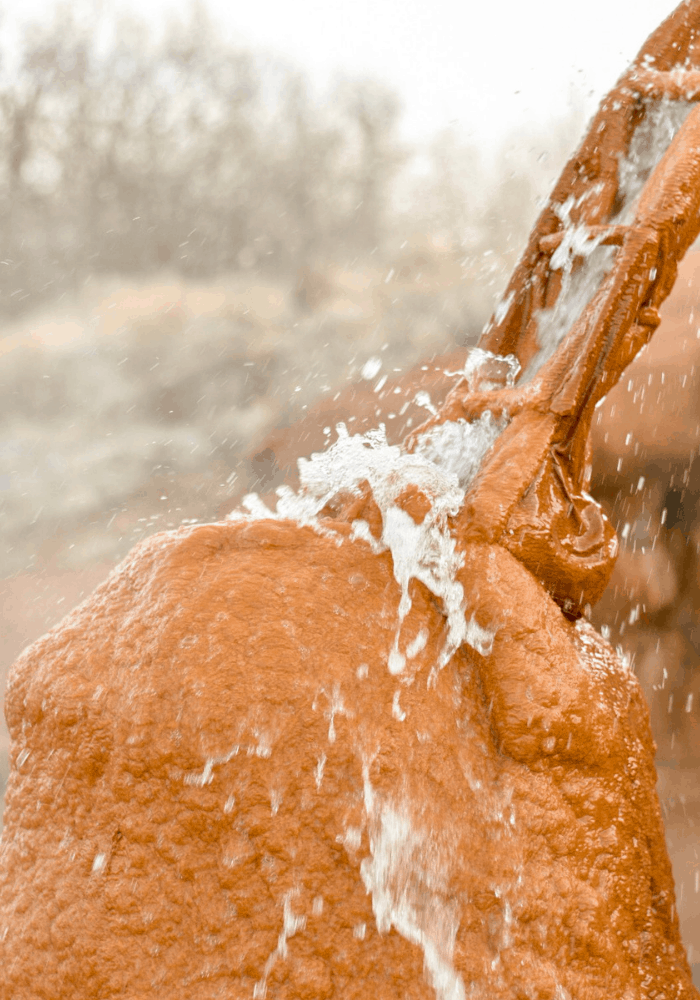 Costs
$7.50 for children, 10 & under
-OR-
FREE for overnight guests (this includes those staying at the campground)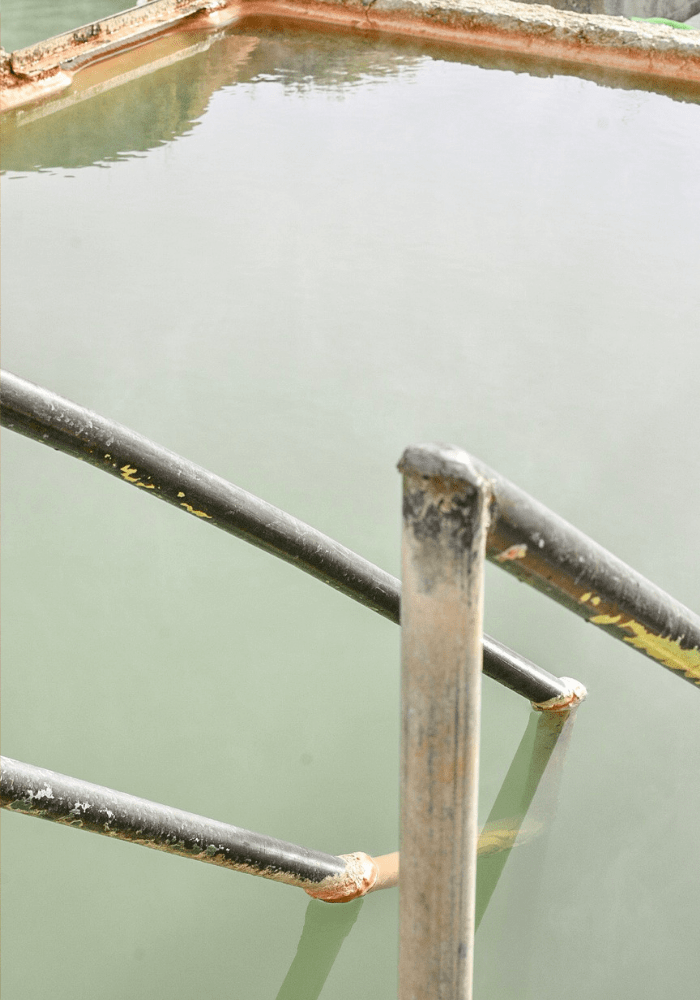 Hours
The hot springs are open 24 hours a day, but your pass is only valid for 6 hours after check-in.
For overnight guests, you may use the soaking pools at any time of the day for as long as you like.
Best Time to Visit
Mystic Hot Springs is an all-year-round destination, however, certain times of the year can be busy. We visited during Spring Break and there were at least 10 people soaking at any given time (even at first light!).
I'd recommend visiting March-April or September-October. That way the crowds are lower and the temperature is mild. Just try to avoid holidays & weekends – if possible.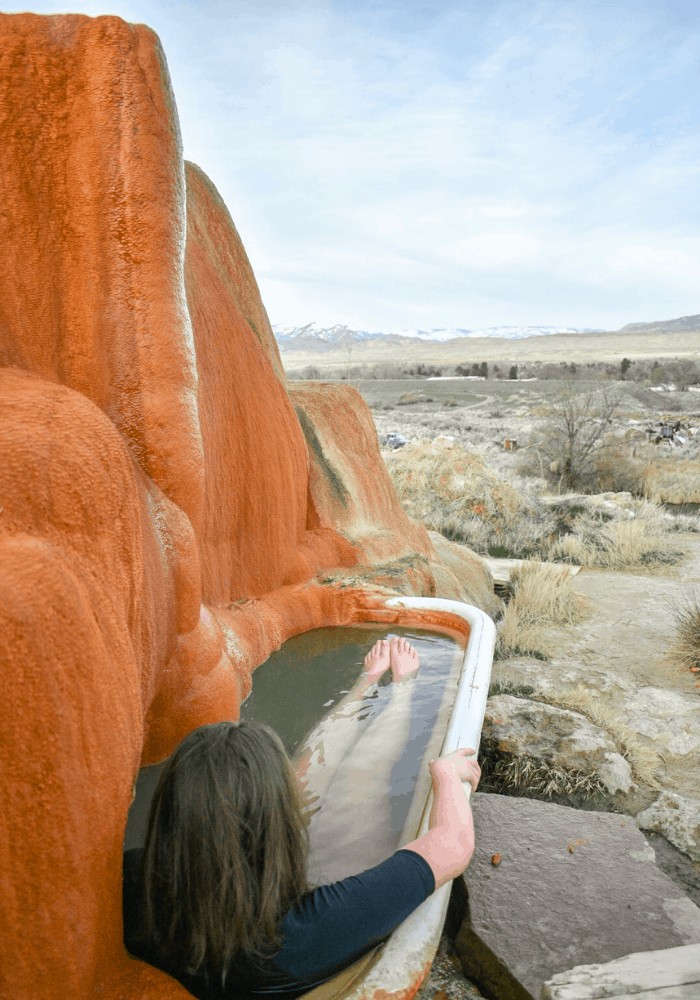 Important Hot Spring Info
No alcohol, drugs, or nudity allowed. They are trying to keep this place comfortable and enjoyable for everyone (including families).
Bring a reusable water bottle. There is a fresh-water spigot at the hot spring. Be sure to stay hydrated.
BYOT (Bring your own towel). If you are not staying in a cabin or bus, you will need to bring your own towels.
Be aware of yourself. If you start to feel dizzy or lightheaded, step out of the hot spring right away and drink some water.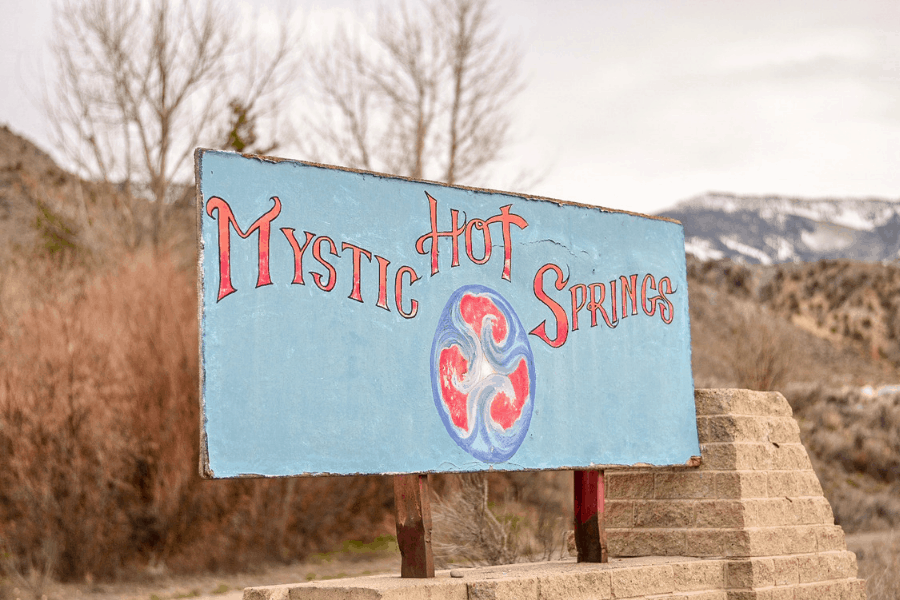 ACCOMODATIONS: CABINS, BUSES & CAMPING
There are many upsides to staying overnight at Mystic Hot Springs. Not only can you soak in the hot pools anytime you like (hellooo stargazing!), you also get free access to any live performances and you get the novelty of sleeping in one of their very unique rentals.
We rented out "My Cabin" and honestly I was a little skeptical at first – but it turned out to be the coziest stay I've ever had. I don't know if it was the wood burning stove, the heated blanket, or the scent of patchouli in the air… but seriously, I slept like a baby.
Below is a list of current accommodation options. I know they are currently working on restoring a whole slew of pioneer cabins, too, but they are nowhere near ready yet.
KEEP IN MIND: Whichever accommodation you choose, you will have to use the shared bathroom. The bathrooms are campground-style: dimly lit with curtains instead of locking doors.
NOTE: All cabins and buses are $60 for one person + $30 for each additional person (Kids 10 & Under are $15). Campground prices are listed further down.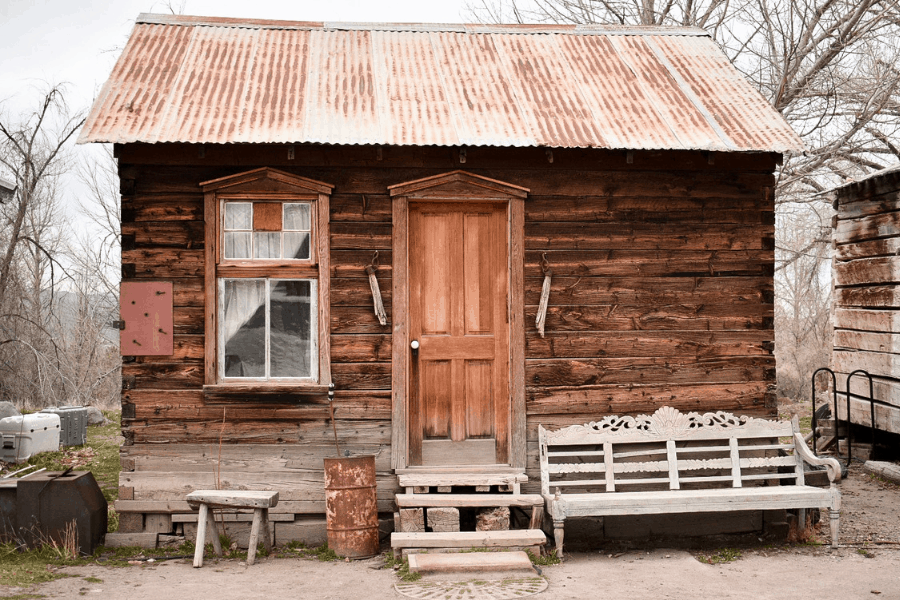 Cabins
For maximum comfort, privacy and coziness, cabins are the way to go! There are currently 4 options (with many more in the works). Our choice was "My Cabin". This is their most popular and overall coziest cabin. It has a wood-burning stove, heated blankets, string lights, and even a loft bed!
Each cabin is different and offers it's own unique flavor. Below I've listed all 4 options along with some general information. If you're interested in booking or want more information, just click on the name of the cabin you'd like!
Sleeps: 4 People
Pets?: No
Sleeps: 4 People
Pets?: No
Sleeps: 2 People
Pets?: Yes.
Pet Fee: $10 per night + $100 deposit
Sleeps: 3 People
Pets?: No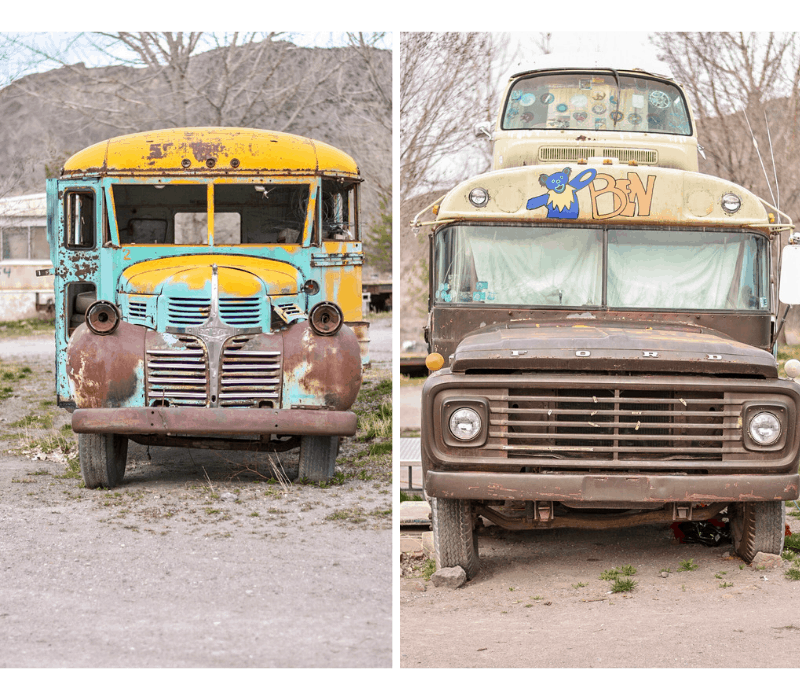 Buses
Want to sleep in a bus just for the novelty of it? Now is your chance! These old buses come complete with warm beds, electricity and of course, a collection of eclectic fabrics and curtains to add to the homey, camper-van feel. Here is a list of their current available buses.
Sleeps: 2 People
Pets?: Yes
Pet Fee: $10 per night + $100 deposit
Sleeps: 4 People
Pets?: No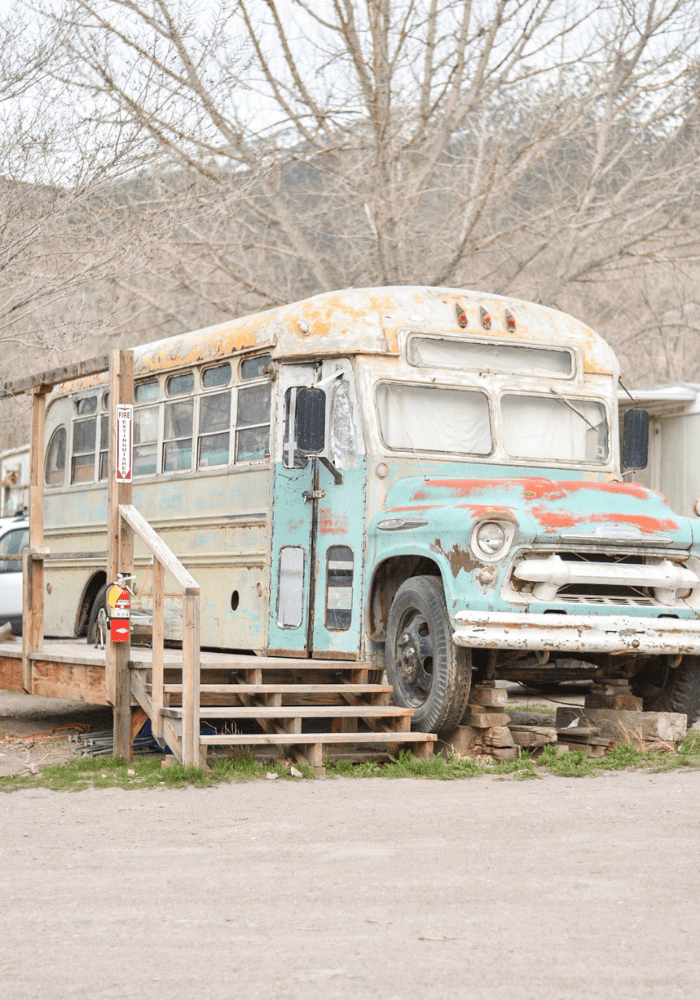 Sleeps: 5 People
Pets?: No
Sleeps: 4 People
Pets?: No.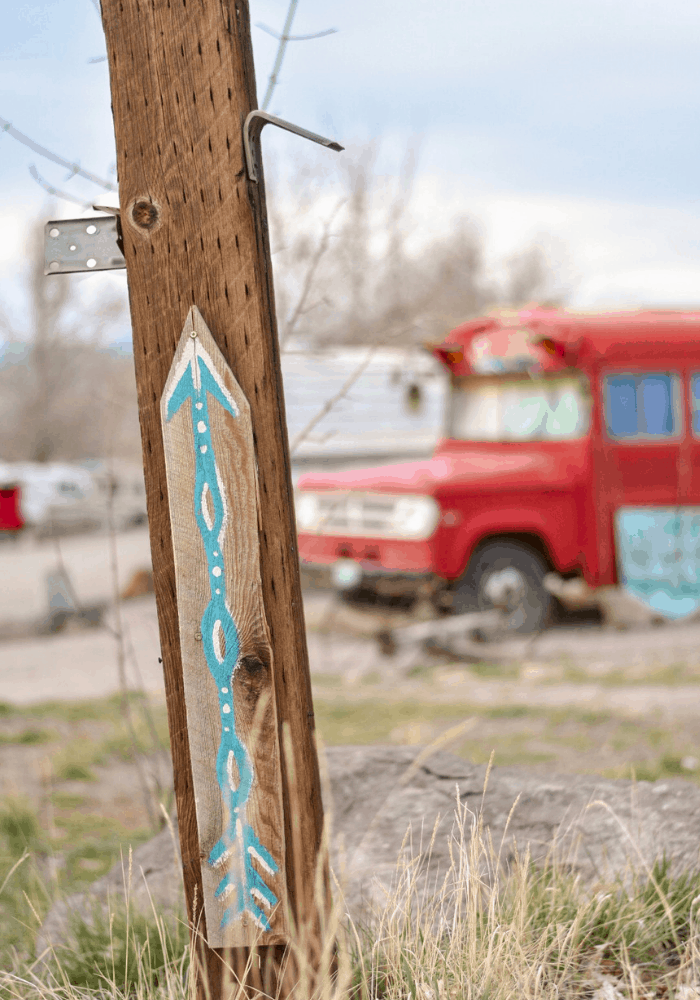 Sleeps: 2 People
Pets?: No
Sleeps: 3 People
Pets?: No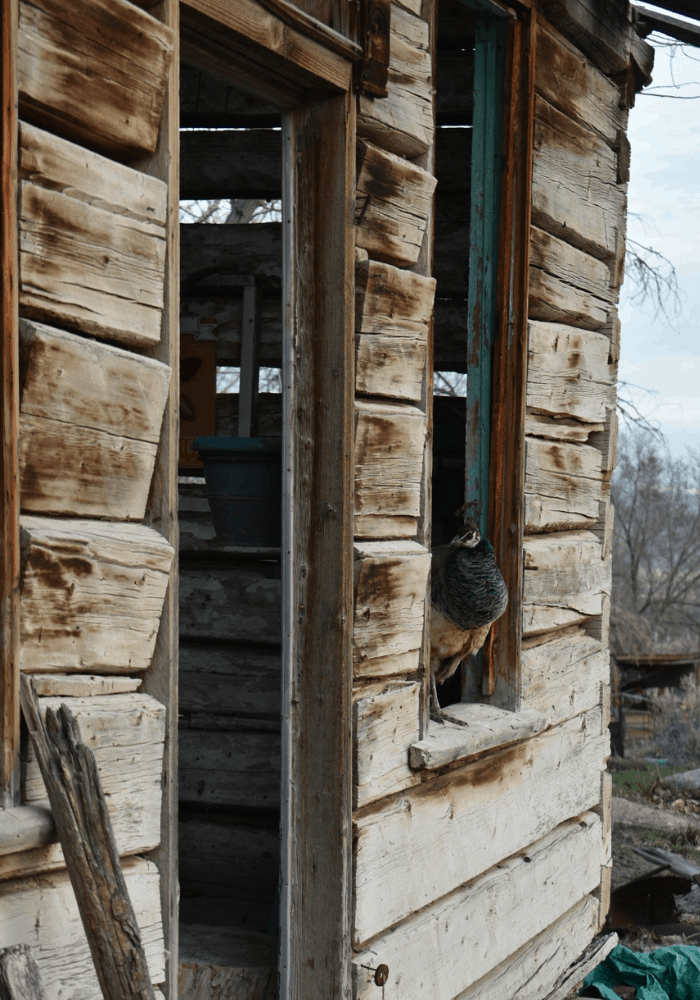 Campground
Tent Camping: $30 per person, per night
RV Sites: $44 for one person + $30 for each additional person
Discounted Price for Children 10 & Under (RV and Tent): $15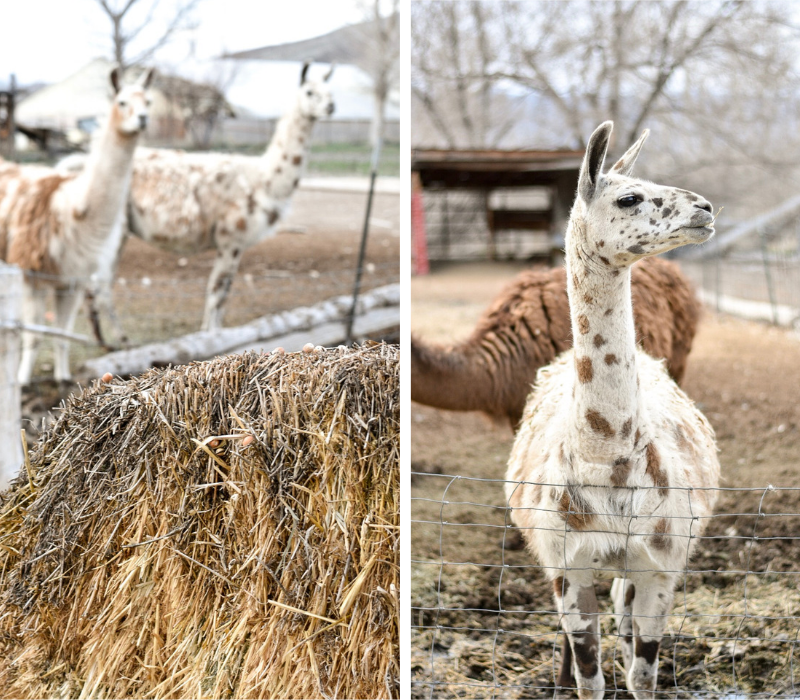 THE FARM
If you walk around the property at Mystic Hot Springs, you'll notice a plethora of different critters. Ducks, geese, chickens and peacocks patrol the area, and just a quick walk away is a small farm. We had so much fun checking out the llamas, goat and emu. There was even a baby llama when we visited – which I'm fairly certain was the most adorably awkward thing I've ever seen.
Directions to the Farm: Located between the communal bathroom and the main office building, there is a cross-road. Assuming you're facing the main office, turn left onto the dirt road. Almost immediately, there is a path branching off to the right – this path will lead you to the farm.
NOTE: Keep a respectful distance away from the animals and back up if they seem skittish – llamas sometimes spit at people in defense. These llamas, however, seemed to only be interested in the hay that was stacked outside of the fence.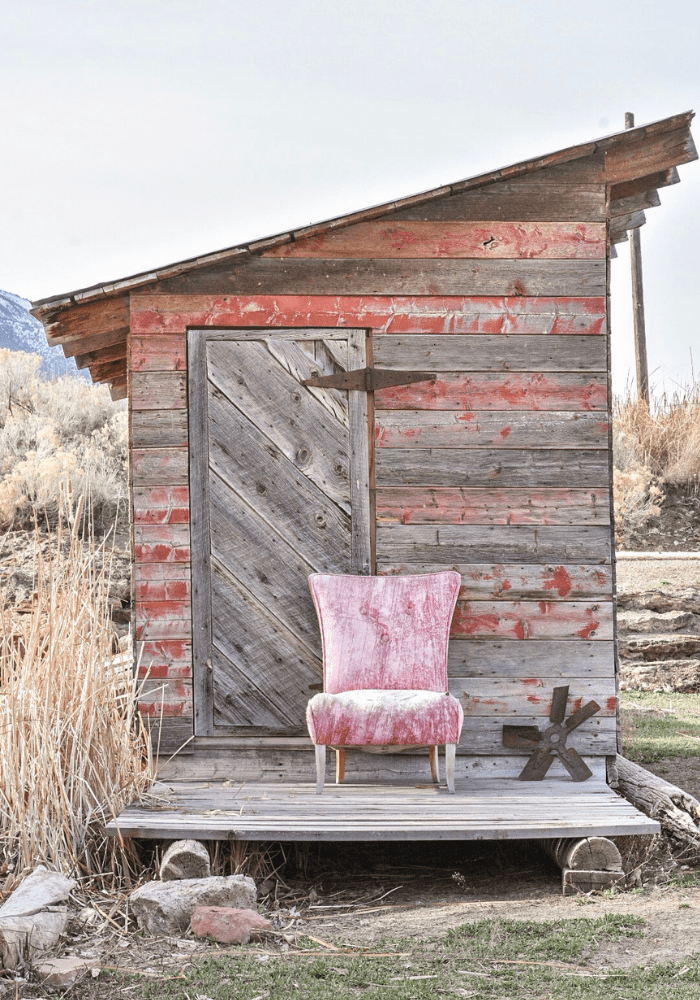 LIVE MUSIC
Mystic Hot Springs hosts live bands frequently and, depending on the weather, they're either performed on their indoor stage or on 1 of the 2 outdoor stages. When the outdoor stages are being used, you can listen from the comfort of the hot springs – which is pretty cool. The outdoor festival stage is actually visible from the soaking tubs!
NOTE: As a guest, you can enjoy the concerts and events for free!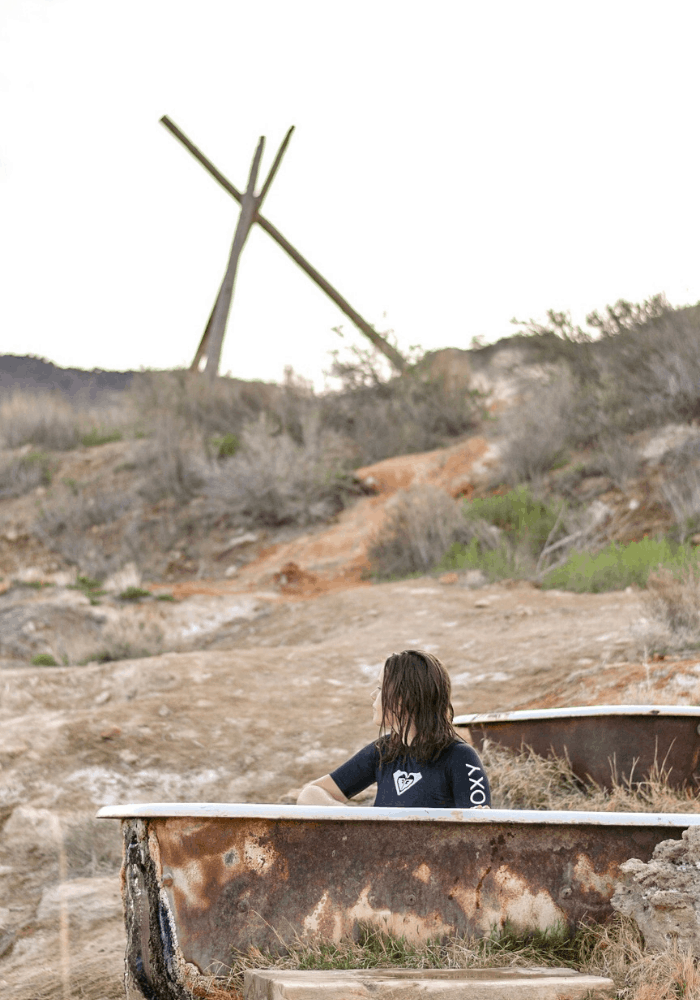 PACKING ESSENTIALS
Here are some must-have items for your hot spring getaway:
Swimsuit
Towels (these are provided in cabin and bus rentals, but it's nice to have your own!)
Robes (if you're looking for something warm to wear, post-soak)
Slip-on shoes (something easy to get on and off with wet feet)
Toiletries (including shampoo & body wash – these are not provided to guests)
Sunscreen (I love this ocean-safe sunscreen by Sunbum! It comes in stick, lotion and spray form and is Hawaii-approved.)
Sunglasses
Reusable Water Bottle (you can refill it near the main soaking pool)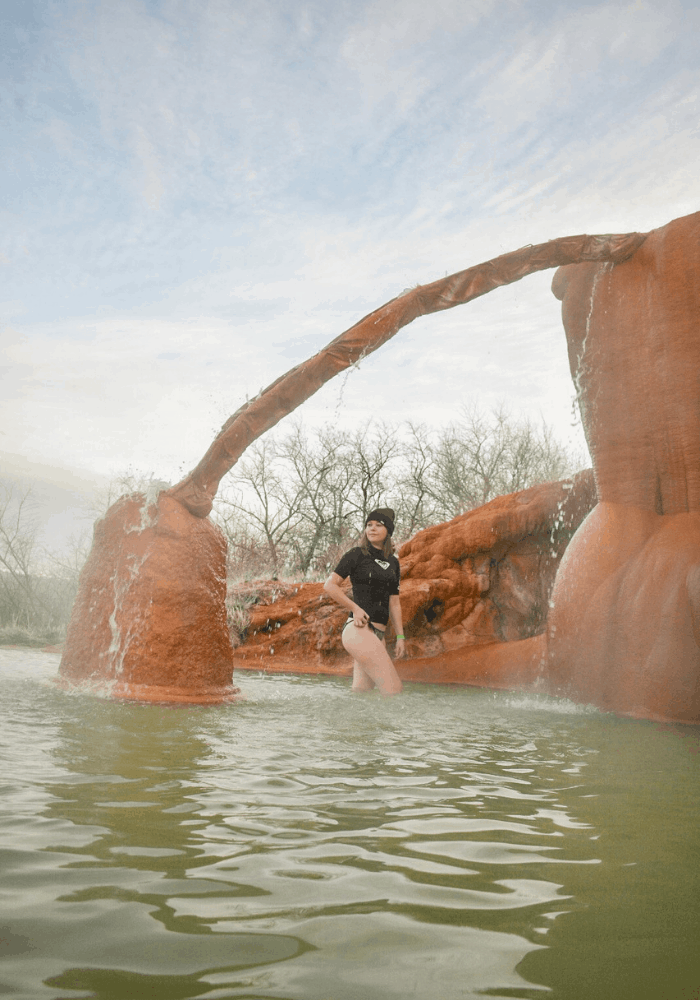 KNOW BEFORE YOU GO
Non-guests must bring their own towels.
No nudity, drugs or alcohol (even at concerts) is permitted.
Pets are only allowed on campsites or in the Ripple Bus and Gypsy Wagon.
Food nearby is limited – there's a couple local places, but the closest fast-food place is a 20 minute drive away.
Bathroom is shared by all guests and campers.
Have any more questions about Mystic Hot Springs? Drop 'em in the comments section below!
SHARING IS SO HOT RIGHT NOW. PIN ME!